Cheetah Magazine December 1979
CHEETAH
Please address all correspondence to:-
Editor: Capt M. L M. Blackman
Co. Editor: Brian Streak
Art Work: Capt M. L. M. Blackman
Assistant Producer: Carrie Taylor
CONTENTS
VOLUME 3 - Number 5
DECEMBER, 1979
A CHRISTMAS MESSAGE BY:-
MAJOR GENERAL A. N. O. MACINTYRE, OLM, DCD
FAREWELL TO THE INCREDIBLES
1 COMMANDO NOTES
2 COMMANDO NOTES
3 COMMANDO NOTES
A TRIBUTE TO MAJOR BRUCE
THREE NEW HONORARY MEMBERS
SUPPORT COMMANDO NOTES
WAR GAMES
TRAINING TROOP NOTES
GENERAL REFLECTIONS
BASE GROUP NOTES
THE COLLEGE OF KNOWLEDGE
THIS IS YOUR MAGAZINE — HELP US KEEP IT THAT WAY
Major General A,N.O. MacIntyre, OLM,DCD
The other day I signed letters of congratulations to the latest three Saints receiving the Bronze Cross of Rhodesia. I read their citations, and looking at my old green and white stable belt some of their glory seemed to rub off on this old soldier. On the same day a bit of bumph reminded me that my old mate and Adjutant, Bruce Snelgar, had Joined the ranks of gallant Saints who aren't with us any more.
I sat at the dreaded desk and wondered about two things, first, does the country know what it owes to the RLI and secondly, what will be the verdict of history on our regiment? My answer to the first question is '1 doubt it". Sure, they know that where the going is toughest thats' where you'll find the RLI, but perhaps they don't understand fully what that means. However, In regard to the second question I'd say, "One day they will know what they owe the RLI — for my bet is that history will say that the RLI troople was the equal, if not the peer, of the British "para", the American "marine", the German "stormtrooper", or Napoleon's "Imperial Guaurd" I will always be proud to say, "I was one of them O's"
To every man wearing the Green and Silver and to their families one and all, "May your Christmas bring you everything that you would wish for yourselves, may you find hasppiness and contenment and may God's blessing remain with our Regiment and with every soldier who serves therein."
FAREWELL TO THE INCREDIBLES
"I REMIND YOU TO STICK TOGETHER"
Writing farewell speeches is to me anathema. How does one say goodbye to the R.LI. I believe that whether you serve with the 'Regiment or not we all belong to a unique brotherhood in
arms. 'Loyalty to. the Regiment is fierce and I am proud to have reached the pirmacle of my career and commanded this most excellent 'Battalion.
During my stay I have seen the Battalion progress in leaps and bounds. In the past two years we have fought internally and externally as a unit. The fact that Battalion Headquarters has been with the men on special operations has welded the machine even tighter together. I have seen the RLI achieve the heights of professional! sskill and bravery whidh were undreamt
of before. This year we are poised to break the magical figure of 2 000 CT accounted for. Incidentally we do not count the figures for- special operations'. The unholy alliance will never forget the incredible RLI.
On our birthday this year we had the unveiling of the "Trooper". Hie remarkable occasion was made even more impressive by t!he fact that the whole unit was in camp. The "Trooper" has already become the pivot of our regimental traditions and the support we received from the public was magnificent. To everyone who made this possible I extend my warmest thanks.
Like my predecessor Brig. Peter Rich I have had similar recognition problems with the troopies. 'My story is slightly different. In the early hours of the morning at Mount Darwin I was 'having a shave next to a whole gang of 2 Cdo troopies. The chap mext to me turned and said: "Do you know the reason why we are so bloody early?" I said "no". He then told me in no uncertain terms how ridiculous it was that they had to secure the DZ "because the bloody CO was doing a paradrop that morning". He then asked me what I thought of this dreadful state of affairs. Naturally I agreed with ham. Thereupon he stormed away still muttering under his breath.
His mates by this time were convulsed with laughter. You should have seen his face When I landed near him and he had to assist in packing my chute. No officer could ever develop fake visions of grandeur in the RLI. The troopies soon cut you down to size.
On a serious note this has been a record year for CTs accounted for, we 'have regrettably taken a heavy toll in our own casualties. Some of Rhodesia's finest manpower has been lost and we have grieved. The major factor has been the willingness ctf everyone to carry on and try even harder. The RLI has been and will (continue to be at the forefront of the war. We do not want it any other way. To those who have lost loved ones, be assured that the Regiment will honour their memory.
To the Officers and Men of the finest Regiment in the world I thank you for a'll the sacrifices you have made and for being what you are—"The Best" I echo the words of one of our great RLI leaders, Lt Genl Walls: "When the chips are down and the going is rough you are the guys I want to be with."
I remind you to stick together. If the RLI goes then the country will fall soon thereafter. Keep on hanging it in. I know you will give my successor Lt Col Charlie Aust the same support and loyalty you have given me.
On behalf of my wife Alannah and my family, I wish you all a Happy Christmas and a Peaceful New Year.
Everything of the best for the future and Good Hunting.
Cheers.
Lt Col I. R. Bate, M.L.M.
1 COMMANDO
(the big red)
It is time, once again, for the readers of Cheetah Magazine to read the news, views and interviews, of the ''Big Red"! Not many changes have taken place, but there has been enough going on to make it an enjoyable and interesting period.
Firstly, there is only one departure from the Commando and that is Lt Bobby Graves, who has now left us to take over 81 mm Mortar Troop in Support Commando, Also to congratulate him on (a) his promotion and (b) gaining a "B" grade on his mortar course at "Hooters". Rumour has it that the Mortar pamphlets are being re-written!—'Bobby having baffled the instructors with theories contrary to everything in the pamphlet. Better known as an Instructors nightmare. Anyway, well done Bob—we wish you the best of luck in Support Commando. Keep
in touch!
Well, it has 'been a very eventful few weeks with the OC starting the ball rolling (a few inches higher and that could have been taken literally!) by giving his thigh the "Stop Butts" test. But found that it didn't stop a 7,62 intermediate. Having mastered the art of Wheelchair Wheelspins is now back with the Commando after a Short break on the Natal Coast. Also congratulate him on his 'Majority—well done!
In the OC's absence the '"Big Red" was very capably run by Lt Rick "The Goblin" Van Malsen, BCR who, during this period, chose to hack the A and Q sides as well as jousting in the "high flying aircraft". Consequently, he is a jibbering wreck and is presently back in Salisbury making arrangements for the. intended Commando "Lady and the Tramp" party.
2Lt's Walters and Whelburg have continued to remain popular with the remainder of the officers and senior NCOs with their vast knowledge of the employment of smoke grenades, various, in the early hours of the morning. Their greatest achievements so far being 2Lt Larry Linton who failed his sense of humour check when his hair turned orange and his $160 watch got claustrophobia and did a wheels up! Also Sgt "the Peep" Dipenaar who was last seen with blue rings around his already decidedly unattractive nostrils.
2Lts Larry Linton and Wayne Grant have settled in well and while Larry eats Colour Bramwell (CQ) out of hoyse and home, Wayne ea'ts Utntali out of house and daughter!
Grand Reef was the venue of much merriment and festivity. Vast quantities of alcoholic beverages were consumed at a bush type dining-in-night, with Officers, 'Senior NCOs and Cpls—this took the form of "Farndell's Fondue". Rugby in the mess was the order of the night, resulting in some 14 broken glasses and carpet burns all round (some boys will have some explaining to do to wives, etc., because .of the burns being located on the elbows!). The party changed scenes a bit and we felt it -imperative to move out, now naked bodies to the Blues for a swim and co-incidentally the 'Blues were subjected to heavy smoke grenade and fire extinguisher fire. However, apart from a few "orange stained" dirty looks we saw no problem and a good time was had by all ... except the blues!
The CSM "Stuley" Edwards was obviously a little ring rusty smcp his last victory against the Mtoko Mauler. His preparation for his last outing against an unknown Umtali jouster had clearly been cuffed. Late nights and Lions being the cause of his defeat and injuries. In fairness to the OSM it has to be said that his opponent was not a small child. The CSM promises a quick' return match :as soon as he can move his jaw again! He is now under a strict training programme and can be seen beating up the airfield with monotonous regularity —half a lap once a week. His alcohol intake is down to singles only (he drinks twice as fast).
. '
CSgt Brams, in an attempt to scotch rumours, has stated that he is getting married. He said it will be a double wedding on the same day as the 'Pope's. He is a little flat with One Troop who are the Soprano Section—Sammy Tombe is excused singing!
CSgt Hoskings is to be congratulated on his promotion. In between ops he does a neat job of keeping the typewriter well oiled. In the meantime Sgt "Da ... Da . ..." Myburgh has stopped growing. His services to the Commando are priceless when operating in Elephant grass. Ben is off on an OP Course next month—he'll be the only one on the course who won't have to climb the Gomo to observe the target area!
Congratulations to Blondie Leatham on his promotion to Sgt. We are chuffed the last op on his hand was a success. Don't worry about the finger deficiency because Sgts don't pick their noses. Paul Le Compte actually enjoyed his down—downs on his initiation into the Sgts Mess. Congratulations on your promotion, Paul!
Sgt "Tucker" Ellison continues to amuse us with his nocturnal meanderings in Salisbury. Last, but not least, we have to say that Sgt Ed "Jersey" Smyth is not the caretaker at the Nurses Home following his brilliant flop during the Inter Com- mando route march competition, his name having been struck off as an Olympic possibility!
We're chuffed to see Sgt "Um Red" Kerr back on his feet again—his plaster being replaced by a calliper "average" Further , the "Dude" now joins "Peg Leg Hoskins.
We are chuffed to see the rear of L/Cpl Seaward (Weed) and Cpl Hulley-Miller (Travolta). We hope Training Troop can make better soldiers out of them. On a more serious note cheers and good luck, Congratulations to Cpl Swart on his engagement to Leanora Venter—no more "Hotels, Motels and Brothels". Congrats also to Cpl Harding on his coming of age. (As long as it's only his age.)
1 TROOP NEWS
One Troop, once again, has shown its worth as fighting soldiers and promotions rocketed. After Sgt Smyth there was Cpls Calitz and Hulley-Miller who take one step closer to the Sgts Mess. We welcome 2Lt Wafters as our new troop boss, already having established himself as the troop's most successful lover and can always be located in some sleazy bar in Salisbury on R & R. Also welcome to Tprs Robertson and Struthers who joined us from Selous Scouts—wise move.
Welcome back to Cpl "Bear" Calitz from leave who is on diet before bemg allowed into a chopper. Tpr Andy Mutch returning from "Long" leave has decided to try again for his GSM—welcome back. 1 Troop medics have been fully occupied with minor injuries (self inflicted). Tpr Dalglish dislocated his finger while scratching his posterior -he was happy when he found he still had nine to continue his hobby.


Tpr Burgess has a sprained wrist—we believe at the hands of his latest lolly-gobble. Tpr "Son of Sam" Tombe injured his ankle walking and thinking at the same time — he's reverted to just walking. We say a 'temporary farewell to Cpl Hulley Miller and Jim Burgess, who after an Inf/39 Course will instruct at Training Troop. While on the subject of Courses we have decided to send Sgt Smyth on a six week mini-flare course after his numerous ADs (Accidental Discharges).
2 TROOP NEWS
The smallest but noisiest troop extends a very belated welcome to 164 and congratulates Sgt Ellison, Cpl Cookson, L/Cpls Fishwick, Lynham and Seaward on their promotions. Our number of old troopies is rapidly decreasing with Tpr "Card Sharp" Mindry being the latest deserter to some secret new ultra-cramped setting!
We welcome 2Lt Capt Pierce" Linton as troop boss and fully believed his nocturnal baptism from his troopies at our Troop party. Owing to our outrageous behaviour all future troop thrashes have been stopped. To all other troops we extend our dry glasses and condolences. Troopers Mitchell and Ayliffe recently swelled the ranks by leaving Selous Scouts. "Cuffer" Wilson and "Sprint" Huntley Walker are being domesticated by the PJIs at New Sarum. The almost forgotten face, of Tpr Munday has re-appeared after 52 days passionate leave. Beware all owners of radios when "I Don't Like Mondays" is played.
Congratulations to "Fats (2,5)" Norton and "Bunner Gunty" Bunt on officially learning to drive our TCVs. A sad farewell to L/Cpl Fishwick and Tpr Wedlock, who are off to the 'RPs. L/Cpl Seaward has gone to terrorise the 167 recruits and teach them 'the "Big Red's" way of fighting the war.
3 TROOP NEWS
Once again 3 Troop tops the list of charges, extras and bans from liberty runs for their superb way of controlling themselves after a fun too many. "Orible Ole" taking out his frustrations on a chopper pilot and Fish Salmon with his new Contin-ental ideas of shaping, trying to cut officers out of their birds, making what the officers call a nightmare. The troop continues to keep up the numerous booze-ups captained by "Pugsfley" Fraser—now a very fatherly figure in the troop, and well supported by team mates "Box Patterson, "Ugly" Pretorius, "Porky" Pechey and our own National hero "Rugby Ball" Jenkinson. "Brain Wave" Tett often joins in when he can figure out how to open the bottles.
The para course went off with a bang with Tprs Pentland-Smith, Graham, Travers and Kemp injuring themselves by attempting their rolls before reaching the ground.
Sgt 'Gomo" Myburgb is continuing to help the population explosion while 2Lt Grant tries desperately to discover the cause of this explosion and getting expert coaching from "Sexy Legs" Pechey.
4 TROOP NEWS
Congratulations on promotion to'L/CpIs Wessels, Inglis and Dunlop. Also to Sgt "'We know what your granny was" Le Compte, who seems to be rising through the ranks at a speed proportional to his decreasing Swiss bank account.
A belated welcome back to Terry Pittaway who's been away on leave, staying with Mummy in Mangula, We will miss "Fumble Fingers" Bok Holloway and his humour while he is on a six-month card shuffling cadre. Congrats to Jim Bower having risen to the exhalted ranks of troop driver. We wish Strivens the best of luck on his medicos course—but we suggest he skips the drip lectures. The troop is continuing to run smoothly.
HONOURS AND AWARDS
A sincere congratulations to Sgt "'Red" Kerr and L/Cpl Rex Harding on being awarded their well deserved Bronze Crosses of Rhodesia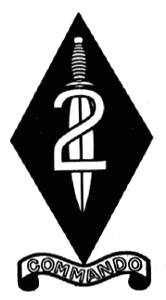 Not very much has happened since the last time of writing, but nevertheless we shall fill you in on what has.
ARRIVALS
Sergeant Hennie Jansen van Vuuren (what a name), who joined the Commando about two months ago, came straight from the School of Infantry. On being posted to 7 Troop Sgt Van was then given the bad news. As he was the only fit. senior NCO in the Commando he was pushed into the Drill, Assault course and 'Battle 'March teams in the interCommando competition. Welcome to the team Sgt Van and we hope that you and your family have a good stay with us.
Tprs 'Baldwin and MacDonald have shorn their locks and once again joined the Commando for a 42 day call up. Baldy has even collected a bit of Russian metal in his posterior and is
now saying that seeing he is in training to become a commercial pilot. Why can't he go to the blues and sit in an armourprotected seat?
Tpr Light has joined the Commando after six months of cuffing it, pretending to track with National Parks and Wildlife.
HATCHES
Congratulations to Sgt Mike Clayton and his wife Gail on the arrival of their baby. Also to L/Cpl Tex 'Mintern and his better half on the birth of iheir first child.
CASUALTIES
The following list are all the Commando personnel with leaks of one kind or another.
Captain Allan Shaw
C/Sgt Dave Firth
L/Cpl James Behrman
L/Cpl Ernest Patterson
Tpr Mario Vidal
Tpr Desmond Smith
Tpr Wiflie Anderson
Tpr James L-azell
Tpr Tex Morgan
Tpr John Gurr
Tpr Mike A&asini
Tpr Graeme Baldwin
Tpr Doug Paxton.
For any of you who have not yet recovered we wish you a speedy recovery.
On hearing that the 2i/c had been wounded one trooper was heard to say: "Teach the 2i/c to try and become a G bugger again".
PROMOTIONS
Congratulations to the following persons:
C/Sgt Dave Firth promoted from Sgt to Acting CSM;
L/Cpls Behrmam, Patterson, Tap sell and Van Zyl, promoted at last to the ranks and now legally allowed to sh ... reprimand your mates and to have dirty weapons on muster parades.
In conclusion I would like to say that the Commando keeps going from strength to strength so you other Commandos had best be careful!
INTER-COMMANDO COMPETITION
Congratulations to 2Lt Brian Peck and his assault course team for winning the aforementioned event.
At the time of writing the Battle March team is also winning after having broken the existing record by some five minutes. Congratulations to Lt Hamish Maclntyre and his team.
Unfortunately we could only manage 5th places in the Drill and Shooting.
3 COMMANDO NOTES
LOVERS NEW, OLD AND STALE
We all welcome to the "Top Hat Seat" Major Don Price, BCR, who has taken over as OC Lovers. We wish him luck with the Commando.
In 'fact we are of the firm belief that we are all going to benefit from his wealth of experience and knowledge in the field of poaching, game viewing, poaching, bush craft, poaching, tracking and . . . more poaching! Anyone for some Tong?
The 2i/c Lt Roger Cartoni, BGR, is now back after his prolonged R & R at "Hooters". Needless to say everyone within earshot gets a run down on:
(a)
The Principles of War;
(b)
The Principles of the attack;
(c)
The Principles of how to spend $300 in eleven weeks.
W02 Johnny Nonnan, DMM, is now attempting to become an all rounder and is now breaking his body on an SAS Selection. Good luck.
A/CSM Brian Lewis (known to his friends as Adolf), is dreading the thought of another possible election. He won't admit it but we all know it's to do with the "magical liquid". (See last issue Vdl 3, No. 4) ... You see the terrs told the locals that if you dip your fingers in the liquid you will turn sterile— now you know why A/CSM is dreading the next election! However, he is still hanging it in for the info of interested parties!
Cpl Grant Hughes—has now taken over as official bottle washer and GQMS for the Lovers. Much to the relief of the A/CSM, Grant now has the displeasure of plaintive cries from the Officers' Mess of "GQ where is the ice cream, CQ where is the Roquefort cheese."
Cpl. Tom Argylle our much trusted and noteworthy mechanic and lord overseer of our fleet has just passed his driving examiner's course. Well done Tom, "keep on trucking"
Congratulations to Sgt Bruce Kidd and L/Cpl Giho Gibson on their recent BCRs, well done oeuns. Yet another two for the Lovers.
Congratulations are also extended to Sgt Kidd and L/Cpl Fourie on their promotion.
Welcome to all members of 164 and 165 also to our new regulars.
Farewell to Lt Dave Greenhalgh who is trying to gain some Intelligence as IO in the Battalion. A sad loss to the Lovers, flex troop and also the fact that there is now only one "Ferrari Boy" left in the Lovers. Dave, your aggressive and gallant leadership will be missed. Good luck with your new task.'
Farewell to Sgt Hymie Cohen who arrived at the Commando as a Corporal from the TA. Sgt Cohen's great ambition in life was to impress the Lovters on two aspects:
1. How large his nose is—in fact due to not getting enough attention he tried to commit "Harry Karry" by trying to drown himself in the swimming pool. Only to discover that there was little water in the shallow end and broke his nose—rumour has it he has now joined the Arab alliance.
2. The fact that he is a. white hunter to which he got the name Frank Cornelius Selby Selous! (For taking 40 rounds to shoot an Impala, all of which missed.) Cheers Hymie, all the best.
Farewell to Cpl Alex Nicholls. In fact flex troop is no more. Cheers Alex, and good luck with your job and Kelly. Farewells to Tprs Smeimen and Duncan who have moved to jobs various in the Battalion.
TIT BITS
11 Troop has promised to buy Sgt Kidd a truck now that he's a Sgt to keep his hair in an orderly and disciplined fashion.
"L/Cpl Holmes 'is -now on the dole after his recent financial success and an appeal has gone forward to the WCC for a loan —Amen.
A/CSM Lewis is now fondly known as Uncle Fester due to the return of Addams family on TV. Tpr "Kid Colt" van der Merwe got sick of driving and not getting shot at—so he shot himself. Nice one Van.
2I.t Noel Smee was introduced to lemons having come back from one to be issued w'ith a Schweppes lemon.
L/Cpl Holmes and Tpr Surf Serfontein had the odds down due to sense of humour failure on behalf of Sunray C/S 33.
On behalf of Tpr Wilson, 13 Troop is back on shine parades!
Our star paratrooper Barney "Toothless Wonder" Barnard has just set a new record for para selection by being selected for two para courses and still failed to make the first day. Better luck next time Barney!
Desperate Dan, our favourite pronto, shot Tpr Blignaut with his .45 — foul play is not suspected.
14 Troop Sunray minor Sgt Charlie Norris whose facial features were improved a few months ago has fully recovered from his cosmetic surgery and now maintains he can win "Miss Fire Force Complexion Competition"! He's also helplessly in love with . . . you know who,
Tpr Ferreira has found the solution to killer mosquitos by tying himself to a baobab tree—he's also convinced they are trained in communist tactics.
Tex Morgan surprised the Lovers by not returning from leave in America—if you are in trouble Tex let us know, if you are not, a note to you and Tpr Coulson—also AWOL—RAM IT!
And 'cause it's Xmas we have a special:
Snelgar's Xmas Ditty (To tune "Away in a Manger")
The cuckoo is a pretty bird
As it sits on the grass
With its wings neatly folded
And its beak up its -A .. .
And in this position
It can only say tweeet
'Cause it's hard to say Cuckoo
With a beak full of S...
LOVERS MAD MAGAZINE (or did it really happen)
VOLUME I
The lighter side of paying canteen bills
or
A day in the 2i/c's office:
'Barney 'Barnard, our own toothless wonder, arrives to pay his canteen bill, clutching $25,00.
2i/c: "Right Barnard you owe $45,00." Barnard: "Aghh nee man, I'll jus hav toe goes borrows some more cos I'se got too much here."
Tpr Kermit Marsh being new to the Lovers and confused with names, such as Greenhalgh and Smee, arrives at the office:
2i/c: "Right :Marsh you owe $46,10."
Marsh: "Can I go and borrow some more from Mr Smeenhalgh"
The lighter side of being mortared
The Scene:
OC, 2i/c and Signaller L/Cp! van Zyl, hugging a rock during a barrage of mortar bombs.
Van to the OC (dead serious): "Sir"
OC: "Yes van"
Van (dead serious): "Sir, its at times like this when I'd like to be an ice cream boy."
LOVERS' VIBS
Due to the large numbers of new members of the Cammando we are now publishing "oldies" for their benefit and Battalion traditions.
Don't Let Me Cross Over
Don't let me cross over
The Mocamtyique border ,
It belongs to Frelkno
Their land can't be ours
Oh I don't mind dying
For the 'Rhodesian cause
'But I don't want to die
In no Poir War.
Well the orders come through
We're leaving today
I'm left quite astounded
With nothing to say
Well the choppers are lifting
Our land falls behind
Whatever become of
our mankind.
Come Chimurenga day!
Please let me cross over
The Mocambique border
It belongs to Frelimo
their land can be ours
Oh I don't mind dying
for the Rhodesian cause
Let's stuff up Frelimo
and win the war!
3 COMMANDO OBITUARIES
It is with deep regret that the Commando once again records the death in action of the following members of 3 Commando. The OC, Officers and all ranks would like to etxtend their sincere condolences to the families, relatives and close friends.
Major B. M. Snelgar, 780673. Joined the Commando 1 May, 1978. Under his command the Commando accounted for 600 CTs. Killed in action on 26 September, 1979.
123471 Tpr Tony Houston. Joined the Commando with Intake 163 on the 10 June, 1979. Another true Rhodesran who was killed in action on the 21 October, 1979.
LOVERS TRIBUTE TO BRUCE
MAJOR B. M. SNELGAR
If one was to write a full tribute to
In this respect we think of a few aspects of his command in 3 Commando which while only scratching the surface will sufficc to show that he was one of the finest Officers this Army has seen.
Major B, M. Sneglar arrived at the Commando on 1 May 1978 and with him he brought his "steely eyed Commando smile" and various mannerisms which were to give the men of the Commando confidence and courage through the good and hard times which lay ahead.
As time went by it was evident that Maj Snelgar led his Commando by his example. Firstly his. leadership and personal courage in contacts gave all in 3 Commando inspiration Which led to the Commando's 'large successes over the last 18 months. 'Secondly, the men of the Commando were of prime importance to the Major. All his efforts were put into ensuring that 3 Commando personnel only had the best and ensuring also that at all times morale was high. Nothing was ever a problem to him, all was sorted out with his personal attention. This duly led to the achievement of a large "happy family" in the Commando, whose successes have yet to be matched.
Major Snelgar sits on a pedestal whom 3 Commando will remember with pride, and no question that he is a legend to us and a complete and absolute Star,
THE "INCREDIBLES: TRIBUTE
Major Bruce Snelgar's loss as a result of a helicopter accident came as a great shock to us all.
As a 'leader he was without doubt one of our finest. His outstanding command ability and his incredible bravery will be recorded among the heroes of this war.
To his wonderful wife Sandy and his family we grieve with you. Please remember that you will always be part of the Regiment and the RLI is your home.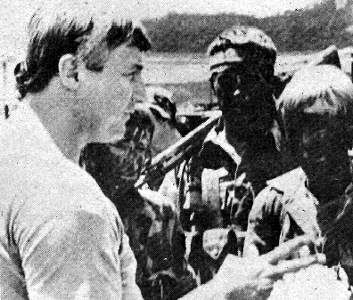 Fire Force being briefed by Maj. Snelgar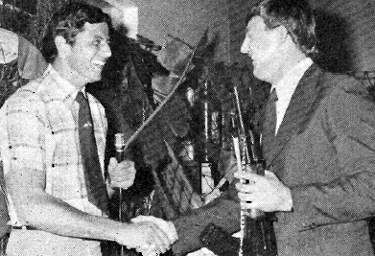 Maj. Snelgar accepts AK Assault Rifle Trophy
3 HONORARY MEMBERS
Mr. Wally Watson (Chairman of the RLI Association)
presents Mr. Patrick McLaughlin with ah RLI Regimental
Association Tie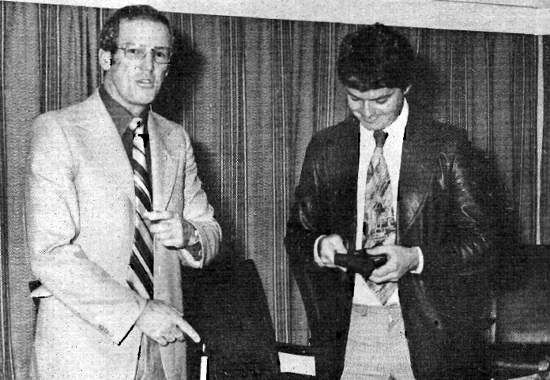 Capt. Mike Blackman accepts an RLI Regimental
Association Tie on Saturday 20th October
Mr. Tommy Russell also is presented with an RLI Regimental Association Tie
SUPPORT CDO
'THE ELITE'
Anyone for Tennis
The news is that once again the Cdo have cracked a ton (for the third time this year—how boring) and hope that shortly we may be able to present a new record (an improvement on our
old record) so that the other Commandos may get an idea of how serious and how senior we all are.
Since the last notes, the Commando has made two films — "STAR WARS" (the Comops version- -directed and filmed in Disneyland) plus a training movie entitled "PAINT YOUR
TANK" (serious version of "PAINT YOUR WAGON") starring Pete Binion and a tin of high quality PVA paint. We hope shortly to commence work on "A CULVERT TOO F . . .FAR"—a bizarre extravaganza of fear, excitcinent and lust centred on the love life of the Commando canteen manager. (PGA,) The role of "Lust" has already been awarded to "Ponce" Liebenburg.
WELCOMES
Since the last notes, we welcome a number of new members including Lcpl Smith (ex pigs), Lt Bobby Craves (as new OC Dog Section) and WOII Dennis Croukamp ex S Inf. Other additions are too numerous, sundry amd junior to be mentioned, but will no doubt grace these pages in the months ahead.
FAREWELLS
A long-standing member of the Commando has been posted, CSgt Tony Kruger. Best wishes for his tour at S Inf go with him. Farewells include C/S 79A ('Pete Binion), Terrence Tagnsy,
Billy Coetzer amd "Brother Love", who will be remembered for his cool mellows and far out expressions.
AWARDS
Cpl 'Rossouw - MFC (Ops)
Chunky Mclver - MFC (Ops)
Chris Rogers - MFC (Ops)
Pete Binion - BCR
Gin Traynor - BCR
Congratulations to all concerned from the whole of the "Elite".
PROMOTIONS
Among the recent promotions were Cpl Mike ("Foetus") Rossouw to Sgt, Cpl. Wayne McGregor to Sgt, and Tprs John Caffin, Mike Nurse aind Jeff ApoHnario to the dizzy rank of Lcpl. Other promotions included Lcpl (now Cpl) Torchy Turner (now married and.shortly to'be a father—not surprising when you realise the sort of underwear he is reputed to buy his wife!) and cliffy to Cpl, both off MA3 course and itching to use their newfound knowledge. Again, congratulations to all with the knowledge that they will enhance the spirit and the reputation of the "Elite").
CHUM THE AREA"
Besides cracking the odd ton on ops, the "Elite" managed to held a team'for the International Tiger Fishing Tournament held at Kariba. The jousters, consisting of the OC, the CSM, Cpl "Big" Mac, and "Chummer" Scottie De Klerk were alcoholically propelled every morning to the start line where the remainder of the competition proceeded to gap it from some fairly heavy alcohol fumes and some rather erratic driving. Needless to say, hundreds of packets of kapenta made the whole occasion a great success and shoals of tiger were observed swimming behind the boat while "Ohummer" lie Klerk heaved tons of Kapenta over the side and giggled helplessly into his keep net.
OTHER COMPETITIONS
'With only 3 Cdo left to participate, we confidently inform our readers that we feel the Inter Cdo Competition (Military Events) is fairly well sewn up. When that is completed, we will be so senior amd serious as to be completely untouchable. This happy state of affairs is due to some pretty hard work by the Approach march team led by the twice war wounded, but silent and undecorated Lt Kapenta. The shooting team also chummed a few targets with rather disappointing results. We naturally won the competition handsomely, but the shooting was not of a great standard.
ASSAULT PIONEER TROOP NOTES
Assault Pioneer Troop, aptly named for abilities to assault caves, schoolgirls and any other dubious itepis which cross its path, continues to flourish.
Tpr "Fonz" Howden having just escaped the clutches of law after jousting with half of Salisbury's security guards can once more be seen with his "pretty cool rod" dangling John
Wayne style oh his hip.
We said goodbye recently to Lcpl Terry Tangney, that well knowm gun-shy, part-time soldier and full time pervert. At some time he discovered something called work in civvie street, so he is back with us already, posing as Lord Snowdon.
Cheers and thanks for their invaluable services go to Cpl Len Lewis, now masquerading as an out-of-work rock star; to Tpr Ian "The "Gin" Traynor who is presently unemployed and
excelling in it. Congratulations to Gin on receiving his BCR.
Our goodbyes also go to Lcpl "Brother Love" Rodger who has derided that walking is "pretty uncool", flying is "far out, man" and is now going to join the Blues, The troop is now chumming the area for a guitar player to replace him.
We hear through the grapevine that Cpl Mac, last seen sporting a serious slip-on beard and bleeding from the eyes, will be joining us from leave, whereupon the looting and shooting will no doubt increase.
Welcome to Lcpl Smith who has joined us from Support Unit. He decided the black boots weren't good enough and is going for the blackheads look with lengthy amounts of camnio cream.
Welcome also to 163 and 164 NS who are hanging it in like masters, despite the fact that they appear hell bent on becoming civvies as soon as possible. We would like to congratulate Mr
Kapenta on celihrating his 11th birthday through the whole bushtrip, and that he should be a big lad when he grows up.
ANTI-TANK TROOP NOTES
The troop welcomes the new additions of Intake 164, and looks forward to the return of the Tp 21C, CSgt John Naested who is either:
(a) Shooting in SA
(h) Having a baby
(r) Moving house to Gwelo
(d) On leave
(e) Moving house to Salisbury.
(Delete whichever is inapplicable!)
Our three intrepid Anti-tank instructors have now returned from Hooters, and hope that Jeff Apolinario will finally make the bush.
Tpr Kevin Casey is once again subsidising Salisbury panel beaters along with Lcpl Bendy Chiiven, after taking the litre beater campaign too seriously, and trying to drive his car on its roof.
Ron (The Pervert) Smirnoff Pereversoff has been on R & R for eight weeks now, having decided that two weeks were insufficient,
Watch this space next edition for wore news of the Burners, and an update on the 'Beech love life.
CONCLUSION
As this is the last edition before the festive season, we wish to cronvey our thanks and appreciation to all the "Blues", particularly 7 Sqn and various others who have helped to make our year a most memorable one. Best wishes also go to all our admirers (1,2 and 3 Cdos) — do keep sending in the fan mail and postcards -your response has been overwhelming.
OBITUARY
Tpr Howard Furness- "Jordy", or "The Crank" as he was better known joined the Cdo on 28th October, 1977. He was a member of Recce Troop and will always be remembered for his tenacity and unfailing sense of humour. Our thoughts are with his next of kin.
My Tennis is most daifinetly more Arse than Class
HOLIDAY POSTCARD RECEIVED FROM LCPL TERRY TANGNEY
(some TTL In the country)
READS: Have found a wonderful family — and true love — a very beautiful girl. This could be it, wish me luck.
HAPPY SNAPS FROM THE CHAPS: Tpr's Chips Chapman and Dave Jeffery, "Fire Force"
.
WAR GAMES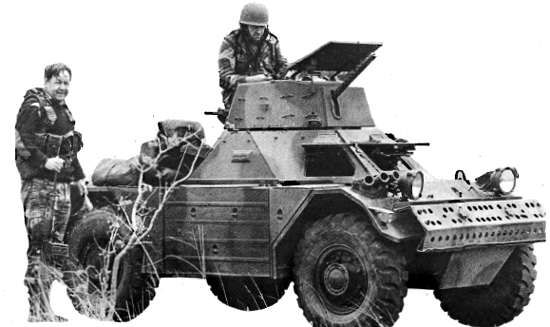 WAR GAMES ... and a "Dinky Toy" to complete the scene.
Major the Reverend Bill Blakeway (left) chats to Lt. .Colonel Ian Bate, Commanding Officer of 1 RLI,
during a training exercise.
GAME ONE
CONTACT! The familiar alarm went out as calmly as ever ... an everyday reaction among troops seasoned to the hunt-and-kill routine of fire force.
GAME TWO
But for the next 30 minutes there was nothing routine about this contact. Within minute the "big guns" were brought to bear and in computer-Hke fashion their first rounds whistled
overhead the forward troops to crash in on target.
The tranquillity of the hot, humid, slightly overcast morning somewhere in the operational area was further shattered by the clatter of heavy weapons and the whine of vehicle engines
as the highly mobile fighting troops crashed their way through rugged terrain.
Over the command radio network orders were swift, crisp; almost whispered. Men and machines were moved like chessmen. The routine born in training took control as the fighting
troops settled into a pattern to rout the enemy.
GAME THREE
In the initial burst of action three of the enemy were caught unawares—swiftly brought down as they tried to break from one patch of cover to the next. 'Ihey stood no chance in the hail of flying shrapnel and lead that beat a dust pattern to their hideout and then ripped through their cover.
Even as the first burst of fire had initiated the contact the second phase of the encounter had moved rapidly into gear. Troops, vehicles and guns moved quickly to block off possible escape routes. The request for air cover had gone out.
Suddenly it was over. The game had been called off.
GAME FOUR
The contact was the highlight of a recent combat team training exercise into a tribal trust land near Salisbury and proved beyond doubt the value of just such an exercise.
Under the command of Lt-Colonel Ian Bate, Commanding Officer of the 'Rhodesian Light Infantry, various units had the opportunity of practising their skills in a fairly realistic role.
The three kills proved to be an unexpected bonus. In subsequent follow-up operations by ground forces, acting on intelligence from "prisones of war" captured during the encounter, three more terrorists were killed.
A second light-hearted battle took place at the scene of the contact when the infantry commander claimed that his men had softened up the target so that the "heavies" could safely
take on the enemy.
GAME FIVE
Among the more important lessons learnt on the exercise were the following:
The Bols and soda gets a little warm in a trailer towed by the "Pig".
A bar stool makes the Adj feel totally at home on his travels.
While a steel helmet does make one look etxtremely rugged, it does have a secondary use in the cramped confines of a "Dinky Toy" when you are too busy to answer the call of
nature.
Maps with a thick red line marked on them should not be regarded as gospel.
Commander second in commands are liable to get lost—even with a thick red line to follow.
TRAINING TROOP
CSM Titch Brotherton lashes with feet as well as with tongue
DOMESTIC NOTES
Since (he appearance of the last issue of Cheetah the following changes have taken place:
NEW ARRIVALS
CSM "Bruce Lee" Brotherton has replaced Johnny "Legs" Norman who has moved on to pastures new. Cpl Caulkett is a welcome posting in 'from I. Section of Base Group and is now
testing the intelligence of Intake 166. Cpl 'Papier is now our MT Rep after a stint with 1 Commando.
DEPARTURES
Apart from the loss of CSM Norman noted above, other recent moves have been C/Sgt Campion to the jungles of civvy street (you'll be back) and many of our TA Instructors from Intake 161 (you WILL be back).
BIRTHS
Sgt van der Heever's wife has recently presented him with a bouncing boy—congratulations to both. We've reserved a bed in Intake NS 246 for him!
COURSE 165 REGULAR
The "baker's dozen" has now passed out and will provide quality if not quantity in the Commando.
COURSE 166 NS
This course has distinguished itself in many diverse ways since commencing training. High among their services to the Regiment has been their well publicised participation in the Rhonat Horse Show and Gymkhana at the National Sports Centre in August. There for several evenings the lads raked sawdust and "other stuff" around in a smart and soldierlike manner and their efforts were rewarded with a generous donation (from various organisers, participants and sponsors at the show to the tune of $ 500 for the RLI 'Memorial Fund.
On a later occasion the aquatic section of NS 165 showed the civvies how to do it by taking the first prize in team events in the Belly Flop Competition at the Les 'Brown Pool thereby securing more loot for the 'Regiment and themselves.
By the time these notes appear in print NS 165 should be continuing their good work by serving in their various Commandos.
COURSE NS 166
Our current junior course has made a good start and are already fundies on bunkers and trench warfare! Two Noteable non-Rhodesians on this course are Rets Thorkbon and Johannsson from Reykjavik, Iceland, bringing our international tally to about 37!
Although we are quite busy at this time there is a "lull before the storm" atmosphere around the troop these days as we await the thundering of hooves Which will herald the arrival of Intake 167 in January.
As part of the plan to cater for the expected influx of recruits in the New Year and to offset a critical instructor shortage, the Troop is currently running an internal Instructors course combined with a Tpr-Cpl Cadre. It is hoped that this venture will produce some talent from the Commando NCOs attending so that we have a sufficient depth of instructors avail-able in reserve for all our future commitments.
GENERAL REFLECTIONS
By Maj. General A.N.O. MacIntyre, OLM DCD
2 COMMANDO'S EARLY DAYS, OR, A TOUCH OF THE BLUES
Do you belive in coincidence? Most of you probably don't know that immediately after the "break- up" the OC of the Big Red for some months was none other than Major A. L. C. Maclean, and it was our wont to do the morning crossword together in his office over coffee at 9 am or thereabouts. With the exception of Johnnie Pullen he had every private in the battalion and he ran a tight ship (-no pun intended). The other day I mentioned that I needed to get a new stable belt and the Army Commander said "'Don't buy a new one. I've got an old one, as new, at home". He brought it in and there where I secretly put my initials was ANOM written some fifteen years ago. It still fits him but is just a fraction tight on me. I wore out his other belt years ago.
Nowhere was the trauma of the dissolution of the Federation of Rhodesia and Nyasaland quite so evident as in the RLI of November 1963. The great "break up" was on with a vengeance and I came back from a School of Infantry course to take over Coppingers Corner or Blue Block. Everything was painted bright blue, even down to canvas water bags and "Banda the company mascot's tail. It was an odd sort of command, for my company consisted of self plus one Officer, eighteen WOs and Sergeants and one private soldier. The other ninety troopies had taken the gap.
But what a private soldier—none other than the redoubtable Johnnie Pullen who achieved undying fame 'by taking the first and nastiest of our cheetahs into the round bar at the Park 'Lane for a quiet pint, letting him loose and clearing the joint in five seconds flat. The BSAP tried to get in but to no avail and eventually the Adjutant was called to coax Johnnie, with his. cheetah twittering and squealing like a mad thing, out of the pub. Due to the absence of barmen and clients inside the pub, Johnnie was of course serving himself and the cheetah with the coldest of Castles at rock bottom prices. But, being good soldiers, after one word from Seagull Pte 'Pullen and Lcpl Cheetah staggered out and the siege of Kia Nyama was over, Johnnie Pullen was also something of an entrepreneur and budding showman, for some months later at camp in Inkomo under die direction of a Subaltern Officer affectionately known as 'Patrick Mujiba Hill, Pullen collected half-crowns at the door of the Company Commander's tent from members of the recruit squad eager to see what the butler saw in the form of one very amatory member of the Sergeants' Mess who had taken temporary lodgings therein. Mujiba Hill on being reprimanded pointed out that the small sideshow had doubled the company fund in one evening and you can't argue with that sort of logic when the Company Fund stands at Twelve Pounds, Two Shillings and Sixpence.
Incidentally, in that first recruit squad of the new Southern Rhodesian Army's RLI were my old mates Butch Field-Coleman (now a Sergeant at DRR) and George Moffat (now the CQMS 3 Indep Coy) who J remember as witnesses at Johnnie Pullen's Court 'Martial on a charge of being five minutes late in getting out of bed. No, dear reader, the CO had not gone mad, it was simply that Johnnie refused to take the CO's proposed fine of Three Pounds, demanded Court 'Martial, inevitably was found guilty and was given Fifty Six days detention. 'Peter "Bomber" Daines defended and yours truly prosecuted. I'm told that the short skit I wrote, based on that Court 'Martial, eventually appeared in Blackwoods magazine—but thereby hangs another tale.
There were three or four Sergeant Majors in the Company including Peter Cooper—still serving and OC Training Troop at 'RLI—and the late GP Engela. GP was another character and my abiding memory of GP was his comic genius in finding a coelacanth in every fifth beer. However, the most famous of all my Sergeants' Mess members was Geordie Butler our CQMS, and the proverbial rear end of the duck had nothing on Geordie. As an example, one Sunday with Pete Cooper, Uncle Ron Reid-Daly and all, having found the only pub open in Johannesburg we put 10/- (ten shillings equals one dollar for -young ouens) each into the kitty and proceeded to order pints of draught. We left by taxi back to Milner Park some three hours later, tight as ticks, and on arrival at our billet, Geordie who had been the group treasurer, handed us back six and ten pence each! Not too many, even in those days, got over happy on three and two pence.
Of course, Geordie's greatest coup was the great bottle swindle and I've got an idea Pete Cooper wrote up the story for Assegai way back in nineteen sixty something. The story isn't included in Geoffrey Bond's "The Incredibles" which gives a very sketchy account of the RLI's only officially sanctioned period of foreign service—Jo'buig March 1964. For example Geoffrey Bond fails to record the tale of "The RSM in th
Perde 'Schoen with the outsize Dutchman", or, "Bougard apd the ducktails", or "Peirson arid the nightwatchman", or, "Jimmie Jamieson becomes a horseman", or, "OC B,Coy, the professor's daughter and the brandy", or, "The RSM's inability to go to bed", or.. . . you can see there are a thousand missed possibilities.
So, just in case Pete Cooper's story is lost or I'm mistaken, back to Geordie and The Great Bottle Swindle. We went to Jo'burg by bus and our fancy kit for the show went by train in ten huge boxes, which is proof that Rhodesia was ahead of the world in containerisation in 1964. The mission was set, to get recruits for RLI by doing a drill display and a toy soldier display before the many thousands in the main arena of the Rand Easter Show. Maclntyre was to be OC with Peirson as 2IC, ie the social team, Ron IReid-Daly the worker supported by Pete Cooper and Geordie Butler and all the action was to come from some eighty-odd troopies. At the last minute the CO, Lt Col Reg Edwards, felt that it would be dangerous to leave such high-powered work to 'Maclntyre and 'Peinon and came along to make certain that the social scene swung at the correct tempo, but we assure you that no social scene would have dared to swing out of tempo in Col Reg's presence so us officers really did our bit for. the Regiment. Now, Geordie had a habit of going for an early morning constitutional within the grounds of Milner Park and for the first week or so he kept coming back with a deep frown on his face, sitting at breakfast for all the world like a puzzled Hercu'le Poirot, or Tyneslde's answer to Kojak who couldn't'find a chip shop in Scunthorpe. Clearly there was some matter of gigantic significance that he wasn't seeing although it was staring him in the face. Then one morning over the ham and eggs and quart of tea, Geordie shot up like Socrates out of a boiling bath and squaked the Newcastle equivalent, of "Eureka", He had just "seen" the thousands of empty bottles that lay everywhere in the showgrounds. He had been wondering, just then, how he could, have been so stupid as to lose those three coke bottles from the canteen at the last company camp at Salisbury 'South (close to the OC's favourite golf course). Bottles were convertible to cash, what joy!
He sat 'there dreaming, ham and eggs forgotten, looking like Lucrctia 'Borgia working out how to poison another 'Pope and in the end, of course, it was simple. Every morning out went Geordie with his lads, Pullen, (Bougard, et al, and in came a selection of bottles common to Rhodesia and 'South Africa, mainly coke and the familiar "little brown" variety. The fancy kit was posted back to Rhodesia or presented, to various choice damsels to compensate for early morning sickness incurred in the service of the Regiment and into the ten huge containers went the bottles. Of course the real 'beauty of the scheme, the touch of Simon Templar that gladdens the heart of every Saint, lay in the fact that the 'boxes of golden glass were to be railed home at no cost to company funds by a grateful government. Of course no one ever knew whether in the end any bottles came back to Rhodesia but Geordie being the wonderful soldier that he is would never "have dreamt of such a scheme for private or personal gain. He was one man who always did everything he did for his soldiers.
Talking about company camps at Salisbury 'South takes me back to a frost-fresh morning lying in that special Arabian palace-like tent that I inherited from Tony Coppinger (it wasn't "on the books" so I wonder what happened to it) and looking through the very early morning haze at a camp fire where my faithful batman tended the' boiling beverage. So I shouted "Tea Lovemore" and he replied "Yes 'Bwana". Then I watched greatly amused as 'Lovemore said to the nearest recruit, "Get the Bwana's tea" and got the predictable answer, "Who the hell do you think" you're talking to". Lovemore, true to form, made the master crystal clear, "You are just a very young and new recruit. I am an old soldier. Now jump around and get the Bwana's tea or you are in the . . .". There was no more argument from the recruit.
'Which reminds me of a Black Saint who has gone to serve with some of his old troopie mates—the late Langton, mate of Lovemore's and Number 2 batman at 2 Cdo. In 1971. we were about to have a show in Glamis to get recruits (sic! you've heard that before), we were in rehearsal and 2 Cdo were to re-enact a contact in the Valley. I'd been recently appointed CO and into my office came Lovemore and Langton. Lovemore was clearly unhappy and I invited him to speak, ""Bwana" (he always called me Bwana and I've got an idea that the word as' used by Lovemore roughly translates as 'twit') "it is crazy to have 2 Cdo do a contact and have Lou Hallmore painted black as the terrorist". I waited, "Bwana, Langton and me will be the terrorists". I still waited, "Bwana, have you ever seen Langton dying?". Pause, "OK Langton die for the Bwana". With an ungodly screech this Black Douglas Fairbanks Jnr leapt in the air and came down a mass of flailing arms and legs from seven feet up on to the cement floor of the CO's office where he moaned, twitched and gurgled into eventual silence. I was shattered and said nothing which Lovemore took as meaning that I was not sufficiently impressed, so he gave Langton an almighty rev for a half-hearted attempt and away we went on dem number two. It was the sort of dyirng that Errol Flynn or James Cagney would have been proud of so I gave them the nod immediately and they were duly installed as two of the terrorists in the 2 Cdo show. For some reason that I never quite understood 2, Cdo were not greatly impressed initially that I'd put Lovemore and Langton in their show, perhaps 'cause I hadn't consulted them first but simply stuck their batman in by decree. But they got their own back and I doubt if a CO of the RLI has ever had such a shock. On THE day, in Glamis at the end of the show the battalion marched past the Prime 'Minister Mr Ian Smith and the CO. 2 Cdo, headed by now Major Mujiba Hill gave a smart eyes right. At the back of 2 Cdo, their A'Ks appropriately at the slope, came Lovemore and Langton every bit as smart as any troopie, giving eyes right with their mates and of course accompanied by a painted terrorist, none other than the now RSM Hallmore. I wonder if any other two civvies of any colour have ever won the love and respect of a battalion to the extent that they were allowed to march past as one of them. I surely doubt it.
You could go on for a hundred pages about 'Banda and Fergus, our old 2 Cdo mascots, Pompe van der Metrdervoort that doyen of company clerks and dozens more. They tell me they even have another Maclntyre in "2 Cdo these days but I doubt, if he comes up to the standard of the old 'Blue Pimpernel. Other commandos provide equal or better stories. I suppose you can't have your heart in more than one. For me it will always be a touch of the blues when I think back on the good old days.
Footnote by a certain 2 CDO Subaltern
Having been handed the above manuscript by the Bn 2i/c, Major Peter 'Mincher, I read it and decided that some form of footnote was required.
It is not easy to write a footnote without getting too personal so I would like to bring the "Old" Blue Pimpefnel up to date with the New 2 Commando . . .
Sir, whilst you were here the Company breakdown was, by your own admission:
1. Coy Fund: Twelve pounds two shillings and sixpence.
2. Coy strength: Two Officers, eighteen VVOs and Sergeants and one private soldier.
3. Everything was Bright Blue.
4. You did the crossword with the present Army Commander every morning at 0900.
In comparison the new 2 Commando breakdown is as follows:
1. The Cdo fund: One thousand six hundred and forty three dollars thirty nine cents,
2. Cdr strength: Six Officers, four senior NCOs and one hundred and four other ranks, excluding Lovemore,
3. Everything is now dull and chipped and well worn.
4. The OC, Major P. A. D. Hean, now does operational equipment write-offs, takes orders, gives orders and reprimands his subalterns, as he drinks has coffee and does the morming
target.
In conclusion Sir, I would like to say thank you for "a touch of the Blues" and Lovemore assures me that "Bwana" in fact means "big Boss and not "TWIT*.
BASE GROUP NOTES
The flight was long and hard, but the Association has finally recognised us. What follows is a literary masterpiece which the producers of "Cheetah" have denied their readers for so long. We, the backbone of the Battalion, will ensure that this heinous crime is not perpetrated in the future.
We are pleased to see that the rumour of Major "Ahmed" Jackson's impending posting has not impeded his undying devotion" to Israel and Zionism.
Our Second-in-Coromand is still "Grand Master of the Art of Cuff" and apparently intends running a cadre, norm to reach 2Lt Coutts before 1980.
With mixed feelings, joy, elation, glee, etc., we learn that Armoured Cars have, with some apprehension, accepted our "Assistant 2i/c" namely 'Big Bad Bob Halkett, who having rejoined after "extended leave" has been seen inciting troopies and recruits to leave the Army to go and help slay aboriginies and maoris in distant lands.
Our CSM, 'Big Lou Thackwray, tired of sitting around doing nothing, has decided to go on the next OP Course' at Hooters. Lou, it's not true that the Troopies are clubbing in to help pay for your petrol and those packed suitcases. It must have been your wife. Best of luck on the course, Lou. Defence Platoon is rooting for you.
Pete Uys, having defected to 2 Commando does not merit a mention. We will mention however, that Ernie (Botha of "Ernie's Detective Agency" n delighted, as he now has reached the dizzy heights of CQMS (even M" it is only temporary). Ernie can be seen slinking around in a white overcoat, clutching tattered 1157s with a look of unholy joy' in his eyes. We find it strange that, of all the brilliant instructors in the Battalion, "the "powers that be" chose our arms storeman "Chocolate Charlie" Gallagher to help train Pfumo Re Vanhu. The colour of his skin couldn't have anything to do with it, could it?
Tpr Ben Coetzee, of Rugby fame, having lost his virginity while serving with Base Group, now has an eager pupil in the form of Mike Turner. 'Needless to say. Mike's Mum is horrified. We believe she intends seeing her M.P.. Sorry Mike!
In conclusion, we would like to thank the Commandos for the continuous praise they shower upon us, but really, guys, we're just doing our job.
RLI CATERERS
There have been quite a few changes in the Catering Staff of late.
Firstly we should welcome the new "Godfather" WOl Nell who has come to rule over the other Mafia contacts Mantia and Pavoli and please don't be alarmed at the piercing screams and shouts you hear coming from the kitchen these days. It isn't the Cosa Nostra torturing somebody, but only our new Sgt Nitsa having a go at some unfortunate. (I understand the
Corporals' Mess have put out a contract on her.)
Also a welcome to our lad from Lancashire, Sgt Gordon Fearnehough and, not forgetting, the other pommy Cpl Tony Saville.
PAY OFFICE (Casual) NOTES
Rumour has it that our name is to be changed to Z.A.P.U. (Zimbabwe Army Pay Unit). Let us assure you that we have successfully quashed this rumour. Casuals are still in full swing; even the old snivelers still somehow manage to give some most impressive excuses.
CONGRATULATIONS
We would like to take this opportunity of congratulating the Paymaster, Lt David Evans, on his recent marriage to 2Lt Amanda Hamer-Nel: all the veiy best to both of you.
Also Congrats to Terry '*Burp" Buit on his promotion to Colour after being a Sgt for more than six years: goes to show "TAs" are very slow. To Gerry '"Pigeon" Elliott, who recently celebrated 10 years of marriage, we believe he has signed on for another 10 years, the same bird!
Let's hope a pay-increase is around ihc corner, as the "oeuns* bucks" don't go very far these days. The old saving of "Pay checked and found to be correct" has beern replaced by "You oeuns have snied me of my bucks, ek se".
Lastly to the CO, Officers and other ranks, a very merry Christmas, a Prosperous and. Peaceful New Year.
LOST IN INNER SPACE (PRONTOS INC.)
This being the first article by Signals Troop, we were left with the quandary of not knowing where to start, past or present.
The problem was solved by the unanimous decision to start with the new era; the arrival of Lt Sager (Uncle Derek as he is affectionally( ?) known). It is not really known if Uncle Derek has settled down to his new and comparatively rowdy protoges. Have you Sir? We must congratulate Lt Sager on the acquisition of a number of vehicles better equipped for our new role, and last, but definitely not least, the dearly beloved 60 foot mast which offers little or no resistance when being erected on dark rainy nights.
THE CONDOLENCES COLUMN
Signals Troop would like to offer its deepest sympathy to the wives and families of the new members who joined from Intakes 163 and 164. The effects of the Signals Course and in particular the morse are still very apparent. Some of the new Signallers were obsessed with the sabotage of the training oscillation. Some in fact still cringe and shiver when they hear
morse. Sorry, you lost guvs, signalling is hell!
THE UNDERSTUDY
From Intake 164 came understudy "Vic"' Morrow. Rumour had it he was drafted into Signals Troop as a Special Branch agent and during the initial stages of his tour silence followed him like a cloak and some members of the troop took his presence seriously and all subversive activity ground to a halt. An air of innocence prevailed until it was realised it was a complete leg pull, "Vic," don't worry, it only took you about three weeks to get into the clique.
CONGRATULATIONS
Full marks must go to Cpls Ross and Santowski who, after a bender on a Thursday night before inspection, thought they saw a fire on the ground floor of the Troop. Quick thinking and expenditure of a fire extinguisher solved the problem. It was later learned that there was not a fire at all. Well done, lads. A pity about the mess, though!
Congratulations must also go to C/Sgt Slater on being chosen to escort the colours. (See the last edition of 'Cheetah" i.e. the cover). Big Mike" was so chuffed he managed to lay his hands on a carton of the particular edition and distributed it throughout the Troop.
Congratulations to L/Cpls Williams, 'Dutton and Van Zyl on their recent promotion. Well done! Congratulations to Cpl Maidment on her recent promotion: it took a fair while, hey,
Tpr Kotze was brought back to the Troop after a sojourn with the Big Red. I'm sure the Big Red canteen sales will have eased off considerably. In the .same vein, Q's canteen has now got the golden opportunity of making a reasonable profit. Keep it up, Terry! Due to the loss of comms due to Skip Distance, nothing heard—out.
We have Signals Troop Plaques on sale from Cpl Maidment at $6,50.
THE REGIMENTAL POLICE (The Breakers)
The RPs are a force to be reckoned with. Now that we have members from the Commandos, you must remember, it takes a skate to catch a skate.
C/Sgt Authers our fearless leader until he sees the RSM, is our Boss who is the long explosive expert, but the rest of RPs are still getting back blast from his last bang!
L/Cpl McMaster still is pushing broom. We have suggested that he moves house to camp, because by the time he finishes his extras, his wife will not recognise him from the skinny oeun she used to know to the hulk he is today.
The RSOis having a long communication break-down, with the Guard Room at this stage because his garden-boy was given a new bed space and he thought he was getting . . up, and now communication is almost restored we think. But now the message is through strength five.
The Commandos must now remember, when they come back from the bush, to hide all their contraband because the Sweeney is on the prowl.
Last, but no means least, our long-tune war-hero 'L/Cpl Devine, who dreaded coming to RPs, has now settled down well and found a new toy -hair dippers from the QM. As you know, he has done a lot of sheep-shearing, and has changed his profession to "giving haircuts". (Our prisoners now look like sheep.)
PRE-AMBLE
The School of Infantry has for many years offered a safe haven for the misemployed members of the 'Regiment who are down on their luck. (No wonder Tony Wells shuffles from door to door shaking his 1942 issue tin mug at tight-fisted residents.) This shaky contribution is designed to review current ERE members of the staff. It should be followed by equally shaky contributions of a more interesting note in future publications.
ON STRENGTH
CI — Major Tohn "Keep a Cool Head" Dawson (ex OC 2 Cdo) soon to be lost in the shadowy halls of Belsen. 'Maintains low but effective profile assisted by the odd comb. A long standing member of the team. Will be a great loss. Able 'Boss of the 'Pad and (Military Kennel Club.
Adjt — Capt Dave "Gull" Struthers (ex Sp gp). Cuts most corners with consumate ease. An accomplished Drill Pig who prefers the sword to the pen.
RJSM — WOl Derek Fraser (exCSM 3 Cdo). Still believes "Felly's" and Denims are for Cissies, Loves, Subalterns and Gaboon Vipers. Oh how we laughed.
TAC WING
OC — Major Simon "Horrific" Haarhoff (ex OC 2 Cdo). An incongruous sight on his "yammy". 'Penchant fof cladestinc Vodka parties (look what Smirnoff did to me).
2i/c — 'Major "Buttons" Buttenshaw (ex OC 3 Cdo). (Look what parachuting did to me.) 'Described by students as a Military Maniac. 'Runs a fair Mess when sober.
Wing CSM — W02 Mally Eiger (ex 2 Cdo). from diplomat and drunk. Often overhead whispering to passing RWS, "It's all muscle".
REGT WING
OC — Major Tony Wells (Founder members). Born Calcutta, 1910. An old-school perfectionist. Unashamedly breaks into tears on mention of the word "puttees"
2i/c — Lt "Cocky" Binks (ex CSM/CQ 3 Cdo). First class mortar instructor. Missed Cmdt and CI by a mere fifteen feet; seen hurling another bomb into tube launghifig "It's all a mistake"; torn from weapon by sweating students Oh how we laughed,
Offr Instr — Lt "Butch" Pelser, (ex CSM 1 Cdo and founder member). Swears he has worn green and silver longer that any man, A passably good rifle shot to psych his way to glory.
Wing SM — W02 Terry Miller (ex CSM 3 Cdo). Last seen fondling an RCL in a most disturbing manner. A boon to the instructor list, he is awaiting a vacant padded cell at you know where. It's not quite easy running Regt Wing and the WOs Mess.
Regt Instr — C/Sgt Mark Austin (ex Trg Tp). 'Resemble* Pancho Villa in appearance and habit. A versatile instructor who has completed yet another year at "Hooters" (lucky man)
Regt Instr — C/Sgt Billy Wiggill (ex 1 Cdo/Trg Tp). An ambitious instructor who will doubtlessly reach his ceiling in time.
CDT WING
A/2i/c and Regular Cadets — Capt Mark Adams (ex 3 Cdo). Still resembles an off-colour 'Marabou Stork. Eligible bachelor and potential "MP for Kopje Road.
Wing SM — W02 Sandy Miller (ex GSM 2 Cdo). A gentle man who presents a fatherly image to Cadets and wandering maidens (curses). Determined to ease his overweight torso into better shape — mainly for the latter's benefit.
Offr Instr — Lt Graeme Murdoch (ex 2 Cdo). Visibly wilting in rarefied Hooters atmosphere. Enjoys socks of the Northern Transvaal variety.
Offr Instr — Lt Mick Walters (ex*2i/c 1 Cdo). Habitually and happily bashes passing brother officers from other Regiments. Tells a good joke when sober. Another eligible bachelor who isn't having any.
Offr Instr — Lt "Jug" Thornton (ex Adjt 3 Cdo). Mrs Thornton's little Bat-eared Fox. Showing every sign of changing from a nasty little officer into a nasty little DjS. Another eligible
bachelor who shouldn't have any.
Regular Cadets — C/Sgt 'Barney 'Rurrt&le (ex 2 Cdo). Not to be under-estimated. A bantam Of the cocky variety in every sense of the word. Endears himself to Cadets with a gentle repertoire, reminiscent of "Hair".
QM GROUP
Qm — Lt Srian
RQMS — W02 Jock Bonsor. Foreign accent a distinct disadvantage to an otherwise promising career. Can be found most evenings staring darkly into an empty glass.
Q Staff — Sgt "Dix" Dixon (ex 2 Cdo). Credible rag and bone man. A seedy pass on CQ's course has regenerated interest in the Army and he is now getting serious. (The fool.)
Q Staff — Sgt "Moraie" Mostert (ex Base Gp). A generous man who helps out on duty rosters whenever he can. Easily riled but equally easily pacified when offered anything free (like beer). .Rumoured to be author of "Your Car: How to Keep It".
Q Staff — Sgt 'Rich Whyte (ex Sp Cdo). A slim 284 lbs who finds it difficult to hide in his bed behind the armoury counter. Oh how he laughs.
PT STAFF
C/Sgt Chris Miller and Sgt "Muscles" Steyn
The former is giving up PT for general instruction, mainly aimed at Cadets. His wild dog physique gives rise to many interesting theories as to how this it achieved, We think we know the answer 'but he's not telling. "Muscles" continues to get heavy with anyone in "PT Kit and improves his build at every opportunity. The sand in his eyes is a set up.
WO2 Ernie Shaw. Crushed with responsibility this rotund emissary of mainly bad news handles all MT matters in an aggressive and efficient manner. Still tries to play the odd game
of rugby but seems to have given up since being mistaken for the ball during a violent Sports Club clash.
FINALE
The sorry list is complete—but what's rhis? Cocky Binks hurling himself at a cross-eyed student's boots, fouling the regimental leather with regimental tears . . . Malcolm Eigner
staring wistfully at the "Mess cat . . . life at Hooters must go on. Oh how we laugh.
Well done the first team and keep up the good work. We look forward to re-joining you in the not too distant future.
NOTE OF INTEREST
The Officers' Mess Bar has been named "Brmcie's Bar" in memory of 'Major Bruce Snelgar. A brass plaque honours the memory of this outstanding Officer.
Message from the Chairman, Mr. Wally Watson
It seems quite incredible that e year has already passed and from the 1RLI Regimental Association we are very proud of what we have achieved over the year. We have kept in contact with past and present members through the media of Cheetah magazine and this has achieved its objective regarding members of the Battalion, their families and friends and ex members of the Battalion.
We wish to extend our sincere thanks to the advertisers who have supported us throughout the year, the Editorial staff, in particular Capt M. L. M. Blackman who's forethought and hard work have been of inspiration to us all. To Carrie Taylor our untiring secretary, who has kept all together and put all together. To City Printers our special thanks to Mr, Elie Bondi, Norman Conlon and "Tromple" To the public for their Incredible generosity during the erection of "The Trooper". Our very special thanks to the Commanding Officer, Lt Col I, R. Bate, MLM, and the whole Battalion for their enthusiastic support.
May I end by wishing all our members and readers a very happy Christmas and prosperous New Year.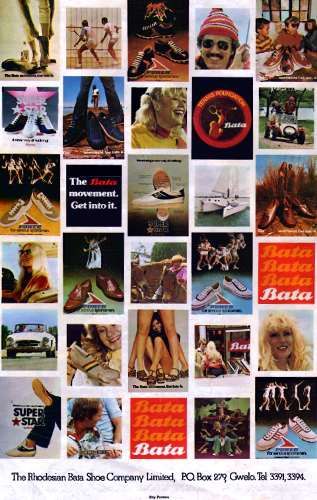 The following advertisements appeared in this magazine.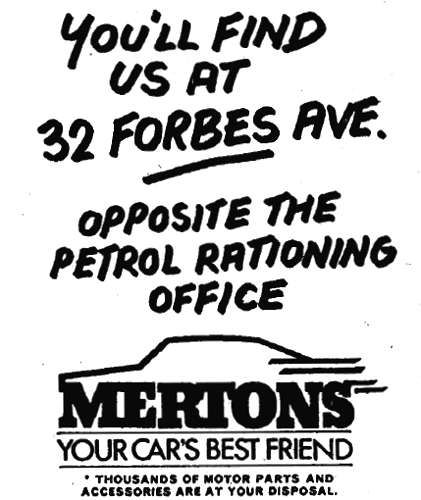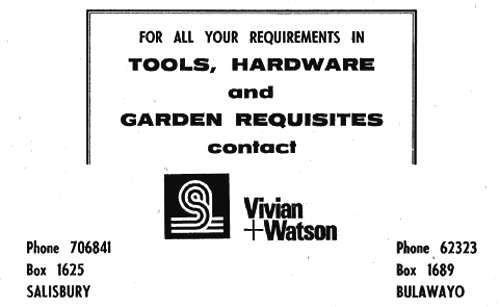 End of Magazine
Extracted, OCR and recompiled by Eddy Norris for use on ORAFs.