Cheetah Magazine June 1979
In I960 it was decided for the first time to include a Regular European Battalion in the Army order of battle and as a result No. I Training Unit was established at Brady Barracks, Bulawayo. No. I Training Unit not only provided personnel for the Battalion, which was formed later, but also provided personnel for C Squadron, The Special Air Service, and the Selous Scouts a reconnaissance squadron
The 1st Battalion, The Rhodesian Light Infantry officially formed on 1st February, 1961. This day is now recognised as the Regimental Birthday.
In the latter part of 1961, the Battalion moved from Bulawayo to the new barracks in Salisbury, Cranborne Barracks, having just returned from operations on the Northern Rhodesia - Congo border.
In 1964, the organisation and role of the Battalion was changed from the conventional infantry unit to a Commando Battalion. The wearing of the Green Beret was also introduced.
Colours were presented to the Battalion on 19th June, 1963, by the then Governor, Sir Humphrey Gibbs, K.G.M.C., O.B.E., on behalf of Her Majesty Queen Elizabeth II.
On 27th June, 1970, the Regimental Colour was trooped before the Prime Minister, The Honourable I. D. Smith, I.D.
Regimental traditions which form an important part of Battalion life, are gradually being built up. Two are noteworthy, namely the Regimental Quick March, "The Saints", and the mascot — the Cheetah.
For the past few years the Battalion has borne the brunt of border control operations in Mashonaland and has been engaged in numerous, most successful operations against terrorist gangs that have infiltrated into Rhodesia.
(a): To establish liaison between the Regiment, E.R.E. and ex-members.
(b): To nurture the traditions of the Regiment.
(c): To organise social functions for the re-union of all ex-RLI members
(d): To rehabilitate wounded ex-soldiers.
(e): To render guidance to members leaving the Regiment.
(f): To offer welfare assistance to widows.
(g): To assist with the Public Relations of the Regiment.
(h): To raise funds.
(i): To implement any projects which may, from time to time, be approved by the National Executive Committee.
Head Office:
SALISBURY: P.O. BOX 8294, CAUSEWAY.
GWELO: P.O. BOX 734, GWELO.
CAPE TOWN: P.O. BOX 2574, CAPE TOWN.
1. : THE UNVEILING Of "THE TROOPER"
2. : 1 COMMANDO NOTES
3. : RLI RUGBY
4. : 2 COMMANDO NOTES
5. : 3 COMMANDO NOTES
6. : SUPPORT COMMANDO
7. : 163 PASSING OUT PARADE
8. : RLI ASSOCIATION
9. : RAINING TROOP
10. : OBITUARIES
11.: SO YOU WANT TO BE A WOMBLE
Editor: Capt M. L M Blackman
Co. Editor: Brian Streak
Art Work: Capt M. L M. Blackman
Please address ell correspondence to:
The Secretary,
RLI Association,
P.O. Box 8294,
Causeway.
The RLI Regimental Birthday on 1 February 1979 was celebrated by a moving dedication and unveiling ceremony of "The Trooper". (The life-statue, by Romillo Fiorini from a sculpture made by Capt. Mike Blackman was erected In the Holy Ground at 1 RLI Barracks. Facing North).
The ceremony took the form of a parade with representative guards from each of the Commandos, with Maj Pat Armstrong, OLM, m the Parade Commander. The troops marched on to the specially prepared Holy Ground to the accompaniment of the Band of the Rhodesian African Rifles. Major the Reverend C. W. A. Blakeway, 2 Bde Chaplain led a large crowd of spectators, relatives and friends m prayer. The names on the Rolls of Honour for each
Commando were then read by the CSMs of the Commandos. A combined church choir then sang "All Through the Night".
The Commander of the Army, 'Lt Gen J. S. V. Hickman, GLM, MC, then read the lesson, which was followed by this address by the Commanding Officer, 1 RLI, Lt Col I, R. Bate, MLM.
"On behalf of the Officers and men of the 1 RLI, I extend a warm welcome to all our ERE members, members of the Regimental Association, next of kin of the Regiment, and to members of the public who have kindly made the effort to attend our parade. "It is with great pride that we honour today those men of the Regiment Who have made the supreme sacrifice and dedicate this statue to their memory. 'This statue, to be known as "The Trooper", represents the courage and endurance of highly-skilled men who fight the enemy with dedication and professionalism.
Our sincere prayer is that it will serve as a constant reminder to all who see it of their sacrifice.
To the dismal jimmies who say that why build a monument that will be destroyed on the advent of majority rule, I would say to them that, whilst there is so much as a single breath of life left in one RLI soldier, this statue will remain.
"Whilst we honour those who have died, we honour just as highly you who continue to fight against the cowardly communists who are trying to disrupt our country. I believe that, man for man, you are, and have always been and always will be, more than a match for every terrorist that Nkomo or Mugabe may care to send.
"Statistics can be misleading but, as an example of you value to the country as a whole, these figures are of interest:
The national kill rate of CTs from 1—30 January 1979 is 189. Of this figure, the RLI, supported by Air Force and other ground units, have accounted for 105. Just over 50%.
"Following a contact on 18 March 1968, Platoon Warrant Officer Herod referred to 1 RLI soldiers as "They have the faces of boys but they fight like Lions." That simple statement from a highly-respected African Soldier still stands good today.
"The people of Rhodesia are relying on you to help them through these troubled times, and I expect and require of you all an even greater effort to close with and destroy the inhuman butchers who form the dark alliance of the 'Patriotic Front We have the normal right to resist those who are determined to destroy us.
To counter the darkness that faces Rhodesia, we need something more than professionalism and ability, and I believe that we must place our faith in God. I, like many others, am convinced that God is involved in this battle.
"We have witnessed many incidents to prove this, and those of you who have lost loved ones in this war will understand this. Today we thank God that He is involved with us in our time of need.
"It is with deep pride that we dedicate this statue to our comrades m arms who have fallen.
They shall never be forgotten."
Lt Col I. R. Bate, MLM, then asked one of the most highly-decorated members of the Battalion, LCpl R. N. Phillips, SCR, to unveil "The Trooper".
Wreaths were then laid by the President of the RLI Association, Lt Co! J. Salt, the Commando-Commanders and the Commanding Officer.
Trumpeters of the RAR sounded 'The Last Post" and "Reveille" and the combined church choir sang the Regimental Hymn "For All the Saints".
The Parade then marched off to the Regimental March, "The Saints".
Hello again from the first team. While we are on the topic, we want to make one point clear.
Contrary to the Lovers' claim on hut year's score. The Big Red, true to tradition just scraped home at the top of the scoreboard. Congratulations Lovers on a well earned second. However, we would like to open the competition to include Two and Support Commandos.
We welcome all new members to the team. Congratulations to C/Sgt Merve Bramwell and Sgt. Gomo Myburgh and to L/Cpls. Swart, Le Compte and Calitz on their promotions.
On a less welcome note we say farewell to Lt Mick Waiters, having been posted to Hooters. Mick had a very successful! time with One Commando, in that he completed two years as Troop Commander, followed by a further year as 2 IC. We wish you all the best in your new job. Farewell and all the best to Cpls "Ses" Archer, "Weasel" Nicolle, and "Plug" Plogvall.
The OC had an extended period away from the Commando, having been on swot leave which was followed by some exams. These of course he passed, leading by example again. The OC then went on leave down South to "Durbs" by the sea, not eh Mtoko Branch as was the trend in the past. Having informed us what good value Durban is the subbies and CSM promptly followed suit, to follow up on this hot "gen".
While the Boss man was away power crazy Lt Rick van Malsen was at the helm. This was quite an experience for Rick and the rest of the Commando. To save a lot of hassles most of the Commando went on leave, with the bare minimum of bods to uphold the front. On the OC's return the troubled waters were smoothed and the Commando was seen back on its toes.
Contrary to all rumours the occasional member of Bn HQ, has been seen outside Salisbury City limits. In fact one Commando has it on good authority that one of these rare species even did a para jump, but was casevac'd on arrival. 2Lt Gavin Wehlberg was awarded the "purple heart" on Christmas Eve;— a fine performance, but he didn't even condescend to go to hospital
but went home to Mum instead. Tprs Pimentel and Morgan arc both in hospital —the result of being on the receiving end of a crack and thump demonstration, We wish them a speedy recovery.
On a domestic note, congratulations to the OC and Colleen on the birth of Rogan; Stu and Paddy Taylor on the birth of Guy; John and Lorraine Foran on the birth of Natalie.
By the way we are pleased to announce that Lt Rick van Malson and C/Sgt Bramwell are single and unattached. However we are worried about Lt Dick Stent's martial status. His image was spoilt by his recent trip down South. We hope six weeks in the "gomos" will sort this out.
Greetings to the lower echelons of the Battalion, from the superior seater. Once more m the bush hoping for as equally successful a bush trip as our last one, which was an interesting one in the number of places visited. We seemed to be forever on the move, with a welcome break in the middle, back in "berg" for the unveiling of the "Troppie" Statue on the Battalion's birthday. Naturally One Commando shone again in the drill department, thanks to our CSM Tony Edwards, though some of the junior ranks were heard to mutter other things besides thanks during practice.
Any reports of a Lake Kariba creature being seen are to be discounted, it will only be Tpr "Bongwe" Russell recently transferred to boat section, Cheers Bong. Cheers also to L/Cpl Plogvall whose time is up and is on his way home to Sweden. Three Troop says goodbye to their officer Lt Allan York who has transferred, Four Troop to Mike Young and Albert Forrester who are off civvy street as is Trevor "Gonzo' Nicolle from One Troop. Welcome back Rod Ellison who tore up his discharge papers, though his better half Judy will be missed around the Battalion.
Congratulations to Cpl Des Archer on winning the Coenie Marneweck trophy for the years best paratrooper.
The last R and R was obviously enjoyed by all as evidenced by the number of blokes who spent the night in the cells. I hear they were only released because of complaints by the other inmates of excessive noise.
Skeptics in the Cdo tended to disbelieve the story being put about by the OC that it was a low flying MIG he took out in a frontal attack with his vehicle.
Call sign 16 took off a well deserved win of the biggest jackpot yet in the bingo games, held in the bush. They would have to be the rowdiest group who ever played the game but certainly the ones who have. the most fun.
Your Aussie correspondent is happy to confirm that the ANZAC contingent within the Cdo has now grown to five, with the arrival of another Aussie.
Congratulations to Tpr Ian Fraser on his engagement. It would seem to be the "in thing!!"
Finally we would like to thank Anona Gardiner for her kind presentation of the Coenie Marneweck Trophy, to be awarded annually to the best paratrooper in the Commando.
The Big Red was much saddened by the deaths in action of two fine and well-liked members —
Cpl Nicky van Niekerk B.C.R. and Tpr Donald Geldenhuys. Deepest sympathy to all relatives and friends.
These two excellent soldiers won't be forgotten.
On to a much happier note: Sincerest congratulations to the following members on their well-deserved 'gongs'
Lt RICK VAN MALSEN B.C.R.
Cpl TOPS' KIRKPATRICK B.C.R.
Lt NEIL STOREY M.F.C.
C/Sgt MERV BRAMWELL M.F.C.
Cpl NICKY VAN NIEKERK had been awarded his B.C.R. at the same time as the above.
Well done Ouens, from a chuffed Cdo.
The Big Red has in the meantime twice smashed the lovers Record score. In a four week Bush Trip during March, the Cdo accounted for 91 CTs. Everyone expected this to be the most ultimate, but the 'Big Red was only warming up and proceeded to knock out 113 CTs in the following three week Bush Trip over 'the Election Period. We hear through reliable sources that at long last Support Cdo is a challenger to the top dog. At this point 1 Cdo would like to congratulate all Cdos on a most successful Bush tour over the crucial Election build-up.
By C/Sgt Bramwell M. R.
1. Appeal for help to the padre (4,3,5).
2. A 1 across used for Pot shots (3).
3. The Generals whiskers found in the metal work shop (5,8)
4. and 4 Across, Raise the taxi stand for the troops at the back (4,4).
6. Officers who should be good at staging operations (6,6).
8. Ground holes, there would be if they went off (4,5).
9. Drunken troopers lose nothing as drinkers (7).
10. Engineers coached, Again! (9).
13. Flying state of America (5).
16. Disappear slowly, as Old Soldiers do (4).
18. Girl employed in code (3).
1. Adhere to the Commando section (5)
4. See (4) Down.
5. Drive on even though the surge lost its head (4).
7. Batmans civilian occupation (5).
11. Blockade, due to burst note (9).
12. Barely a straight rank? (9).
14. Contradiction in terms for the inefficient Company (5,4)
15. Employed second hand stone, as the caveman did for his spear tip (4,5).
17. Supplement two by the sound of it (3,2).
19. Understand and entrenches (4).
20. Shoot the flames (4).
21. Nests for machine guns (5).
On Thursday 24 'May 1979 Llewellin U 23 Rugby Team visited the RLI to play a Training Troop U 23 team.
The game generated much 'interest and several spectators were present including Lt Gen A. N. O. Maclntyre, DCD and the Rhodesian U 20 Selectors. The first half was characterised by tight play as each team was feeling for the others weakness, the half time score was LLEWELLIN 10 : RLI 6. In the second half the game opened up with several good moves from both sides.
The breakdown of scoring was LLEWELLIN; 2 tries and 3 penalty goals to RLI's: 2 goals, 2 tries and 2 penalty goals.
The Commando is back onto Fire Force after a Jong lay off pounding over the hills. With the new OC all 6'2" of military splendour riding 'K' car we cannot help but kill What with all that Hooters knowledge bursting at the seams.
The CSM Louis Thackwray was last seen doing drill inside the para dak. Every time a troppie hesitated a voice in the wilderness would scream "change step" at the same time receiving a gentle reassurance as he was heaved (sorry) despatched out of the door.
The new CSM Pete 'Taj Mahal' Kearney was last seen in Manchester buying new stocks of powders for his genuine English curries.
Is it true that 2 Lt Wain Furphy is looking a lot like Aussie as the days drag on. He seems to like spending his time doing descents out of the dak.
We all hope that 2 Lt Hamish Mclntyre and Trooper Roberts have a quick recovery.
Friendly Smiles
Captain Nevil Woodhouse's blood pressure has nearly reached normal after receiving the commando petrol
accounts on time twice in a row. Don't worry Nevil, it was bound to happen. Even Capt Colin Dace has the odd smile when he hears that some of his messages are breaking through and reaching the commando.
It is true that Miss H is looking a lot younger since we have passed her the odd dollar under the counter. Don't worry Miss H, we will soon be back on your books.
The Commando would like to thank Mrs. Rosemary Baden Powell for her sterling work organising the sale of nearly $400 worth of tickets. The total collected was just over two grand but boy did the scavengers have a field day making short work of the money! $200 was donated to the RLI Memorial Fund.
Maj Haarhoff to the School of Infantry. Colour Hammond to Selous Scouts. Leaving shortly Sgt Clayton,
Sgt Svec and Cpl Jerome.
The Commando would like to thank you all for the hard work and effort shown in the past.
OC Pete Hean
2ic Allan Shaw
CSM Louis Thackwray (Old Hog)
CQ 'Taj Mahal' Kearney
2Lt John Walters OC 10 Tp.
Just a friendly warning to fellow Commandos. We are back with a bounce. No records will be safe as long as we are in the bush. That is military not civil.
Moses went to Mount Olive, so Fopeye hit him.
• • • •
Did you hear about the Irishman who heard that turtles live 200 years and bought one to see if it was true?
• • • •
Abey Cohen was convicted of murder, before the ending of capital punishment and the prison governor visited him on the morning of his execution. "Mr. Cohen" he said, "It will cost this country £100 to hang you,"
"Bad business," said Abey, "Give me £5 and I'll shoot myself."
• • • •
"I was married twice," explained the one man to his com- panion. "My first wife died after eating what we took to be mushrooms, but they were poisonous, and my second wife died of a fractured skull."
"Shame," said the companion, "How did it happen?"
"She wouldn't eat her mushrooms."
(new, old & stale)
The OC Major Bruce Snelgar is at present recovering from proptosis (bulging eyeballs) having just spent 10 days observing the delights of the topless beaches at the Seychelles.
The 2ic Lt Roger Carloni BCR is still "hasseling" with the Minister of Finance about the unnerving and unprecedented rising cost of crunchy bars.
The CSM W02 Terry Miller is returning to his old pastures at the school of Infantry (Hooterville). We thank
him for his creditable service with the lovers and wish him well in his new post.
The acting CSM and appointed CQMS Csgt Brian Lewis is now striking a rather ridiculous posture with chief's hat and pace stick.
Cpl "Basil the peep" Dippenaar the MT Rep has taken the plunge and married the beautiful Joanne Van Biljoen. He is still smirking and gloating about his good fortune.
We welcome to the Cdo two 'Vet behind the ears" subalterns 2 Lts Noel Smee 13 Troop and Bob Harrison 11
Troop. Once again we have to go through the dismal and time-consuming exercise of convincing Hootervillians that there is a war on.
2Lt "Snot Box" Greenhalgh, that fearless 12tp leader is still trying to arrange his girlfriend, rugby and soldiering in the correct order of priority.
Sgt Charlie Norris' bank balance is now looking a little healthier after receiving the troop commander's acting allowance for 14 troop.
The Cdo records with deep regret the death in action of 2 Lt Chappie Rosenfels. Chappie, in his short service with the lovers, proved to be a most courageous soldier and a well respected officer. He was killed whilst moving forward to assist a wounded man during a fire force contact.
Our deepest sympathy to the Rosenfels. It is also with deep regret that we record the death in action of trooper Brad Little. Brad was killed in a Fire Force action in which 26 terrorists were accounted for. He was always proud of his English heritage but fought as a brave and dedicated soldier for Rhodesia.
The Cdo secured yet another record for the number of kills in a two week bush trip by killing 65 Charlie Tango's — their last tango in Umtalif! We believe that 1 Cdo is' hot 'on the trail of our other record of 84 terrorists and we wish them luck and good hunting. We will send a few crates if you manage to break the record.
In the past four months we have been victims of the COMOPS "T" vest slogan: "Join the Army and travel to
exotic places etc. etc." At present we are trying to locate the spy within the Cdo who arranges our timely moves from one side of the country to the other. As soon at we have established calm and lapsed into normal soldiering routine we then have to up sticks and move. Nevertheless we are all now authorities on Rhodesiana.
Herewith the latest in lovers vibes and verse. (Sung to the Mull of Kin tyre)
Far have 1 travelled,
On land and through sky,
Dark axe the mountains the valleys are green
And oh our colours fly higher than high,
We are the men of the R.L.I.
CHORUS
R.L.I You fought for your country,
To see them survive was all that was needed,
Oh R.L.I.
Now one lay wounded,
He's so far from home,
And all the Troopies they pray for his soul,
And as life leaves him,
He sees a heavenly choir,
Then they carry him back to R.L.I.
CHORUS
R.LI. You fought for your country,
To see them survive was all that was needed,
Oh R.L.I.
Now as they give your country away,
Fear not my brother, there will come one more day,
When we'll be called on to give our last fight,
For we are men of the green and white.
CHORUS
R.L.I you fought for your country.
To see them survive, was all that was needed.
Oh R.L.I.
The following members of the national service cave fighting squad have handed in their cave fighting equipment and become regular soldiers: Tprs Bezuidenhout, Chance and Foulds.
Tpr Derek Bowhay has gone to RIC to improve his knowledge of the indigenous people and their dances,
T/Cpl Bruce "Stamp the left foot in" Kidd has now passed the long drill and weapons course and has been
promoted to T/Cpl. It all goes to show you can fool some of the people some of the time.
Commiserations to 12 Tp on the return of that yellow people eater L/Cpl Connelly after his bout of hepatitis— likewise to 14 Tp on the return of Sgt Charlie Norris from his yellow vacation.
Tpr Jerry Smeiman wasn't able to flex sufficiently and therefore opted to go to 13 Tp.
Welcome to the Jewish alliance of Cpl "Honourable" Cohen and Tpr "can you spare a shell" Cohen.
We wish the rapid recovery of our wounded Lovers —
Tprs Ray Wilkins, L/Cpl Niel Hooley and Tpr Bob Smith.
We are happy to announce that L/Cpl Pugsley Gibson is one piece again after his attempt to stop a 7,62 intermediate.
Tpr Mark Pilbeam who was blinded in a contact has recently gone to St. Dunstans England. Our thoughts are with him,
Tpr Greg van Alstein who "whinged" continually about never being involved in "a scene" ended up in Andrew Fleming with numerous gunshot wounds. We wish him a rapid recovery.
Cpl 'Bubble' Warren is only just recovering from his recent posting to RP's.
Congratulations to L/Cpl Theo Malan on his marriage to Lynne. Happiness is a beautiful wife.
It is rumoured that 'Bubble' is getting engaged to the 'Great White.'
Congratulations to the following aspiring Army Comds on receiving their first tape. L/Cpl Fergus O'Brian, Cane Rat Connolly, Pugsley Gibson, Budgie Holmes, Ouzo Oosterhuizen.
Welcome to the new cave fighting team of national servicemen — Tprs Gibb and Rasteiro.
Tpr Burrows has gone AWOL-we hope he is freezing to death in his native England.
Tpr McGrath is back with the Hells Angels on extended un-granted leave.
Tpr Dirk Schillewart is back from his AWOL stint in Belgium. |60 for 6 months is not bad going.
Unfortunately we lost three excellent stick commanders on completion of their contracts. Namely L/Cpli Chris Cocks, Trevor Maclllwaine and Gavin Fletcher — they were a credit to the Cdo and we wish them happy ducking in PATU.
Tex Morgan has finally learnt how not to wake up with a hangover by not going to sleep.
Tpr Stewart is not AWOL he has just forgotten to come to work.
There was almost pity in the eyes of the Rhodesian soldiers as they looked down at the smashed body of the black nationalist guerrilla.
He lay sprawled in a field of lush young maize plants trampled here and there by his zig-zag dash for cover before the deadly guns of the helicopter high overhead shot off a leg and blew half his head away.
A communist-made SKM rifle, old and dirty, rested across his body along with a half-filled ammunition belt and dangerous-looking stick grenade.
As with thousands of his comrades, the end of the "freedom fight" had come with the swift and deadly arrival of a fire force. Crack helicopter-borne troops who swoop down with such speed and surprise that the guerrillas are sometimes shot within seconds of realising they have been
discovered.
At an airbase in the eastern operational area the fire force was a commando of the Rhodesian Light Infantry. A multinational band of battle-hardened professional soldiers trained to perfection for counter insurgency warfare.
Whether they were being heli-dropped into unknown terrain to possibly face a formidable gang of well-entrenched guerrillas or parachuting from a Dakota into a battle zone the men were in command. They knew their task and their leaders. They were confident of winning and always did.
The fire force operation involves precision warfare. Mistakes or misjudgments mean death to the men and cannot be tolerated.
After a report of a guerrilla presence the fire force is scrambled. The nerve jangling banshee wail of the siren brings men running.
The helicopter pilots are briefed by the fire force commander. Map co-ordinates are fixed. A strategy for dropping the troops is worked out. Meanwhile the men, laden with field packs, smear black camouflage cream on their hands and faces and await their orders.
As he rushes from the operations room the commander briefs the stick leaders whose "sticks" of men are dropped at prearranged points in a contact area.
The briefing is quick and concise. Orders are given once and remembered. There is no time to repeat and no excuse for forgetting.
The first-wave troops rush to the waiting helicopters and these take off like giant dragonflies, speeding away towards the unsuspecting guerrillas.
Back at the base other troops listen anxiously on radios to the battle's progress. Then the helicopters are back, and swoop down. Fresh soldiers climb in and in seconds the whirring of the engines is again fading into the distance.
Now at the base the para-sticks wait, listening for their call. They needed to hem-in an escape route.
In the ops room the radio crackles. The commander can be heard directing sticks, moving them like chess pieces to check the guerrillas' moves.
In the heavy summer bush the enemy are well hidden and have to be flushed out carefully. Visability is cut to a few metres. Most exchanges of fire take place at little more than a rifle's length.
If the guerrillas break from cover, as the dead one in the maize field did, they run into a lethal hail of lead from which few escape.
For many hours the game of cat and mouse continues. The helicopters will land now and then to refuel from drums flown to the scene.
Sometimes the guerrillas escape. They seem to vanish into the thick bush, or they ditch their weapons and mingle with the tribes-folk.
For the commander the task is made doubly difficult by the presence of black civilians. Guerrillas are often sighted at or near villages and usually try to hide in them.
On one mission the fire force was confronted with a report of two armed men addressing a crowd of villagers. As the helicopters swooped down the men hid their weapons and disappeared into the crowd.
For the troops on the ground the position was invidious. From their positions surrounding the village they could not see the men but knew that they could be hiding behind the civilians waiting to open fire at any movement.
"This is going to be tricky," the commander's voice crackled over the radio. "You'll have to get them out one at a time into the mealie field. Call the headman out first then ask him to call his people out one at a time," he ordered the stick commanders.
It was a difficult and time-consuming task. Civilians moved slowly from the village into the Field. At any moment a battle could have started, and civilians could have been killed.
When all the villagers were out the troops moved in and searched the huts. The guerrillas had gone, obviously mixed with the people.
The headman was questioned. He knew nothing, he said. No-one would speak. The tribesmen sat in the field, and the troops stood by. It was a stalemate.
Eventually after further questioning four suspects were' singled out and flown back to the airbase for interviews with the police.
The involvement and killing of black civilians is a sensitive point with the troops. They know only too well the allegations made in some quarters against tne security forces.
They do all they can to avoid civilian casualties and upset the tribesfolk as little as possible.
During the incident in the village the fire force commander sent all the children with a woman to watch over them into one of the farthest huts. Later, during the questioning, some unattended cattle broke into a nearby mealie field and he sent a herdboy to drive them out.
He need not have shown those small compassions but he did and they may have helped,, even if only a little, towards maintaining a good relationship with the tribesmen.
For a trooper to kill a civilian during a contact unless it is absolutely unavoidable is considered unprofessional and could result in the soldier responsible being shunned by his mates.
"But sometimes it happens," drawled one stick leader with an American accent.
"The locals know all about the war. It's been going on for a long time. They know that if they just stay still we won't touch 'em. It's when they run, when they follow the others, that they get hit. We just can't help it. It's a battle and they're in the middle."
And the job of avoiding civilians is made worse by the terrible tensions on the men in a fire force. They are dropped into unknown situations often very close to a large gathering of black civilians and have to be prepared to meet the most unexpected but remain in control of the situation and their actions.
In one contact some time ago the commando was scrambled after the reported sighting of five armed guerrillas. But at the scene they found a massive force, well armed and prepared to stand and fight. A 10 hour battle raged in which 26 guerrillas and one soldier were killed. About 13 other guerrillas escaped.
The fire force has to be prepared for anything and always is. They just cannot afford to lose.
And then there was the old maid who phoned die police to say she had found two burglars under the bed and she wanted the ugly one thrown out.
* * *
A drunken Scotsman staggered out of a bar, with a bottle of whisky in his pocket. Unfortunately, he tripped up and landed on the pavement. On feeling something trickling down his leg he thought "My God, I hope that's blood"
* * *
The village Sunday-school teacher was instructing his class on the nature of wrong-doing, and its consequences. He asked one boy, "Do you know where little boys and girls go when they do bad things?" "Yes Sir," the lad replied, "Behind farmer Benson's barn."
* * *
"What's the time?" said the drunk to the passer-by. The passer-by consulted his watch and told him. "I just can't figure this out, said the drunk. "All day long I keep getting different answers to the same question."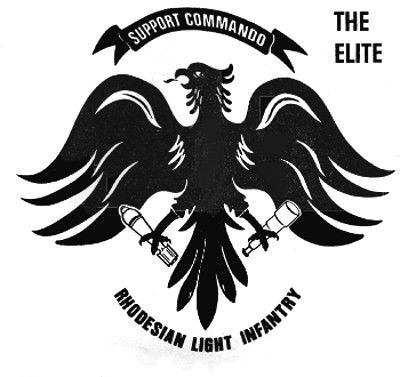 THE SAINTS DOLLY
Photo by McGeorge
SO YOU WANT TO BE A WOMBLE?!!
by J. H. Womble
I'd never heard that before, but one dark night on patrol, a vehicle draws up and a super soldier leans out (super soldier is a souped up soldier and believe me there are lots of them!).
He says "are you the wombles?" we say "what the hell do you mean, are we the wombles". He says "well, if you're under fifty you are Selousa Scouts, if you're between fifty and sixty, you're wombles and any older than that are known as Mashfords Marauders".
Well I never thought that glamourous blue boilersuit was going to attract any wolf whistles, but insults are another thing.
You should have seen the uniform they gave me. They have two sizes — too large and too small. Every time I stood at attention, the uniform was still at ease. I was going to complain to the Inspector but he had his own troubles. Someone stole the bars from his pyjamas. I don't remember his last name but I think his first name was Chicken . . . every day you'd hear him singing: "Twinkle, twinkle bar, how I wished you were a star".
But the physical examination was something else! and I wished I was somewhere else! Every time someone coughs 1 remember it . . . about fifty of us were standing (sic) there when a joker comes in and tells us to take off our clothes. What'd he think we were . . . pushovers? Did you ever stand around for an hour sans clothes, tell me, what do you do with your hands? I didn't know whether I was being examined or fascinating ....
The doctor was very polite. He took my blood pressure, marked my card and said thank you. I said "don't mention it, the pressure was all mine!" Two minutes later I'm looking at a psychiatrist. He asked me if I liked girls — I said no. He asked me if I liked boys — I said yes. He asked me if I liked mustard. I said "not as much as I liked boys". I figured if he was going to ask a lot of stupid questions, I'd give him a lot of stupid answers.
The next month we started basic training. That's a week of battle conditions with the ticks taking the part of the enemy. We even sang a song about those ticks: 'I've got you under my skin!
It's when they hand out the firearms that you really worry. I swear ff they didn't have a hole at one end, you'd get shot through the butt. Sorry, its that story about expectant mothers and how they have to be careful when smoking. One was warned by her doctor to give up smoking or it would mark her baby. She just laughed and went on smoking. Well, would you believe it, when that baby was born, at the end of its spine was a butt'.
I admit I was a bit scared at the rifle range seeing all those 'wombles' and the way they handle firearms. This chap next to me kept swinging his weapon round when he wanted to ask the Instructor a question. I hit the deck so hard when I got up my fags had disintegrated — does anybody want a 20 packet of tobacco?
Then we do a turn in the rifle butts monitoring the targets. My particular marksman didn't seem to be doing too well after ten shots — there were only two holes in the target. But the chap next door had twelve holes, so somebody was cheatinng! I reportd this to the police chap on duty, but he didn't even remove his cigarette to get the words out. Well, they started the morning calling us gentlemen but that's not what he said, I'm sure.
Ah well, the Armistice was signed on November 11, 1918, and there's been two minutes of peace every year since. But getting right down to it — why worry? After all, there are only two important things to worry about — whether you get called up or whether you don't get called up. If you don't get called up you've got nothing to worry about and if you do get called up, you've got only two things to worry about — whether you go in the bush or stay here. If you
stay here you've got nothing to worry about and if go in the bush you've got only two things to worry about — whether you get shot or whether you don't get shot. If you don't get shot, you've got nnothing to worry about and if you do get shot you've got only two things to worry about — whether you live or die. If You live you've got nothing to worry about and if you die, you've got only two things to worry about — whether you go to Heaven or Hell. If you go to Heaven you've got nothing to worry about, and if you go to Hell you'll be so damned busy shaking hands with your mates, you won't have time to worry!
SPECIAL FORCES
As the name suggests, special Forces are units raised' to fight in unconventional roles, usually in small numbers.
Probably the earliest form of Special Forces were the uint known as 'Rogers Rangers', who fought with the the British in North America in the 1750's. The evolution of such forces as example by the light-infantry units of the Penninsula War the Boer Commando's of the Boer War did much to change the doctrinaire and inflexible approach to Modern Warfare. It was howwever, the impact of the two World Wars, that established Special Forces in the annals of Military History.
The two World Wars were not only significant events because of the men and materials involved, but also because of the nationalistic and geological size of the conflict. A new dimension -— the war in the air — had been added, and concepts such as Combined Operations (Air, sea, land) had emerged.
While the requiremetn for training large numbers of men in conventional military skills tended to over-shadow all other considerations, there emerged, during 1940 a requirement for a more specialised training to enable small groups of men to penetrate defensive positions. The purpose of such forays was, initially, to reconnoitre beach landing sites, coastal defensive positions, Radar installations etc. These activities were later expanded considerably to include
landing of intelligence agents, underwater demolitions, attacks on gessels in harbour, guiding assault craft to beach heads, etc.
As the second World War progressed, the tempo and size of such units and their activities increased, until complete units such as the SAS, SBS, (Special Boat Squadron) Commando's, Rangers, emerged.
The demands made on individuals to endure the many privations they were subjected to in the course of operations, developed a special breed of soldier,, which in turn manifested itself in many forms of individual expression — garnish uniforms, cap badges, unusual weapons and other easily identifyable mannerisms. No less colourful were the people assigned to lead them — David Stirling, Lord Lovatt, Orde Wingate.
The success of these forces can be guaged by the fact that many units serving in the Armies of America, and the United Kingdom were derived from and still retain the name of units formed in World War II, eg SAS.
In Rhodesia, where numbers are of more critical concern, the emergence of Special Forces has taken on a special significance. The operational roles undertaken have no real parallel in any other campaign; which goes along to explain the unigue and individual character of such roles. Never before has the individual become so personally responsible for all his actions, never have such junior leaders, become so self reliant and capable. Never before has the individual made such a contribution to a highly skilled and exacting campaign.
Maj Snelgar approaches gate at approx 14.30 hrs in civies.
Tpr on guard busy on phone — after about a minute or so opens the gate.
Maj Proceeds through gate and waves at Trp.
Tpr In return waves back at Maj instead of saluting.
"RP's" On questioning Tpr why didn't he salute the Maj.
Reply of Tpr Was,
"We Haven't been introduced yet!!"
An hour later a second Maj approaches from the inside of camp in civies. Tpr just opens the boom and lets him out.
On telling him that was a Maj as well, he replied, Maj who.
After telling him who Maj was,
Reply of Tpr Was,
"I haven't met him before either"
Cop testifying: "I arrested him for making a withdrawal from the bank."
Magistrate: "What's wrong with that?"
Cop: "He was making the withdrawal at four o'clok in the morning."
• • •
Mrs. Green had a truly remarkable parrot and when the vicar came to tea one afternoon she could not resist demonstrating how clever her pet was.
"If you pull this little string on its left Polly will sing
'Abide with me'," said Mrs. Green proudly. "And if you pull the string on its right leg it will sing 'Onward Christian Sol- diers'."
"How remarkable!" exclaimed the vicar. "And what happens if you pull both strings at once?"
"Simple!" replied the parrot, ."I fall off my bloody perch."
• • •
"Waiter, I asked for a lobster. How come you bring me a lobster with only one claw?"
"So maybe it was in a fight," suggested the Jewish waiter.
"So maybe you bring me the winner," rejoined the customer.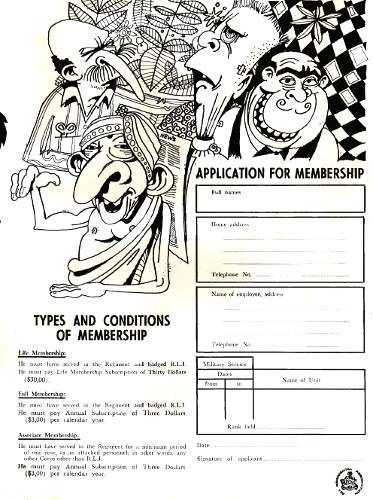 He must have served irt the Regiment and badged R.L.I.
He must pay Life Membership Subscription of Thirty Dollars ($30,00)
He must have served in the Regiment and badged R.L.I.
He must pay Annual Subscription of Three Dollars ($3,00) per calendar year.
He must have served in the Regiment for a minimum period
of one year, as an attached personnel; in other words, any other Corps other than R.L.I.
He must pay Annual Subscription of Three Dollars ($3,00) per calendar year.
City Press
The following advertisements appeared in this magazine.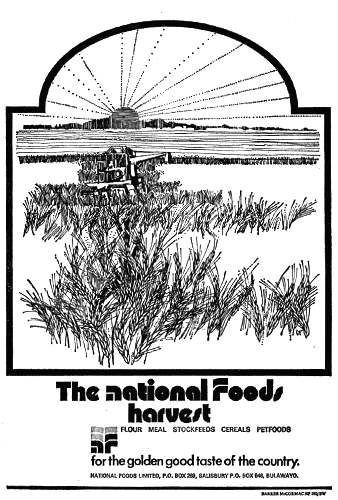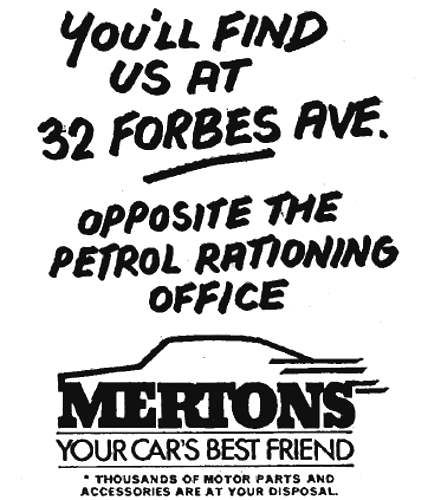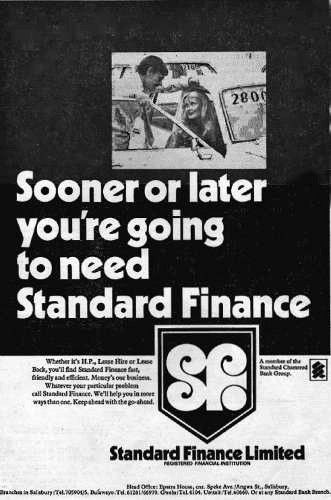 End of Magazine
OCR and reconstruction of Magazine completed by Eddy Norris.
Comments are always welcome, please send them to
orafs11@gmail.com