Ndege - May 1969
Editor/Designer
Flight Lieutenant Alan J. Cockle
New Sarum Liaison
Flight Lieutenant G. A. Baverstock
Warrant Officer C.D. Herbert
Thornhill Liaison
Wing Commander A.D. Brenchley
Flight Technician K.R.C. Malcolm
Corporal Technician D.L. Whyte
Photographs by RRAF photographers unless otherwise credited.
THE COVERS were both filmed on location by kind permission of the management of La Boheme, Salisbury, and of the Rhodesia Broadcasting Corporation, respectively.
All articles, designs and drawings published in this magazine are free from copyright restrictions except where expressly stated. However, should any of this material be reprinted in any other journal, Editors are requested to notify us for record purposes, and are expected to print an acknowledgement to this magazine. All correspondence should be addressed to Ndege, Private Bag 721, Causeway, Salisbury.
Ndege is published by and for the Royal Rhodesian Air Force and is printed by the Government Printer,
Salisbury.
Contents
Hail to the Chief /farewell message
The Production Story /how Ndege is produced
The Art of Instructing/technical technique
Collage/humour
People/ personal jottings
Spotlight on the Sections/the Radio Section
The Day of The Gun /editorial essay
FOCUS/Squadron Leader Grier
Sob Stories/accident summary
Write and be damned/the story of an SOR
The Rocket Race /a history of rocketry
Those were the days /the open cockpit
Working Girl /photo spread
Simple Spymen /histrionics at Thornhill
VR Profile/SAC Fenton-Wells
The Voice from Home/Sally Donaldson
Operation Tarpaulin/rainmaking experiments
Impression/book review
Forum/letters to the Editor
Leader
A time of change
It is paradoxical that one of the few constant factors in life is the state of change. The advances of this technological age, the introduction of new techniques and materials, the discovery of new systems and methods; all combine to negate static or retrospective thinking. Times change and we must change with them.
By the time this magazine appears in print, the command of the Force as a whole, and of many of its Units, will have changed hands. There will have been a number of retirements, promotions and new appointments. It is not the policy of Ndege to emulate POR's in the recording of personnel changes, so we will not list all those concerned. Suffice it to say that we wish all retiring members the very best of luck in their future activity, and offer our congratulations to those newly promoted. In this connection, we must again point out that this Editorial is written well in advance of publication—and also in advance of the promotion list. We therefore run the risk of "under ranking" some of the people mentioned in this issue, and we apologise accordingly.
HAIL TO THE CHIEF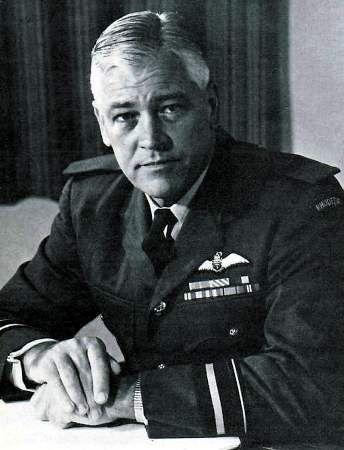 Perhaps the thing which has given me the greatest satisfaction in the latter period has been the pitch to which we have brought inter- Service co-operation between the Army, the Police, and ourselves. This could not have been more timely, of course, and no doubt the onset of insurgency lent the spur — if any were needed—which ensured really efficient jointness, mutual respect, and comradeship. It is something every member can continue to foster in his dealings with our sister Services, to the lasting benefit of Rhodesia as a whole.
I retire confident that the Force is in good shape, in good heart, and in good hands. I know that it has been built on the strongest foundations and I believe these to be, above all, the quality of its men and the standards which they consistently maintain. Even greater things lie ahead for it and for you, and I am sure you will prove worthy of them.
I shall retain a very close interest in the RRAF, and if I can ever assist it, or the people who serve in it, I shall be ready to do so.
Air Vice Marshal
The Production Story
Since the new format of this magazine was introduced last year, there have been many questions asked about our ability to produce, and especially, to afford, a journal of this standard. The short answer lies in our very happy working relationship with the Government Printer's department, but various factors now make it desirable that we should expand on that explanation.
Using the rough layout plan previously compiled as a reference. the columns of text are cut up and pasted on to blank page sheets. The captions, page numbers and titles are added with Letraset individual letter transfers and line drawings are stuck into position, but photographs are marked only by a pencilled outline. For each page which carries colour blocks, a transparent overlay sheet is prepared for each colour, with relevant areas carefully drawn and registering exactly with the master page sheet.
This article should have dispelled the illusion that because Ndege is published relatively infrequently, there is no time problem with production. There is always a problem as an issue must be complete, as far as articles are concerned, three months before the proposed publication date. We have no wish to pressure the printers into reducing this time; Ndege is by no means their most important task, and we must take our placc in the queue The only way we can speed up issues is by reducing the compilation time by contributing articles. At the moment this stage lakes more than three months, and is started before the previous issue has been published.
In a previous issue we stated that we needed colour transparencies, but could not accept anything smaller than 21 inches square. We have now developed a system which can take smaller sizes than this, and would welcome 35 mm. slides on relevant subjects.
The fact that there is, to say the least of it, a definite continuity within the field gives us a chance to pass on words of wisdom from the past. An RAF booklet, published twenty-live years ago, set out to instruct the instructors in their art and, purged of some of the jargon of the day, the story went something like this:
Instructors, like Gremlins, are of many different types —each distinguished by his own particular style and method of instructing. But all of them fall, broadly speaking, into one of two main classes—good and bad. A good instructor is one who puts the gen across so that it sticks in the pupil's mind. A bad instructor is one who fails to put his stuff over, and is therefore wasting everybody's lime. For, of course, the basic definition of an instructor is someone who imparts information; the imparting is done with a definite purpose in mind, and that purpose is that it shall be retained in the mind of someone else.
It has been said that good instructors are born, not made. This is a lot of rubbish as well as being disheartening, for the truth is that good instructors have got that way by practice. Further, the percentage of natural, perfect instructors is—present company excepted, of course—negligible.
Secondly, there is the aggressive type with the parade ground manner. What he says goes, sort of thing, and lie brooks no contradiction or question—though these are often necessary for the pupil's complete understanding of the subject.
Thirdly, we have the superior type whose chief aim is to impress with his superior knowledge. To instruct is an act of condescension on his part, and occasionally he is so bent on imparting information which only he knows, that he gets confused between fact and fancy.
Lastly, the comedian. Always full of fun and games, and generally overdoes it so that the work in hand suffers. A sense of humour is a valuable asset, and the odd joke is often useful to keep up the interest or to illustrate a point, but the lecture room is no place for a clown.
Collage
Did you noticc how up-to-date we were with the cover of the last issue? Mere days after Fit. Lt. Barnes made his impetuous bid for glory, we had the whole thing captured in living colour. Hasten to add of course, that our version was probably a trifle more luxurious than the real thing, but nevertheless it was curiously prophetic. Best wishes to Nobby Nightingale, by the way . . .
* * * * *
The word about Ndege certainly gets around — on a world-wide scale, it seems. About the turn of the year, we wrote to a USAF pilot—who had just completed a particularly nuggetty tour in Vietnam, asking if he'd care to contribute an article on his experiences. The reply came back hotfoot, thanking us for the honour but regretting that the story could not be supplied "because its publication in Ndege might prejudice the Paris pcace talks".
Talking of writing for (or even to) Ndege. a survey of our mail proves interesting. Remember that monologue of Hancock's. The Radio Ham, in which he claims he's "got friends all over the world—none in this country, but all over the world"? Well, it's true of us. too. Less than 10 per cent, of our production goes to people outside the Service, yet they're the chaps who supply all the comment.
Nice to get all those jazzy letterheads into the files, of course, but wc would like the odd reaction from our own sources from time to time. Odd thing is. we get almost as many letters from the Browns as we do from the Air Force; we were surprised to sec how many of "em were avid Ndege readers. On reflection, though — when you've got a magazine like theirs . . .
****
Intriguing item from an RTV news bulletin shortly after the Presidential Inauguration:— "Mr. Wilson said that he wishes to meet Mr. Nixon as soon as possible. He said that there will be no discussion at the first meeting".
What with the President having (at the time of writing) said nothing about his policies, and the Emperor clearly unwilling to. we can perhaps look forward to a brighter, more constructive period in Anglo-American relations. Love the idea of that meeting, though sounds a lot like an Ndege editorial conference.
*****
The whole thing has back-fired, of course. The Command Squadron Leaders are now greeted with the query. "Are you a real Squadron Leader or just a VC-10 captain?" Had a disgruntled visitor the other day who muttered that we seem to operate the system in reverse— as far as he is concerned. The poicnant question (within his hearing) is. "Are you really a passed- over Flight Lieutenant or just a member of the ---- Branch?"
****
Under the heading of "Great Recruiting Campaigns We Wish We Had Thought Of First", we must salute the latest BSAP advertisements. All very professional. But what think the new recruits when they find themselves doing indelicate things to horses instead of playing darts in the pub all day?
* * * * *
Then there's the saga of The Loneliness of The Long-Distance Medal. The Flight Sergeant answered the telephone to hear a youngish female voice asking for Squadron Leader-. Our hero informed the caller that the Squadron Leader was out, and asked whether he, Flight Sergeant----. could take a message. Back came the cool reply. "No thanks. I want to speak to somebody with authority — put me through to the Corporal !
based around the large-scale use of air fuelling techniques which the RAF has perfected
.
What a great idea! And how come wc didn't think of it first; just try slapping sanctions on that!
*****
Our friends to the South now have a fresh instrument of torture with which to sort out aspiring aircrew entrants. Consists of a book full of Gottschaldtt Figures, which are fiendishly complicated geometric scribbles. The idea is that hidden in each one of these nightmares lurks any one of five basic key shapes, and the unfortunate candidate is asked to select which shape goes with which scribble. His ability, or otherwise, to select the correct shape presumably reveals some facet of his character or potential to the Selection Board- though which facet, precisely, is open to question. I failed a specimen test quite handsomely, as did several of my illustrious colleagues of the Air Staff—and we're some of the brightest people I know!
*****
*****
Rolls Royce Trophy Winner
At the recent passing out parade of No. 21 Apprentice Course, the Rolls-Royce Trophy was presented to Junior Technician P. V. Horsburgh
The son of a British Army officer. Horsburgh started his education in India before coming to this country. He finished school at Prince Edward. Salisbury, and joined the RRAF in February. 1967. Six months later, he had completed the initial stage of his Apprentice Course and was posted for on-the-job training to Thornhill.
As a keen member of the Armament team at that Station, he was awarded an Ndege Good Show (May 1968) for averting probable damage to a Hunter. He was posted back to the GTS for the final phase of his Course, and completed the two years training with an over-all average of 84 per cent.
Jnr. Tech. Horsburgh is the first Armourer to win the Rolls-Royce Trophy, and we are pleased to add our somewhat belated congratulations on his achievement. It is perhaps interesting to note that the first apprentice to win the Trophy, J. G. W. du Toit, is now a Flying Officer and acted as Parade Adjutant for 2l's passing-out ceremony.
It is with deep regret that we record the tragic death of Flight Lieutenant Donald Annandale on the 9th January, 1969.
Don was born in Selukwe in 1936, educated at Guinea Fowl School, and joined the Royal Rhodesian Air Force in April, 1955. He was a member of the first Local Airman Recruit course, passing out as an Armament Mechanic and later as an Armament Fitter. In 1963, he was selected to attend an Officer Cadet Training Course in the United Kingdom, and was commissioned as a Flying Officer in the RRAF during the same year.
A keen sportsman, Don had a go at most sports. He excelled in rugby, representing his Station, his Province and his Service on numerous occasions when his determination, tenacity and sense of fair play were outstanding characteristics. In his later years he became a competent golfer who represented his Service with the same qualities of studied skill and sportsmanship with which he endowed all his activities.
5 SQUADRON
recently enjoyed an eventful detachment to Bulawayo, about which they promised to write for this issue. And promised. And promised. However, all our efforts to extract something on paper were in vain, so we turned the problem over to our cartoonist. We dedicate this result to the eager scribes of 5 Squadron
"
Okay, if you say so—it's Woodvale. But it's changed a bit since that party last night."
Ever sincc Marconi sent his first short Morse message crackling across the Atlantic from Goonhilly Down, radio communications have revolutionised life all over the world. The phenomenon of radio propagation provides man with a virtually limitless reach around the globe and out into space; it assures him of constant access to entertainment and information, and of a relatively foolproof link with his fellow man. It enables him to keep a constant check on the world's weather; to control, remotely, many millions of unmanned machines; and to broadcast warnings and safety messages.
From the huge coils and primitive semi-conductors of Marconi's day to the micro-miniaturisation of modern electronics, the state of the art has progressed by leaps and bounds. No less impressive is the amount of knowledge which has been accumulated in the field; knowledge which is the stock-in-trade of every radio mechanic and communicator.
In the Royal Rhodesian Air Force of today, that basic knowledge takes something like four years to assimilate; a process which has created a requirement for a permanent staff of qualified instructors. The training system provides a constant supply of technicians who are amongst the most highly qualified in the Service.
The first radio tradesmen were recruited into the Service in 1948, and their duties at that time consisted of maintaining and operating Air Traffic Control radio. By 1952, the complement consisted of four Wireless Mechanics and one Signaller/Air Traffic Controller; all still concerned with very localised radio systems. Soon afterwards, however, the move from Cranborne to New Sarum saw an expansion into the field of ground-to-ground communications, and the beginnings of "Air" or "Ground" radio specialisation. In 1959 there was a further expansion with the need for radio- equipped general security vehicles.
Since then, the demands placed on the radio trades and the widening scope of their activities have ensured a steady increase in complement, and a crystallisation into definite "Air" and "Ground" divisions.
Air radio personnel deal with all the radio and radar installations which are in use as air/ground facilities. It's a far cry from gosport tubes and Aldis lamps to the present range of equipment which must function perfectly, and which therefore demands servicing of the highest order.
The Section is equipped to cope with virtually all airborne radio and radar navigation and communications equipment. Apart from dealing with fixed "standard" installations there is the constant challenge of modifications and improvements; no sooner does an aircraft arrive than the radio technicians are festooning it with black boxes and aerial cables. It is their proud boast that they can provide equipment for anything which moves, and it is only pressure of work which prevents them from having a go at the station bicycles!
Equipment is available to provide world-wide communications. should that be necessary. However, the normal activities of the Section are generally confined to the local sphere, and consist of maintaining and operating the equipment which provides voice, CW and radio teleprinter contact with units around the country.
The long range facilities were, however, recently used by the Prime Minister's party during the Tiger and Fearless talks. In co-operation with the Royal Navy, an efficient radio link was established between Salisbury and the ships in the Mediterranean area—so efficient, in fact, that the British experts were more than surprised. A senior Naval officer with relations in Salisbury used the system to send a message to them—and received his reply within the hour.
Of course, that story illustrates some of the "glamour" of the job. whereas the day-to-day work is generally more down to earth—though never dull. The field of radio communications is one in which ideas are never stagnant; there are always new techniques and new equipment advances to change the status quo. So wide is the variety of hardware, in fact, that standardisation is becoming more and more difficult, yet that variety is still not wide enough to provide "off the peg" equipment for all our needs. To cope with this problem, and to ensure that we keep abreast of the times, a design and development team has been established at New Sarum to produce specialised equipment "made to measure". The standard of training demanded by the Section is high, as is the dedication to the job in hand. And the work load, at times, is even higher. So if you trot your transistor set round to the back door for "minor repair" and find yourself rebuffed, don't think too badly of us; we're probably thinking of sixteen other things at the same time.
It is often said by Canadians that the safest creatures in the woods at the start of the hunting season are the game animals, and that the life expectancy of the average hunter during that period is less than that of an infantryman in Vietnam. Fortunately the fever of the first mad rush to kill soon abates, and only a nominal number of hunters are accidentally shot in the rest of the season. Nevertheless, that "nominal" toll accounts for over 1,000 victims throughout Canada each year.
Startling though that figure might be, it pales into insignificance when compared with American statistics. Each year, the United States suffers 20,000 fatalities and 100,000 injuries—all caused by The Gun. In Britain, on the other hand, the yearly fatalities figure is something less than 50, and Rhodesia's figure is almost negligible.
In part, the enormous disparity in these statistics can be attributed to differences in population totals; yet if this were the whole reason, it should be expected that Britain, with a population one quarter as large as the United States, should suffer one quarter of that country's casualty figures. The real cause of the disparity is not a difference in population, but a difference in gun laws which leads directly to a tremendous difference in the numbers of guns which are privately owned.
At the other end of the scale, the Briton finds it almost impossible to own weapons legally—with the exceptions of shotguns and sporting rifles, and even these are very carefully controlled. Unlike the American system, all weapons which are legally owned are subject to registration, and heavy penalties are prescribed for transgression.
The situation in Rhodesia falls somewhere between these two extremes. Though retaining the requirement for strict registration of guns and ammunition, the local regulations enable the Rhodesian to acquire arms rather more easily than can his British counterpart. Certainly, we possess privately more firearms per head of population than do the British, and yet the accident problem in this country seems to be minimal. As in other areas of social psychology. the Rhodesian appears to be a level-headed, law-abiding gun-owner who is not subject to the fears and passions which often trigger American killings, or to the carelessness which breeds accidents. The factors which determine the Rhodesian record in this respect have never been professionally analysed, but it is possible to theorise that of those factors, training and tradition are amongst the more important.
In much the same way as those in the American West, the early settlers of this country carried and used arms as a normal daily function—though with one vital difference. Southern Africa seems to have avoided the tradition, and subsequent glorification, of gun-fighters; having achieved instead a tradition in which the gun is generally used for defensive rather than aggressive purposes. Similarly, the degree of familiarity with guns felt by the average Rhodesian falls somewhere between the over-familiarity which results in unthinking use. and the lack of knowledge which causes accidents. These attitudes pass from generation to generation and combine with thorough training to produce a society in which, as we have seen, the gun problem is minimal.
Yet though minimal, a problem docs still exist, and one would be naive to imply the reverse. Though serious crime involving the use of firearms is virtually non-existent, there are. from time to time, shooting accidents—and there are certainly many contraventions each year of Rhodesia's firearms regulations. The law dealing with the possession and use of weapons is set out in the Firearms Act of 1956, and under this Act there were, in 1968. 895 convictions. By far the majority of these were convictions for offences such as unlawful possession, illegal transfer or failure to safeguard weapons. On these points the Act is strict and unequivocal, but it goes farther than merely seeking to control weapon transactions. Many of its sections deal with weapon use and abuse—and lay down appropriate penalties for transgression.
Section 39, for example, provides for a fine of £50 or six months' imprisonment for the offence of "pointing a firearm at any other person"—whether the weapon is loaded or not! It is a sobering thought that most of us at some time or another will have jeopardised £50 in the commission of that offence. A similar fine is prescribed for those convicted for carrying firearms whilst drunk, under the influence of drugs or whilst behaving in a disorderly manner. Whilst this sort of legislation may appear to be unduly harsh, it must be remembered that offences such as those described are responsible for a majority of all weapon accidents.
The case of the young officer who was practicing his quick-draw technique on detachment is a case in point. When the bullet went off. smashed through a wall and grazed the forehead of a passing colleague, it provided one of the standard "funny" stories of this Force. A variation of one inch of distance or one second of time would have provided both a story of different character and an irrevocable blot on our reputation.
On the whole the Royal Rhodesian Air Force has a very good weapon accident record. But it is a record based on statistics of actual, rather than potential accidents—and in many cases that vital difference is determined only by the element of pure chance. Luck is a capricious factor on which to depend in any sphere of activity, but when dealing with firearms such dependence is criminal.
By definition, a military service deals with arms and armaments. We are perhaps fortunate that, until quite recently, we experienced an era in which arms were used on a practice basis only. But that era has gone, and the threat of continuing aggression against our country is likely to increase our personal involvement with firearms, and also to change the emphasis of their use. Whilst the survival of the nation is not in doubt, the survival of its individual components is a question for each one of us to decide. If we are to retain our record, operate efficiently and prevent accidents, we must replace the element of luck with a solid foundation of weapon discipline.