Old Borderer Magazine of 1956
Magazine of the Umtali Boys' High School.
U.B.H.S. Old Borderer 1956
K. M. Fleming, Esq.
THE pupils and staff take this, their first public opportunity, to welcome Mr. Fleming as Headmaster of the school.
It is, of course, a case of welcoming back an old friend, for to many of the staff and a goodly number of senior boys, Mr. Fleming is no stranger. After service at Chaplin School and several years as a House Master at Plumtree, where some of his trenchant remarks on the cricket and rugby fields are still legend, he came to Umtali in 1948 as Superintendent of Tait House.
To his onerous duties there he brought drive and his deep under- standing of boys and their ways. He and Mrs. Fleming gave generously of their holidays and used their love of camping and "bundu" life to transform what might have been an irksome task into the enrichment of the school life of many Tait House boys.
Mr. Fleming soon became Deputy Headmaster but we did not have him long, for in 1953 he was appointed to the Headship of Fort Victoria Public School. Here his great keenness in establishing playing fields, already shown by his laying down the first turf wicket in Umtali, found scope in the building of tennis courts and a large rugby field.
The school, and indeed the whole of the Umtali community, was most pleased to learn that Mr. Fleming had been appointed to succeed Mr. A. D. Gledhill as Headmaster in January this year. The transformation already apparent on the school grounds is testimony to his great energy and ability to inspire energy in others, both adult and youngsters. The approaches to the school buildings have been grassed, three new
tennis courts have been laid, and the swimming bath should be completed by the time we go to Press.
Perhaps Mr. Fleming's greatest gift is as a mixer; he is no "ivory tower" schoolmaster. The whole community knows him, appreciates his salty humour, and is solidly behind him; the figures for the Hall Fund are eloquent testimony of that fact.
This year Mr. Fleming celebrates his twenty-first year of service with the Education Department. To him we wish many more happy years in charge of the destinies of the school, knowing full well that it will flourish, both in the classroom and on playing field, under his wise guidance.
Contents
K. M. Fleming, Esq.
Organisation
Editorial
General Notes and the School at Work, at Hobbies and in Uniform
The School at Play
The School Creative
Old Borderers' Notes
Acknowledgements
Umtali Boys' High School
Staff
Headmaster: K. M. Fleming, B.A. (S.A.) U.E.D.—Civics
Deputy Head: G. E. McGrath, Hons. B.A. (Wales) Dip. Ed.—History
I/C General Side : T. O. Phillips, N.C.T.C. (D.)— Science and Maths.
R. J. Andrew, Hons. B.Sc. (S.A.) U.E.D.—Geography, Scripture
B. M. Black, P.T.C.—Afrikaans
G. H. Brewer, B.Sc (Nott.) C.Ed—Science
G. H. Brown, Dep. Phys. Ed. H. (Glasgow)—Physical Education
A. M. Burns, B.Sc. (S.T.) S.T.C—Science
Mrs. V. M. Curtin, L.U.C.T—Music
E. J. Clark. B.A. (Oxon)—English
J. H. Clarke, B.A. (S.A.) U.E.D—Geography
J. A. S. Edington, B.A. (C.T.) U.E.D—French
W. S. S. Forsyth, D.A. (Dundee)—Art
D. J. Howard, B.A. (Rand), T.T.D—History, English
P. F. B. Klemp, B.Sc. (Rhodes) Dip. Ed—Maths., Science
P. V. Kolbe, B.A. (Rhodes) U.E.D—Latin, English
Miss S. M. B. Maritz—Bursar,
Mrs. C. V. E. McCaughan, B.Sc. (Belfast)—Maths., Science
N. S. MacTaggart, B.A. (Manchester), Dip. Ed.—English, Maths.
E. J. Mirams—Crafts
Mrs. E. J. Mirams—Secretary
C. C. Mundell — Crafts
J. Nelson, B.Sc. (S.A.)—Maths., Science
C. W. Pert, D.T.S. (Dundee) —Crafts
P. J. Potts, Dip. Ed. (Exeter)—History, World Affairs
E. C. W. Silcock, B.Sc. (S.A.), U.E.D. (Natal)—Maths.
H. J. Theron, B.A. (S.A.), U.E.D—Afrikaans
I. A. O. Wallace—Grounds
M. B. E. Whiley, B.A.(C.T.), Dip. Ed.(Oxon)—English, History
School Prefects
Bragge, B., Head of School and Palmer House
King, B., Head of Crawford House
Baugh, J.. Head of Hill House
Menne, T., Head of Livingston House
Anderson, J.; Gammon, I.; Girard, P.; Holloway, T.; Hume, I.; MacDougall,
D.; Steyn, V.; Van der Linde, B.
House Prefects
Heymans, J.; Hill, R.; Wessels, E.; Shevill, J. R.
Matrons
Kopje House : Mrs. B. C. Grosskopff, Cook Matron; Mrs. D. M. Lloyd. Matron; Mrs. J.
M. Mattey, Matron.
Central Dining Hall : Mrs. M. C. Steyn, Cook Matron.
Central Sick Bay : Miss E. Neely, Sick Bay Matron.
Crawford House : Mrs. C. Hynds, Matron.
Palmer House : Miss S. T. Johnston, Matron.
Hon Auditor
T. Howman
Hon. Legal Adviser
T. Gargan
School Council
A.C. Soffe, C.B.E. (chairman); B. T. Park (vice-chairman); H. W. F. Hill (Hon. Sec.); D. Catsicas, O.B.E. (Municipality); A. M. G. Marson (Government),; J. Nesbitt (Old Borderers); J. F. Burford and A. S. Kemp (Parents).
Parents' Association Executive
B.T. Park (Chairman); J. F. Burford (Hon. Sec.); T. H. B. Stone; L. G. Gardiner; A. S. Kemp; W. E. Isherwood;
Mrs. D. C. Beare; Mrs. W. E. Isherwood."
Editorial
ALL sensible people value education, and throughout history all civilised peoples have worked out some form of education. It is generally accepted that in order to be civilised one has to be educated. We speak of education in two senses. In the narrower sense, it is what we learn in school or in our spare time; when what we do is carried out primarily for the sake of what we learn or the training we receive. This may be
called formal education. But we also receive education by participating in activities that are not planned to educate us. Such education may be called incidental, but is of the greatest importance, and it behoves every one of us to play our part in these activities in order to derive the benefits there from. Under one form or another, education continues throughout life. Experience shows, however, that in general those are best
educated who have had an opportunity in the earlier years of their life to get the formal education that the institutions of their country provide. Schools constitute an opportunity which we can neglect and disregard or seize and utilise.
This school since its foundation has made very great strides, and, while no doubt much remains to be done, the amenities existing represent a very considerable achievement indeed. However, no matter how commodious or modern the buildings, lavish the equipment or extensive the playing fields, all these are of little value if the incentive to grasp the opportunities available, is lacking.
Co-operation and a genuine attempt to understand each other are valuable assets indeed, and in future years we hope that the boys of this school will look back with pride and affection on the days they spent here, and not with regrets of having failed to take full advantage of the facilities which were offered.
"Dum loquimur, fugerit invida aetas; carpe diem quam minimum credula postero."
—Horace. Ovid. 1, XI, 7-8.
UMTALI BOYS HIGH SCHOOL PREFECTS - 1956
Standing: I. Hume - I. Gammon - J. Anderson - D. Maedougall - B. van der Linde - J. Baugh
Seated: T. Holloway - B. Bragge (Head Boy) - Mr K M. Fleming - B. King - A. Menne
Front: V. Steyn - P. Girard
Staf Noats
bi Jones Minor
AT the End ov 1955 wee lernt that Mr. Fleming wu.s returrnin too theschool as headman and that Mr. Gaylard was going two Prinsc Edwardto be there headman. Mr. McGrath wos apointid vice kaptin off the skool.Mistirs Quirke, Vigor and Meyer lefft, the flrster on transver too allin-wilsin and the two laster too princedwird.
Mister brown braived the skotish whether juring the first term andreturned with a wiff. Mister McGrath went saling in gondeleers in Venice,and Mister Phillips kot fishis dewring the sekond term. This term MisterClark and Mister potts went for a hollyday in the ewnion. Becos MistirBrown went awai, Mister Glassbrook arrived, and Missus Reid done MistirPhillips job.
We hav sum nue teechers this yeer, Misters Mctaggart, Mundell,Klemp, Howard and Missusses Missis ladies McCaughan, Curtin and Buckley. We wish awl ov them and the best ov luk.
The folloing peeple startid there birfdays; Hilary Phillips, Delia Nelsonand Stephen Potts.
Some ov our teechers also got marraged, Lyn Meyer and Joy Williams, George Brown and Margaret Ferguson, and Charlie Mundell and Wendy Kemp. Wee are veri pleesed for them and hope they will be veri happi.
Yurs faifuly,
JONES MINOR.
AVETE
Ade, B.; Alison, R.; Amm, H.; Annan, J.; Agnew, J.; Armitage, J.; Atkins, T.
Badenhorst, P.; Baker, V.; Banwell, W.; Beswick, R.; Bezuidenhout, C.; Bredenkamp, P.; Bridger, G.
Cartwright, H.; Clack, R.; Cobbett, W.; Collings, A.; Coussis, K.
Davies, C.; Davies, L.; de Wolf, E.; Dempsie, A.; Diplock, T.; Dobell, D.; Dobropoulos, A.; Dodsworth, J.; Dreyer, D.; Dryburgh, G.; du Plessis, J.; du Plessis, D.
English, L.
Ferreira, J.; Ferreira, I.; Ferreira, J. P. T.; Foulds, F.; Fynn, K.
Gamblen, A.; Garner, E.; Georgeou, N.; Gifford, V.; Gilley, B.; Goldschmidt, O.; Greef, F.; Grobler, G.; Guest, D.
Hamson, R.; Harvey, B.; Harwin, C.; Hassing, A.; Herselman, J.; Heymans. C.; Hilton, M.; Hulme, W.; Hume, D.
Innes, N.
Jackson, A.; Jordaan, L.; Joubert, D.
Kavadias, A.; Key, G.; Kinloch, G.; Kolm, H.
Lanca, E.; Laurent, R.; Letley, A.; Lewis, J.; Longuet Higgins, M.; Luke, J.
MacDonald, K.; Marais, P.; McDowell, T.; McLachlan, K.; Meglic, F.;
Napier, R.; Nash, R.; Naude, S.; Nell, R.; Nolan, J.
Oake, P.; Odendaal, I.
Pearmain, R.; Penfold, J.; Prince, N.; Psaradelis, H.; Potgieter, C.; Pye, R.
Quinn, P.
Range, B.; Rennie, P.; Richardson, E.; Riley, P.; Riva, V.; Rogers, A.; Ronan, P.
Scott, A.; Serfontein, T.; Sim, G.; Sinclair, M.; Smith, G.; Smith, A.; Spence, W.; Stacey, T.; Stanton, W.; Stevenson, B.; Stewart, G.; Stine, P.
Taylor, G. Theron, P.; Theron, C.; Thomas, A.; Tiley, P.; Todd, Truman, R.
Van der Merwe, J.; van der Merwe, C.; van Heerden, C.; van Rensburg, A. van Zyl, J.; Vilioen, I ; Verdal Austin, G.; von Strantz, N.
Waggott, T.; Walton. A.: White, J.; Whitehead, C.; Whitmore, J.; Wide, G.; Wlllsmer, M.; Wilson, J.
Valete
Aitkenhead, B.; Armitage, W.; Arnold, W.; Arnoldi, R.
Barclay, W.; Beets, H.; Beniston, J.; Bing. E.; Blatch, P.; Bowman, M.; Bower, S.
Cawson, J.; Coakley, J.; Coetzer, B.; Conchar, M.; Cremer, Croucamp. C.
De Meyer, J.; De Smidt, D.; De Swardt, L.; De Wolf, E.; Dinsdale, A.; Dovaston, G.; Du Plessis, H.; Du Preez, H.
Easton, R.; Edwards, C.; Edwins, J.; Eley, W.
Fish, K.; Franklin, J.
Gill, A.; Goldberg, M.
Hall, J.; Hartley, T.; Henderson, A.; Hill, H.; Hobbs, J.; Hoffman, J.; Hughes, D.; Hulley, P.; Hume, P.
James, W.; Johnstone, B.
Kolm, F.
Lanca, E.; Landos, P.; Lea, R.; Leppan, A.; Logan, M.; Lombard, J.; Lombard, S.
MacLachlan, A.; Manson-Bishop, R.; Mason, D.; Mather, R.;
McCulloch, I.; Meyer, F.; Mills, T.; Mitchell, L.; Mitchell, V.; Mitchelmore, J.; Moore, I.; Muil, A.; Munroe, W.
Nel, W.
O'Connor, E.
Palmer, C.; Palmer, M.; Papenfus, J.; Parkin, J.; Parkin, P.; Pelser, P.; Pollard, M.
Ramsay, M.; Ray, R.; Redmile, B.; Ridley, D.; Riley, N.; Ross, R.; Rutters, G.
Scott, D.; Seirlis, G.; Skinner, B.; Sletcher, C.; Spooner, L.; Steyn, C.; Steyn, E.; Stratton, R.; Stuart, G.
Van Rensburg, A.; Vernon, J.
Waldeck, A.; Ward, M.; Wasserman, Watson, S.; West, V.; Wucherpfennig, M.
Headmaster's Notes
THE quite remarkable development which has taken place on the newschool site since 1953, under the energetic direction of Mr. A. D. Gledhill, has slowed down this year; 1956 has been a period of consolidation. It is amazing to think that four years ago the school site was virgin bush, the haunt of the bush buck, wild pig, guinea fowl and pheasant.
Having started from scratch the general development of the school grounds will take years, especially as finance is the limiting factor. However, the final picture will be one that few schools, if any, in Southern African can equal.
The main work this year has been levelling and grassing the extensive area in front of the school, three new tennis courts, top dressing the main playing field and beautifying the approach to Crawford and Palmer Houses. Rustic shelters, of the log cabin type, have been erected on two fields and at the tennis courts.
The main programme for 1957 will be to provide water and sanitation at the Pavilion, make a start on a new playing field, develop the area in front of the dining hall, and continue with top dressing the fields.
Our difficulties have not been what we should do but which job should have priority. Generally speaking, priority has been given to the work which will give better amenities to the boys. For the first timesince the school moved to its new site we have been able to provide games for all twice a week. If development can keep pace with increased numbers, there is no reason why this very desirable state of affairs should not continue.
In conclusion I must express my gratitude to staff, senior boys, many parents, Old Borderers and friends of the school, who have made my wife and I feel so welcome on our return to Umtali. We have appreciated this very much and we would like to assure our many well-wishers that we hope to be of some use to the community.
Umtali Boys' High School
WHEN, at the end of 1953, the co-educational Umtali High School split and formed the Umtali Boys' High School and the Umtali Girls' High School, it was with mixed feelings that the pioneers of the new boys'school contemplated the coming year. The separation from the girls (hitherto unknown) was not universally acclaimed but was for many an interesting prospect.
With one large block of classrooms and two large hostels completed the new school was ready to function. Volunteers and defaulters were already well acquainted with the playing fields, which they had cleared and planted with grass the previous year. In the absence of a school hall, school assembly was, and still is, held in front of the main entrance to the school buildings. Physical training commenced on a rugby field immediately below the school, where it has been held ever since.
With extensive unworked grounds and limited facilities it was, therefore, imperative that the boys themselves should be the ones to set the school on its feet. And so it was that P.T. classes found themselves wielding shovels and planting- grass, games groups extending their sportsfields, and defaulters providing a Saturday labour force.
Under the guidance of the head, Mr. A. D. Gledhill, the school was soon engaged in creating a permanent establishment of practical as well as aesthetic value from an area of veld. A large new playing field was excavated and work started on the construction of a pavilion on the main memorial field. Trees were planted, and a comer of the large grounds was allotted to the Young Farmers' Club, which has proved itself a successful venture.
With sports facilities not so comprehensive, as is only natural in a new school, it must not be concluded that the standard of school sport therefore suffered. On the contrary it has shown great improvement, perhaps from the lack of distractions, but more probably because the boys knew that old traditions must be maintained and new ones created. Inter-school matches instilled a high degree of sportsmanship and competitive spirit as well as encouraging enthusiasm and team-spirit. First teams under Messrs. Silcock (cricket) and McGrath (rugby) have had successful seasons every year. Perhaps Mr. McGrath considers as one of the great losses of his life the fact that while he was on leave, the school 1st XV beat the touring Maritzburg College team by eight points to six.
In the three years that the school has been in operation, a large workshop block has been completed, the pavilion awaits the finishing touches and a swimming bath is under construction and is expected to be completed before the end of the present term.
At the end of 1955 Mr. K. M. Fleming succeeded Mr. Gledhill as Headmaster to the school. Mr. Fleming had previously been the deputy- head at the "old school" before transfer to Fort Victoria Public School, and the older pupils were pleased to welcome him back.
In 1955 the school tuckshop was built by parents and Old Boys. It proved that it was perhaps the best venture since the school itself was built. The custom and enormity of consumption was staggering and considerable space in the school magazine was needed to recount the first term's sales figures. Next to a tuckshop the need has been felt for a school hall and an intense campaign has been carried on and funds have swelled considerably.
There is no doubt that there has been great progress since the school came into operation and even less doubt that great progress will continue. It will be many years before the school is completed and established but already an impressive reputation and tradition has been made. It is certain that every attempt will be made to ensure that the Umtali Boys' High School be a leading light in Southern Rhodesia and that it will prosper materially, morally and mentally and justify the pride of those who helped to build it.
J. VAN HEERDEN, IVB.
Public Examination Successes, 1955
Government Bursary, P. Mueller, £150.
CAMBRIDGE OVERSEAS HIGHER CERTIFICATE
B (Biology), C (Chemistry). F (French). G (Geography), GP (General Paper), H (History), L (Latin), M
(Mathematics), P (Physics), PC (Physics-with Chemistry), A (Afrikaans).
Full Certificate (subjects on principal level):
Conchar. M. J.: GP, L. H. G.
Rarnsay. M.: GP, G, C, B.
Subsidiary:
Blatch, P. J.: GP.
Cawson, J. R.: GP.
Cremer, A.: GP.
Easton, R. S.: GP, A. Art.
Girard, P. J.: GP, M, PC.
Watson, L.: GP.
King, B. B.: OP, F, H.
Maine, A.: GP, L. H. G.
Pollard. M.: GP. G.
Rcdmile, B. D.: CP, M, PC.
Seirlls, C.: GP, L, H, G.
CAMBRIDGE SCHOOL CERTIFICATE
The figure after the name indicates the number of credits: a subject named indicates distinction. A (Afrikaans), E (English Language), EL (English Literature), G (Geography), H (History), L (Latin), M (Mathematics), MA (Additional Mathematics), S (General Science), W (Woodwork). ME signifiesexemption from the Matriculation Examination of the Joint Matriculation Board of South Africa.
Bower, S.: 4.
Bowman, M. G.: 3.
Bragge, B. R.: 6, ME.
Charles. I. J.: 2, G.
Crawford, J. L.: 3.
Do Smidt. D. J.: 2.
Dr Swaardt, L.P.V: 4 A
Du Preez, H.: 5. G. A.
Franklin, J. F.: 2.
Gammon, G. I.: 4.
Gill. A. J.: 4.
Goldberg. M. J.: 5.
Hall, J. F.: 4.
Heymans, J. C. W.: 3,
Hill, H. M.: 3. G.
Holloway, T. A.: 5, A.
Hughes, D. L.: 6, G, ME.
Hume, I. M.: 5, G, ME.
Hume, P. L.: 6, G, ME.
Leppan, A. J.: 4, A, ME.
Marusic, M.: 6.
Mills, T. J.: 4.
Muil, A. D.: 3.
Petter-Bowyer, P. A.: 3, G.
Shevill, J. R.: 6, ME.
Stuart, G. H.: 5, ME.
Van der Linde, B. C.: 6. E, G, A, M, Art, ME.
Vernon, J. C.: 5, G, ME.
Waldeck, J. E.: 3.
Watson, S. J.: 5, ME.
DEPARTMENTAL GENERAL SCHOOL CERTIFICATE EXAMINATION
October 1955
The list is confined to those who passed at least Form II in both English and Arithmetic. The highest grading obtainable is Form III for Credit (IIIC)
Arnold, W. F.: II. III.
Blake, E. N.: II, II.
Capsopoulos, S.: II. III.
Coakley, J.: II, III.
De Beer. L. A.: II, IIIC.
Hartley, T.: II, III.
Hoffman, J. W. L.: II, III.
Johnstone, A. B.: Ill, IIIC.
Kettle, B. A.: Ill, IIIC.
Lawson, P. A.: II, III.
MacLauglilan, A. P.: II, IIIC.
Manson-Bishop, R. S.: II, III.
Mason, D. L.: III, II.
Meyer, F. E.: III, II.
Mitchell, G. E.: IT, II.
Moore, I. N.: II, III.
Lombard, S. M.: II (1955). IIIC (1953).
Shaw. P. M.: Ill (1954), III (1955)
Webb, D. H.: Ill (1954), IIIC (1955)
Morris, R. D.: III, III.
Olivier, P. A. C.: Ill, II.
Panas. A. R.: IIl, III.
Papenfus, J. N.: II, III.
Parker, J. G.: II, III.
Parkin, P. C.: II. II.
Sletcher, C. M.: II, IIIC.
Stanton, P. H.: III, III.
Steyn, V. J.: II, II.
Taylor, R.: IIIC, IIIC.
Taylor, J. A.: Ill, II.
Theron, D.: IT, II.
Van der Merwe, H. P.: II, II.
West, V. R.: II, III.
Wucherpfennig, M.: Ill, IIIC.
NATIONAL TECHNICAL EXAMINATIONS, 1955
*, Distinction; m. Mathematics St. VII; maI. Mathematics I; ma2, Mathematics II; mol, Motor Car Construction I; moll, Motor Car Construction II; edr, Engineering Drawing I; mcl, Machine Construction
and Drawing I; ph, Physics Std. VII; jb, Junior Bookkeeping.
N1, Full National Technical Certificate, Part I; Nil, Full National Technical Certificate, Part II.
National Technical Standard VII Certificate
Beets, H. H.: *m, ph.
Blake, E. N.: m.
Capsopoulos, S.: *m, ph.
De Beer, L. A.: m. ph.
Friedman, P. M.: m.
Garner, R. W.: m.
Kettle, B. A.: m, ph.
Lawson, P. A.: m.
MacLachlan, A. P.: *m, ph.
Manson-Bishop, R. S.: m.
Mitchell, G. E.: m.
Morris, R. D.:*m.
Nel. W. J. N.: m.
Panas, A.: *m.
Papenfus, J. N.: m.
Parker, J. G.: m, ph.
Snyder. H. P.: m.
Stanton. P. H.: m, ph.
Taylor. J. A.: m.
Webb, D. H.: m.
Wucherpfennig, M.: *m, ph.
National Technical Certificate (Part I)
Armitage, W. W.: mol.
Coakley, J.: mol.
Dinsdale, A. G.: mol.
Du Plessis, H. D.: edr, mol.
Eckard, D. A.: mal.
Johnstone, A. B.: edr, *maI, (NI).
MacLachlan, A. P.: edr, mol.
Mason, D. L.: edr, mal.
Meyer, F. E.: edr, mal, mol, (NI).
Moore, I. N.: edr, moI.
Panas, A.: jb.
Shaw, P. M.: maI, moI.
Steyn, E. J.: jb.
Ward, M.: edr.
Webb, D. H.: mol.
West, V. R.: maI.
Wucherpfennig, M.: jb.
National Technical Certificate (Part II)
Lombard, S.M.: mcl, ma2, mo2, (Nil).
Steyn, E.: mcI, *ma2 , mo2, (Nil).
National Technical Examinations—June, 1956
Eckard, D. A.: jb.
Shaw. P. M. D.: edr, (NI).
RHODES TRUSTEES ENGLISH COMPETITION, 1956
The following were the prize-winners:
Group 2: J. Rubenstein.
Group 3: B. R. Timmins.
Group 4: B. Waldapfel.
Group 5: C. Wortham.
Group 6: A. Menne.
Group 7: R. Taylor.
Form: 1M
Form Prize: Hulme
Progress Prize: Nil
Form: 1L
Form Prize: Herselman
Progress Prize: Nil
Form: 1C
Form Prize: Badenhorst
Progress Prize: Atkins
Form: 1B
Form Prize: Wide
Progress Prize: Hilton
Form: 1A
Form Prize: Dodsworth
Progress Prize: Ade
Form: 11M
Form Prize:Southerden
Progress Prize: Nil
Form: 11L
Form Prize: Muller
Progress Prize: Teles
Form: 11B
Form Prize: Coakley
Progress Prize: Van Staden
Form: 11A
Form Prize: McDiarmid
Progress Prize: Nil
Form: 111M
Form Prize: Weiman
Progress Prize: Nil
Form: 111L
Form Prize: Goddard
Progress Prize: Nil
Form: 111B
Form Prize: McLeann
Progress Prize: Nil
Form: 111A
Form Prize: Stacey
Progress Prize: Prince
Form: IVL
Form Prize: Webb, D
Progress Prize: De Beer
Form: IVR
Form Prize: Zeederberg
Progress Prize: Panas, B.
Form: IVB
Form Prize: Hill
Progress Prize: Wilkinson
Form: IVA
Form Prize: Beare
Progress Prize:Petzer
Subject Prizes (Upper School)
English
Form VI: Nil
Form V: Anne Drury
French
Form VI: B. King
Form VNil
Latin
Form VI: A. Mennie
Form V: Nil
History:
Form VI: A. Mennie
Form V: Nil
Geography
Form V: A. Mennie
Form VI: I. Hume
Physics
Form V: P. Girard
Form VI: Penelope Wright
Chemistry
Form V: Nil
Form VI: Anne Drury
Biology
Form VI: Nil
Form V: J. Shevill
Mathematics
Form VI: Nil
Form V: Penelope Wright
LAER TAALBOND, 1956
H. P. Geldenhuys.
C. G. Lourens.
R. D. du Toit.
P. J. le Grange.
P. Leontakianakos.
ART AWARDS IN MANICALAND AGRICULTURAL SHOW, 1956
1st: D. S. MacDougall.
1st: A. McDiarmid.
2nd: J. Mackay.
Highly Commended: C. Hayter.
Swimming Bath
THANKS to the generosity of the State Lottery Trustees, the school swimming pool has become a reality. As we go to Press the pool is almost ready for use. It will be officially opened on the 1st December by Mr. B. B. Hill, a former headmaster of the school and one of the trustees.
The bath is fully tiled: the length is 75 feet; the breadth 60 feet, and the greatest depth 9ft. 6in. The diving apparatus has been bought out of school funds and one diving board of the highest quality, imported from the Union of South Africa, was presented to us by an Umtali swimming enthusiast.
Until the school can afford to build permanent changing rooms, temporary ones of a log cabin type have been constructed by ourselves, and these will have to serve our purpose for several years.
The boys, who have had no swimming: for nearly three years, are eagerly looking forward to regular swimming periods.
The pool was designed and constructed by Country Building Contractors, and work commenced in June, 1956. We are indebted to the Umtali Municipality for doing the considerable excavations at cost. Much work remains to be done to beautify the surroundings but this should be completed during January, 1957. The site will then be very attractive and a great asset to the school.
School Hall Fund
The Assembly Hall Fund was launched in April, 1956, and, thanks to the spontaneous and very fine support given by parents, school boys and staff, Old Borderers, friends of the school and business houses in Umtali, the fund now stands at £2.635. All this in seven months.
Our aim is to raise £8,000 by the end of 1957; thus we have a long way to go but it is as well to be optimistic and do everything possible to get the fund raising campaign over quickly rather than have it drag on over a period of years. Even more important is our urgent need for a hall: it is an essential building and the school will continue to face many problems until the hall is built. Many people do not realise that our largest room holds forty boys, thus the school can only assemble as a unit in the open, at the whim of the unpredictable Eastern Districts' weather.
Our sincere thanks go to the following, who have contributed, and their names have been inscribed in a special book which in due course will have a permanent home in the hall when completed. If anyone's
name has been inadvertently omitted, please let us know.
CONTRIBUTIONS
A. C. Soffie: £750 0s 0d
W. M. King: £3 3s 0d
S. M. Marusic: £5 0s 0d
Advanx: £25 0s 0d
D Hughes: £1 0s 0d
B. D. Goldberg: £52 10s 0s
J. B. Hobson: £3 0s 0d
B. du Toit: £10 10s 0d
Mrs. A. H. Odendall: £1 0s 0d
Mrs. J. Maierhofer: £1 0s 0d
A Sainton: £2 2s 0d
N. Mossop: £5 0s 0d
I. Louw: £1 0s 0d
J. Brown: £1 0s 0d
L. D. Pearce: 10s 0d
M. M. de Kock: £1 0s 0d
D. W. Marshall: 0s 0d
J. P. de Kock: 10s 0d
J. A. Joubert: 10s 0d
D. W. Horne: 10s 0d
I. G. Milne: 10s 0d
Dr. J. M. Wessels : £2 0s 0d
W. Ferreira: 10s 0d
T. D. Rodopoulos : 10s 0d
H. Coulentianos: £1 0s 0d
J. Tselentis: 10s 0d
Goldsmiths and Silversmiths: 10s 0d
P. Quirk: £2 10s 0d
A. J. Miller: 10s 0d
W. de Kock: £1 0s 0d
I. Ledingham : £1 0s 0d
J. Sachse: 10s 0d
G. Vayanos: 10s 0d
Umtali Farmers' Co-op.: £2 2s 0d
J. B. Olsen: 10s 0d
H. Atmore: £1 0s 0d
I. G. Hilton: 10s 0d
G. J. Gifford: £10 10s 0d
A. C. Pye: £10 10s 0d
Mrs. Evetts: £1 14s 0d
W. M. Bezuidenhout: £5 0s 0d
M. J. Carter: £1 1s 0d
G. Gardener: £1 1s 0d
Mrs. G. P. Roberts: 10s 0d
T. Walker : 10s 0d
E. Eley : 10s 0d
N. Deftercos: £1 0s 0d
R. J. Harrison: £1 ls 0d
C. S. Edward: 10s 0d
Harrisons. Ltd.: £2 2s 0d
Mr. Corder: 10s 0d
A. Weeks: 10s 0d
W. E. Gooding: 10s 0d
B. Kok: £1 0s 0d
D. M. Wiggins: 10 0
Rhodesian Milling Co.: £2 2s 6d
Weber & McGcoch: 10s 0d
Collected by Mrs. Holloway: £23 6s 1d
J. Farnden: £1 0s 0d
K. Stevenson: £2 2s 0d
H. Rees: £10 0s 0d
Mrs. Le Chat: £5 0s 0d
Mr. Hassing: £1 1s 0d
Mr. Richardson: 10s 0d
Thesen (Rhod) Ltd: £10 0s 0d
P. C. Mitchell: £1 0s 0d
N. Cobbett: £5 0s 0d
P. W. Steyn: £1 0s 0d
Mrs. Strickland: £100 0s 0d
A W. Crombie: £5 0s 0d
M. Rubinstein: £l ls 0d
N H Davies: £1 0s 0d
Mrs. J. MacFarlane: £5 0s 0d
Mrs. Bloom: £1 0s 0d
Lawson Pigott Motors: £1 0 0
Liberty Motors: £1 0s 0d
P. W. Steyn: £1 0s 0d
H. H. Phillips: 10s 0d
Mrs. Harwin: £2 0s 0d
Mrs. McDowell: £3 3s 0d
Tobacco Auctions, Ltd.: £5 0s 0d
Edgars Stores: £1 0s 0d
A. Deane-Williams: 10s 0d
J. E. Smith: £3 6s 0d
Mr. Nicholson: £1 0s 0d
E. Hill: £25 0s 0d
E. Longnet-Higgens: £1 0s 0d
Mrs. T. A. Moore: £1 1s 0d
G. A. Bridger: £5 5s 0d
J. R. Kok: £2 0s 0d
E. Stephen Wright: £2 0s 0d
J. S. Teles: 10s 0d
K. Went: 10s 0d
Palmer House: £5 0s 0d
H. P. Steyn: £1 0s 0d
Mr. Todd: £5 0s 0d
Mrs. A. M. Ruxton: £5 0s 0d
T. Steyn: £5 0s 0d
Mrs. R. Fox: £1 0s 0d
H. M. Hill: £1 1s 0d
A. J. Drysdale: £5 5s 0d
J. F. Drysdale .: £2 2s 0d
J. P. Blackmore: £1 1s 0d
B. S. Walker: £5 0s 0d
N. E. Richards: £10 0s 0d
Gammon Brothers: £25 0s 0d
Lawson Piggot Motors: £2 2s 0d
H. Myburgh: £5 0s 0d
P. W. Steyn: £1 0s 0d
Wm. Bain, Ltd.: £5 5s 0d
D. Hughes : £1 0s 0d
K. Dodsworth: £2 2s 0d
Swift Transport Services: £2 2s 0d
P. H. Barr: 15s 0d
Meikles (Umtali) Ltd.: £250 0s 0d
B. D. Goldberg (further donaation): £105 0s 0d
H. D. Milne. Ltd: £10 0sd 0d
Garlicks Office Equipment Co.: £3 3s 0d
Manica Electrical Contractors. Ltd.: £5 5s 0d
N. Whitehead: £2 2s 0d
H P. Steyn: £l 0s 0d
Mrs. Fourle: £2 0s 0d
Rhodesian Breweries, Ltd.: £3 3s 0d
Border Clothing Factory: £5 0s 0d
Frontier Engineers (Pvt.)Ltd,.: £5 .0s 0d
Greatermans Stores: £5 5s 0d
R. Napier: 10s 0d
J. Rodriques: £1 0s 0d
Mrs. H Palmer: £1 0sd 0d
M. Juster & Son: £26 5s 0d
T. D. Steel: £3 3s 0d
H. Saunders: £10 0s 0d
D. Rodopoulos: £10 0s 0d
Mrs. Sutcliffe: £3 3s 0d
Mr. Estcourt Palmer: £91 0s 0d
Messrs. Holman & Barry: £50 0s 0d
Mr. T. Garvin: £62 10s 0d
Mr. D. Barry: £50 0s 0d
Mr. & Mrs. F. C. Brown: £5 0s 0d
Fashion Show (Meikles, Ltd.): £56 1s 3d
Mr. C. A. L. Myburgh: 11s 0d
Rhodesian Jute Industries: £10 10s 0d
Mrs. S. Agnew: £5 0s 0d
Rliodcsian Wattle Company: £50 0s 0d
Umtali Trading Company: £10 10s 0d
G. G. Bennett: £10 10s 0d
Dr. H. Olivier: £3 3s 0d
E. K. Davidson: £1 0s 0d
C. A. Massay: £3 0s 0d
Proceeds Morninig Market: £22 1s 5d
Mrs. D. Gray: £2 0s 0d
Mrs. E. H. Smith: 10s 0d
Mr. Hill: £2 2s 0d
Mr. Catsicas: £2 2s 0d
Mr. Deftereos: 10s 0d
Sale of Stamps: £3 16s 6d
Miscellaneous: 1s 6d
C. W. Brown: £5 0s 0d
W. L. Armstrong: £2 0s 0d
M. Y. Rennie: £5 0s 0d
E. W. Griffiths: 10s 0d
Manicaland Theatres: £5 5s 0d
Mr. F. Barry: £3 0s 0d
Mrs, L. McCausland: £1 0s 0d
Second Morning Market: £25 16s 9d
Radio. Ltd.: £40 0s 0d
Mr. & Mrs. A. van Heerden: £1 0s 0d
Mrs. P. Miller: £3 3s 0d
Miscellaneous: 2s 0d
Services. Ltd.: £20 0s 0d
School: £144 14s 0d
Boet Small. Proceeds Boxing: £25 0s 0d
Staff Wives: £13 16s 11d
Anonymous: £2 2s 0d
Rugby Collections: £13 8s 10d
Old Borderers: £69 5s 6d
Other Donations: £21 13s 7d
Total: £2.635 9s 0d
Cadet Notes
THIS year 120 cadets, under the command of Captain Edington, embarked from Umtali Station on the first leg of their journey to Inkomo training- area. The train was held up for an hour at Poundsley, to make way for the train of the President of Portugal, which was travelling back to Beira after an official visit to the Federation.
On Friday morning- the cadets arrived in Salisbury and had breakfast at King George VI Barracks. After breakfast they were taken by convoy to Inkomo and at 12.30 p.m. the Umtali cadets saw the lovely sandy dust of Inkomo again. Kit was issued to the cadets and they made their tents habitable for the ten days they were to spend there.
Saturday saw Umtali very busy cleaning the lines, while the 2nd Lieutenants started off on their intensive training course. The opening of the canteen in the afternoon emptied our lines until supper time.
On Sunday there were no parades but our Bisley team shot themselves to third place in the Inter-School Shooting Competition.
On Monday real camp routine started with parades and lectures for the cadets and lectures for the 2nd Lieutenants. Before lunch some of our cadets went out on traverses and—a tribute to D Company map reading some chaps got themselves lost.
By Tuesday the cadets had begun to realise what Inkomo heat and dust was but, nevertheless, our Field Firing Team excelled themselves, coming first in the field firing.
Wednesday, the 22nd August, was a day of normal routine. In the evening D Company drew its equipment for the exercise on the following day—everything from pencils and maps to pick-axes and wireless sets.
On Thursday the Company went out on Operation " Sausages and Mash." The military operation was not very successful since the enemy did not play fair, but everyone had a good time, including (we hope) the two prisoners who had to walk back from our Headquarters to their own positions.
On Friday morning there was a full scale rehearsal of the Ceremonial Parade. The guards spent the day cleaning their equipment for their tour of duty that night. The camp boxing finals took place that evening, King winning his fight for Umtali and Taylor R. having a walk-over.
Saturday was the day of the Ceremonial Parade and Sports. Lord Malvern took the salute at the March Past, 2nd Lieutenant King was 11th Battalion Commander. The Sports at 1 p.m. were shared by D Company and B Company and we narrowly missed bringing home the 11th Battalion Flag. This honour went to Prince Edward, B Company. In the late afternoon we learnt that 2nd Lieutenant Hume had been placed third in the Sword of Honour Competition.
On Sunday morning at 4.30 the Umtali cadets started packing their kitbags and handing in the kit issued to them at the beginning of camp. After a breakfast at 6.30 the Company moved off back to Umtali after ten days of dust, heat, parades and " Staffies."
Young Farmers' Club
Chairman: J. L. Crawford.
Vice-Chairman: C. Hayter.
Secretary: J. Courage.
Treasurer: R. Franklin.
Press Correspondent: M. Batho.
Club Leader: Mr. Potts (Third Term, Mr. Forsyth).
This year has been quiet, yet progress has been good. The crop group planted maize, beans and potatoes,
but the wild pigs ate the maize, and the potatoes were wiped out by blight.
We have kept two beef steers and two dairy heifers, and now that the vlei has been fenced off it is providing
good grazing for them. Six tons of maize and Napier fodder ensilage were made to feed the cattle during
winter.
There are now two hives of bees and both have settled down and are working well.
We have had two sets of weaner pigs, which we have fattened up and sold to the Cold Storage as baconers.
The poultry group have done well and have built a deep litter system. There are 11 hens now laying and a further nine are coming into lay at the end of November.
At the beginning of the year we decided that the garden was not paying and so this group was changed into
a winter feed and grass nursery section. This section supplies the livestock with greens and tries out new
grass.
In the Y.F.C. class in the Manicaland Show we were awarded a 1st prize for our conservation poster, a first
and a second for our heifers, farm tasks and tractor handling, a second for poultry trussing and demonstration and a third for beef judging, club exhibit and best hen.
We also partook in the Royal Show in Salisbury, in which we were awarded a first and a highly commended for our heifers, a first for our conservation poster, a second for a baconer pig and farm tasks, and a second and a third for the best hen.
Our future aims are to keep more livestock, plant large areas down to pasture and to build a fish pond.
J.L.C., VA.
Senior Debating Society
President: K. M. Fleming, Esq.
Chairman: P. V. Kolbe, Esq.
Vice-Chairman: B. B. King.
Secretary: P. J. Girard.
Committee: B. R. Bragge, J. Anderson, I. Hume.
Ushers: J. Crawford, E. Wessels.
The society met for the first time in the third term. When the officers for the year were elected, a hat debate was held. The subjects debated were: " That the European schoolboy of today is sloppy, lazy, and unreliable;" " That sport is a sheer waste of time," and " That decimal coinage should be introduced." All the motions were defeated.
The second meeting was held on October 19th, and the motion debated was ' That boys should be given more freedom in seeing members of the girls' school." Mr. van Heerden proposed the motion. He was seconded by Mr. Bragge. Mr. Hume, seconded by Mr. Petter Bowyer, opposed the motion. The speakers, and members of the house, all spoke very well, and the motion was defeated.
A debate was to have been held against the Umtali Girls' High School Senior Debating Society, but this had to be cancelled. Instead, a balloon debate was held on October 27th. All the balloonists played their parts very well and spoke accordingly. Some very interesting arguments took place and the debate provided a good evening's entertainment. Mr. Sherlock Holmes (Mr. Petter Bowyer) was voted the most deserving passenger and so he remained on the balloon.
This meeting was the last of the year, and the society looks forward to a successful year in 1957.
P.J.G., VIA.
Junior Debating Society
Officers:—
President: E. J. Clark, Esq.
Chairman: N. Sheppy.
Vice-Chairman: S. Els.
Secretary: P. Halliday.
Tellers: J. Stanton, N. Willsmer.
The above society met every second Friday evening at Kopje House.
The meetings were always well attended. The majority of debates held were Balloon Debates, which were of a fairly high standard. In the formal debates held, a marked improvement was noticed as members became
more experienced. On various occasions games were played in place of debates. Mr. D. J. Howard replaced Mr. Clark during his absence on leave in the third term.
N.S., IIA
Dramatic Society
TRIAL BY JURY
In the last term of last year the society put on the Gilbert and Sullivan comic opera " Trial by Jury." This show, which was the second of the famous Gilbert and Sullivan comic operas to be written, was put on in the Beit Hall with a cast of seniors and juniors. The juniors took the parts of the ladies and bridesmaids, and the seniors the major parts and the jurymen. It was very successful, and both the audience and the cast enjoyed themselves.
CAST
THE LEARNED JUDGE: ROY EASTON or GEORGE SEIRLIS
THE PLAINTIFF: ANTHONY ISHERWOOD
THE DEFENDANT: ALEXANDER CREMER
COUNSEL FOR PLAINTIFF: BRIAN KING
USHER: PETER JOHN BLATCH or LEWIS WATSON
FOREMAN OF THE Jury: ANTHONY MENNE
Jurymen: Lukas de Swardt, Peter Girard, John Hall, Charles Hayter, Duncan MacDougall, Basil Panas, Brian Pavier, Anthony Petter-Bowyer, John Courage, George Seirlis or Roy Easton, Lewis Watson or Peter John Blatch.
Ladies: Jeremy Blemings, Reggie Garner, Alan Hill, Pieter Nel, Nigel Neville, Harold Rees, Robert Tayler, Michael Williams.
Paterfamilias: Alexander Henderson Materfamilias: Peter Harvey
Children: John Moore, Gordon Rogers, Jonn Siddall, Royston Skinner, Robert Smith, Ralph Whiteman, Christopher Shepherd, Bryan Timmins. Alexander McDiarmid.
L'enfant Terrible: Richard Gargan
Vegetable Woman: Reginald Lotter
OPEN-AIR THEATRE
In the first term of this year the open-air theatre was officially opened by Mr. A. R. J. Ridley, Inspector of Schools. After Mr. Ridley's very entertaining: address, the Dramatic Society put on "Everyman," and "The
Dark Lady of the Sonnets."
EVERYMAN
In Mediaeval England, drama had sprung into being as parts of religious festivals, as part of an attempt to give fresh significance to stories which were themselves well-known in general outline. For the major part these stories were based on the Bible. However, playwrights introduced stories which had no place in the Bible. These were called " Morality Plays." The most famous of these is " Everyman," which takes as its theme the moments when death is near, and shows what a revaluation Everyman has to make of those things in his life which had once seemed all-important.
"Everyman" is a very difficult play to put over, but the Dramatic Society, with the help of the many parents who made costumes and lent properties, managed to present the play in four most successful performances.
The members of the cast were:
Stage Hands: Lucas De Beer; Denis Eckard; Philip Olivier; Hendrik Snyders; Vivian Steyn; Hendrik van Rensburg.
Characters.
Minstrels: Steven Clarke; Geoffrey Mitchell; Brian Pavier; Ian Hume; Graham Waters.
Prologue: Rex Carey
God: Peter Hume
Death: John Shevill
Everyman: Brian King
Fellowship: Steve Capsopoulos
Cousin: Brian Kettle
Kindred: Brian Aitkenhead
Goods:Oliver Norbett
Pleasure....: Charles Hayter
Good Deeds: Roy Gardener
Five Wits: Peter Shaw
Strength: Douglas Watson
Discretion: Peter Stanton
Beauty: Peter Harvey
Knowledge: Peter Girard
Confession: Thomas Wood
Angel: Hugh Miller
Epilogue: Eric Deane-Williams
DARK LADY OF THE SONNETS
This play, by George Bernard Shaw, is a skit on Shakespeare, illustrating Shakespeare's lack of originality. The parts were well acted, and the play went off without a hitch.
Cast:
Shakespeare: J. van Heerden
Queen Elizabeth: R. van Heerden
Beefeater: G. Bottger
Dark Lady of Sonnets: D. Kinloch
French Without Tears
THE drive for School Hall Funds is well under way, and already more than a third of the necessary £8,000
has been subscribed. The Boys' High School staff, after pondering- ways and means of doing their bit in
this drive for funds, decided to try and put on a play as one of their efforts in this direction.
It was decided, after some anxious weeks of reading, to put on " French Without Tears," a three-act comedy by Terence Rattigan. Written first in 1936 and revived for another run in 1946, this sparkling comedy wasa great success in England. The original cast consisted of such well known names as Trevor Howard, Guy Middleton, Rex Harrison, Kay Hammond and Robert Flemyng, and it was with some trepidation that we went along to the audition. However it was a great success and all the parts save " Lord Heybrook " and " Marianne," both very small ones, were allocated.
Rehearsals began and soon the cast were trying to learn their lines by heart. An infuriating aspect of this side of acting is the fact that one seems to know everyone else's part before one knows one's own.
Meanwhile the "backroom boys" were busy building the set. Designed and built up at the workshop block under the direction of Mr. Mirams it was taken down to the Beit Hall and erected in record time on Saturday, the 20th. An extremely solid and realistic set, it deservedly gained applause at the start of each performance.
After many a late night, Monday, the 29th October, arrived—the Dress Rehearsal. It was also to be a show for the schoolboys—always a very critical and uninhibited audience and there were some misgivings amongst us when the curtain went up for the first time.
However, the School thoroughly enjoyed the show and their warm reception gave the cast a great boost.
The play started on Wednesday, the 31st October, and ran for three nights, finishing on Friday; about 600 people attending. The weather and the fact that we were not able to give a performance on the Saturday reduced the numbers of audience somewhat, but a gross taking of £200 was recorded, much to the cast's satisfaction. A pleasant climax to an enjoyable experiment.
J.E.
Swimmig Bath Under Construction
U.B.H.S. Cricket 1956
Last year it was reported that "cricket in the school does not improve." At the time of writing, there is a change taking place and moreand more boys are playing cricket on their own at times other than thoselaid down in the time table with a consequent all-round improvement. A "coach " is not necessary at all times. Once he has diagnosed trouble and given his remedy it is up to the boy concerned to practise, and practise and practise. Until facilities are improved even further, we will never be able to give some boys enough cricket, and to get closer to the ideal, a matting wicket has been made at each end of the small field It is agreed that this is not a backward step, as a good matting wicket is preferable to a mediocre turf pitch, and the ant-heap stands up to the continual hard wear better than the turf.
Back: Brian Aitkenhead, Dennis Eckard, Wilfred 'Goofy' Reich, John Anderson, Peter 'Wonk' Walker, Colin Silcock.
Middle: Eric Deane-Williams, Ian Hume (Vice Capt), Bobby Bragge (Capt), Doug Watson, Brian King,
Front: Patrick Hill Peter Hagen.
FIRST XI
Captain : B. Bragge. Vice-Captain : L. Mitchell 1st Term. I. Hume 3rd Term.
Team Caps: Bragge, Deane-Williams. Hagen, Hume. I., King, Walker, Watson.
Also played in 1st XI: Aitkenhead. Anderson, Eckard. Hume. P..Joss. Mitchell. Mirams. Myburgh, Reich, van de Ruit.
The team has been well balanced, and a pleasing feature has been the number of boys who have represented the school in one or more matches. Bragge has captained the side well, but has been let down by fielding lapses. Watson has been the most successful bowler, giving away very little while attacking the stumps. Of the others, there have usually been too many loose balls among the good ones. The batting has been fair with Watson again prominent, and Bragge had several good innings. Spin bowling has always caused more trouble among our batsmen than fast bowling, and until they use their feet to attack it, the spinners will continue to get wickets cheaply.
11/2/56—v. Prince Edward—Away Lost by four wickets.
School: 142. (Mitchell 38, Hume, P., 36. Watson 27 n.o.; Erskine 4 for 16.)
Prince Edward: 173. (Erskine 40, Greyling 30, McPhun 23, Roberts 22; Mitchell 3 for 33, Hume, I., 3 for 36).
School elected to bat on what looked quite a grassy wicket which would take spin, and Hagen was run out in the first over. But the batting was fairly good with five wickets down for 114 runs. The tail collapsed badly against Erskine's bowling and P.E. started confidently. But they were five down for 71 until Erskine and Greyling came together
and put on 56 with some good batting. Our score was passed with four wickets still standing.
18/2/56—v. St. Georges Home Lost by 60 runs
.
College: First innings, 126. (Harker 26, Bradshaw 22, Fallon 21, Mackay 20; Watson four for 16).
School: First innings, 66. (Farnell four for 18, Turner three for 9).
College : Second innings 40 for four dec. (Bragge three for 22).
School: Second innings, 87 for four. (Bragge 32. Watson 28 no.).
St. Georges won the toss and batted on a fairly easy wicket. Watson was our most successful bowler with four wickets and it is interesting to note that nine batsmen were caught. Our batting was poor against quite accurate bowling, and we were 60 runs short at about 3.30. College batted again and made a very sporting declaration giving us about 45 minutes to get 101 runs to win. The batting improved considerably and stumps were drawn with 13 runs needed.
25/2/56- v. Churchill Home—Draw
.
School: 199 for nine dec. (Watson 59, Bragge 33, Deane-Williams 31, Hume, P. 26).
Churchill: 164 for nine. (Ross 42, Robertson 41, Winton 26, Hunter 23; Watson 4 for 22).
On winning the toss School batted and declared at lunch time with 199 for nine. Several boys batted well, but catches were put down. A nice partnership between Deane-Williams and Watson yelded 57 runs. In the Churchill innings, Ross was bowled when he had about 25, but was ruled not out because the wicket keeper had broken the wicket just before the ball hit the stumps. If this had not happened. School would have had the time to get them all out; but as it happened, the last batsman weathered the storm and played out time.
4/3/56—v. Staff Won by 71 runs.
School : 191 for six (Mitchell 53, King 34, Watson 30, Hume P., 22. Mr. Whiley three for 44).
Staff: 120. (Mr. Whiley 39, Mr. Andrew 31; Watson six for 36).
17/3/56—v. St. George's—Away—Won by 29 runs.
School: First innings, 132. (Hume, P. 39, Deane-Williams 30 n.o., Mitchell 27; Cockcroft six for 35).
College: First innings, 93. (Mackay 42; King three for 25, Bragge three for 15).
School : Second innings, 60 for five dec. (Hagen 24, Hume, P. 21; Purnell four for 19).
College: Second innings, 43 for three. (Watson three for 22).
Again School decided to bat and were two down for nine, then three down for 63—a good recovery by Mitchell and Hume. The rest, except Deane-Williams, did nothing much, until the last wicket put on a bright 14. College never got going and wickets fell regularly to finish 29 runs short. When Mackay was out for 42 the score was 53 for five. School batted again, knocking up a quick 60, but declared leaving College too short a time to get the runs.
18/3/56 v. Chaplin—On the Churchill Field, Salisbury—Draw.
School: 164. (Watson 53, Hume, P. 30, King 26, Walker 24; Carey four for 24).
Chaplin : 60 for five.
Churchill very kindly lent us their field and gave us hospitality for this game against Chaplin. Wre batted first on a grassy wicket, the middle batting doing quite well, but several catches being dropped. Chaplin began after lunch with clouds banking, and by 3.30 had lost five wickets.
Then a torrent of rain ended play.
22/4/56—v. Casuals—Won by 40 runs.
School: 228. (Bragge 154; Mr. Simpson four for 25).
Casuals: 118. (Mr. Edington 50, Mr. Valentine 34, Mr. Silcock 32,
Mr. Fleming 24; Deane-Williams five for 27).
22/9/56—v. Allan Wilson- Away Won by 16 runs.
School: 204 for six. (Watson 106 n.o., Walker 33, Eckard 32 n.o.).
Allan Wilson: 188 (Lang 96, Gilchrist 27, Mostert 25; Watson five for
57, Walker three for 19).
School decided to bat on a wicket which looked as if it was going to crumble, and Watson batted extremely well for his century, with no chances given. Allan Wilson started off well the opening pair, Mostert and Prctorius, putting on 43. But then three were down for 43 and four for 61. Then Lang and Gilchrist had a useful partnership of 76. Lang carried on and at 188 for 8 played a very tired shot to be caught at cover-point.
29/9/56—v. an Old Borderers-School XI—Draw
.
School : 128 for five dec. (Bragge 77 n.o.).
Old Borderers : 89 for six. (Mr. T. Deftereos 57; King two for 11).
6/10/56—v. Old Borderers Lost by six wickets.
School: First innings, 132. (Bragge 52, Deane-Williams 30; Mr. E. Deftereos four for 11, Mr. Stanford two for four).
Old Borderers: 149 for four dec. (Mr. T. Deftereos 58, Mr. G. Deftereos 22 n.o., Mr. E. Deftereos 20; Watson two for 25).
School: Second innings, 42 for seven. (Mr. E. Deftereos four for 17).
13/10/56—v. Guinea Fowl—In Fort Victoria—Won by 72 runs.
School: 167 for nine dec. (Bragge 28, Deane-Williams 24; Kemp five for 66).
Guinea Fowl: 45. (Kemp 47; Watson four for 14, King three for 32).
Again Bragge won the toss and batted on a wicket which was dusty from the first ball. Even the slow bowlers were getting lift, and Kemp bowled his leg breaks very well. Our scoring rate was very slow as the bowlers were too accurate to allow any liberties. We dcclarcd at 2.45 leaving Guinea Fowl two and a half hours to get the runs or to stay there. Kemp batted well after a shaky start (he was dropped at three) and time went by without any real attack from either side. Bragge suddenly realised the time and brought Watson on for his second spell to get three wickets, the last one in the last over!
20/10/56—v. Churchill—Home—Lost by 12 runs
.
Churchill: First innings, 98. (Hunter 26, Rich 26 n.o.; Deane-Williams six for 17).
School : First innings, 86. (Hume 23 n.o.; Flowerdew five for 14).
Churchill: Sccond innings, 81 for six dec. (Gane 29, Bertram 26 n.o.; Watson four for 34).
School: Second innings, 48 for eight. (Ross 6 for 19).
Sadly the pages referring to the 2nd XI to Under 14 were missing from the magazine and therefore not included here.
UNDER 13
The following: have played for the team: Lewis (capt.), Agnew, Amm, Banwell, Cartwright, Coussis, du Plessis, Grobler, Innes, Pearmain, Rennie, Stacey, Thomas, Todd.
Prince Edward.—Away. Lost by an innings and 14 runs.
School, 1st innings, 105 (Thomas 43, Fynn 21).
Prince Edward, 178 (Pearmain 3 for 48).
School, 2nd innings, 59 (Pearmain 22).
v. Churchill. Home. Won by 101 runs.
School, 1st innings, 60 (Pearmain 34).
Churchill, 1st innings, 39 (Lewis 7 for 17).
School, 2nd innings, 115 for 5 dec. (Pearmain 63).
Churchill, 2nd innings, 35 (Fynn 4 for 9).
v. Allan Wilson.—Away. Won by an innings and 46 runs.
School, 1st innings, 154 (Todd 30, Lewis 43, Agnew 28).
Allan Wilson, 1st innings, 62 (Lewis 6 for 24, Pearman 3 for 12).
Allan Wilson, 2nd innings, 46 (Pearmain 6 for 8).
v. Eagle.—Away. Won by 35 runs.
School, 63 (Pearmain 48).
Eagle, 28 (Lewis 3 for 10, Todd 2 for 0).
v. Churchill.—Home. Won by 114 runs.
School, 1st innings, 102 (Rennie 22, Agnew 21).
Churchill, 1st innings, 30 (Lewis 3 for 10, Todd 4 for 12).
School, 2nd innings, 79 (Pearmain 23, Thomas 15 n.o.).
Churchill, 2nd innings, 37 (Lewis 3 for 9, Pearmain 4 for 10).
v. Prince Edward.—Home. Lost by 8 wickets.
School, 1st innings, 77 (Agnew 34).
Prince Edward, 1st innings, 136 (Fynn 7 for 34).
School, 2nd innings, 70 (Lewis 40).
Prince Edward, 2nd innings, 16 for 2.
Unfortuanely the Borderer magazine was missing certain pages and this included the balance of the cricket report for the 2nd team to Under 14.
THE PETERHOUSE CRICKET AND HOCKEY FESTIVAL
THE aim of this festival was to bring into contact with one another the schools which were not likely to meet on the playing field, owing to their distance apart.
The festival was held during the last three days of the April-May holidays. The games started on the afternoon of Thursday. 17th May, and ended on Sunday morning. Each school was represented by 15 boys and two masters. The schools taking part were Peterhouse, Chaplin, Plumtree and Umtali Under 15 teams.
On Thursday afternoon the school played Plumtree at cricket, while Peterhouse and Chaplin played hockey. The school and Peterhouse had easy wins. We won by an innings and 50 runs. Peterhouse beat Chaplin by six goals to nil in their hockey match.
That night wc all got to bed early. The dormitories each had members of the four schools in them and we soon got to know each other.
The following morning we played a hockey match and in the afternoon, a cricket match, both against Peterhouse, while Plumtree and Chaplin were matched vice versa. Although most of our team had never played hockey before, we did well to go down by only two goals to nil. Our forwards came near to netting a few times and were unlucky not to have scored. Chaplin narrowly won the morning cricket by a few runs on the first innings.
Our afternoon cricket match against Peterhouse was probably the most enjoyable of the whole festival. Thanks to the presence of Douglas Watson, who made 82 not out, we were able to attain the good total of
168 for three wickets. Peterhouse started very badly to the bowling of Watson, their score being at one time 20 for five wickets. Then their hitter came in and proceeded to knock our bowling all over the ground. After he had scored 60 he was bowled and after adding about 20 runs, Peterhouse were all out, leaving us the winners by 15 runs. Chaplin beat Plumtree in the hockey by three goals to two.
That night a six-a-side hockey competition was arranged. The competition was played in the hall with hockey sticks and a pair of socks rolled up as a ball. There was a team of masters called the "Indunas" which came in at the semi-final. In the final our team, the Wallabies, beat the Indunas after extra time and received a prize of a box of sweets.
Our matches on the following day were against Chaplin. The cricket match was dull and ended in a draw. Again Watson was the mainstay of our batting, making 60 not out. Peterhouse overwhelmed Plumtree by
eight goals to nil in the hockey.
Our hockey team won the afternoon match by three goals to two. our only hockey win. The Peterhouse-Plumtree cricket match produced some entertaining cricket, Peterhouse winning by a narrow margin of runs on the double innings.
We were all entertained by a few short films after supper before turning in for the night.
The last morning's sport consisted of our hockey match against Plumtree and the Peterhouse-Chaplin cricket match. We lost our hockey game by the only goal scored in a close game. Chaplin lost the cricket
match by about 50 runs on the first innings.
This brought a very enjoyable festival to an end. The festival was wonderfully organised by Messrs. Fieldsend and Curtis, of Peterhouse, and the schools were all very friendly and I think I can say that everyone thoroughly enjoyed the three days at Peterhouse.
CONGRATULATIONS to D. WATSON on his selection for the Nuffield XI and to E. DEANE-WILLIAMS on his selection as a non-travelling reserve.
RUGBY NOTES
With seven of last year's team back, including all the threequarters, the team appeared to be fairly strong. The forwards were probably the heaviest Umtali hes ever had, averaging 1701b., and the threes were fast with plenty of rugby sense. Unfortunately, in the early games, our halves failed to get the ball away, and in the first game against Prince Edward we had the unsettling experience of winning five successive set scrums only to lose 30 yards of ground because of handling errors behind the scrum. This problem was eventually solved by breaking up the long standing partnership of Steyn and Holloway at centre, and bringing the former to fly-half, where he played some magnificent rugby.
The season's record of school games is as follows: Played 11, won 8, lost 3. points for 136, points against 69.
v. Prince Edward—lost 3—6
v. Allan Wilson—won 13—8.
v. Sc. Georges—won 9—8.
v. Churchill—won 11—8.
v. Prince Edward- lost 6—9.
v. Milton—lost 0—9.
v. Chaplin—won 14—12.
v. Maritzburg College—won 8—6.
v. Allan Wilson— won 52—0.
v. St. Georges—won 17—3.
v. Churchill—won 3—0.
Seven members of our XV were selected for the Combined Mashonaland-Manicaland Schools team which toured in the Boland. Holloway was selected as centre and vice-captain of the team, and the other selections were: Steyn (fly-half), King (8th man), Anderson (lock), Van der Linde (wing). Weasels (front row), and le Grange (hooker). A report on the tour will be found elsewhere in this issue.
Rugby colours were awarded as follows.
Re-awards: T. Holloway, V. Steyn, B. Bragge. New awards: B. King, J. Anderson, B. van der Linde.
Team blazers: D. Watson, H. Snyders, P. Burford, D. Eckard, E. Kruger, P. le Grange, E. Wessels, J. Heymans and J. Gammon.
The Second XV had a fairly successful season. I. Hume captained the side with J. Shevill as vice-captain. Regular members of the team were Beets, Capsopoulos, Farnden, Georgeou, Hagen, Hill, Lenton, Leontakianakos, Myburgh, Mirams, Parker, van Ecden, Vlantis and Weeks.
The season's record is as follows: Played 6, won 3, lost 3, points for 62, points against 52.
v. Prince Edward—lost 3—10.
v. Allan Wilson— won 20—10.
v. Churchill -won 13 0.
v. Prince Edward—lost 3—39.
v. Allan Wilson—won 23—0.
v. Churchill— lost 0—3.
1st XV v. PRINCE EDWARD (home).
Prince Edward opened the score in the early minutes of the game when their left wing went over for an unconverted try (0—3). Soon after a fine run by van der Linde resulted in a try (3—3). Both sides were evenly matched and play moved up and down the field. The Umtali halves were unable to get the ball away and many promising moves broke down because of handling errors. Prince Edward were superior in the line-out, but Umtali was just ahead on the set scrums. With five minutes of play left one of the Prince Edward centres kicked ahead. The Umtali right wing, trying to field the rolling ball collided with the fullback, both going down, leaving Prince Edward free to dribble on and score. The kick failed and Prince Edward won 6—3. Each side had five attempts at goal from reasonable positions, but not one was successful.
1st XV v. ALLAN WILSON (away)
Umtali opened the score after 20 minutes' play, when Steyn, at centre, took a gap and raced on to score under the posts (5-0). Allan Wilson came back strongly and their fly-half broke from a line-out to score near the posts (5-5). Umtali went ahead when van der Linde beat four defenders to score under the posts (10-5). With five minutes to go an Allan Wilson forward went over from a loose scrum near the corner (10-8). Right on time Holloway, at centre, broke wide and scored far out (13-8).
1st XV v. ST. GEORGES (home)
Umtali started at a terrific pace, and the first few minutes saw St. Georges defending desperately. After five minutes' play the ball went out to van der Linde who ran well to score in the corner (3-0). Unfortunately, in swerving round the fullback he pulled a muscle and was a passenger for the remainder of the game. St. Georges levelled the scores with a penalty goal (3-3). Steyn put Umtali ahead with another (6-3). Just on half-time St. George's were unlucky when a penalty rebounded off the upright. In the second half St. George's attacked strongly and were rewarded when a loose forward scored under the posts after a kick ahead had been fumbled by Umtali (6-8). Umtali staged a good recovery, the seven forwards playing magnificent rugby. Just on time Eckard broke from a loose scrum and went over to make the final score 9-8.
UBHS Rugby 1st XV 1956
Standing (left to right) : V. Heymans, E. Kruger, H. Snyders, E. Wessels, I. Gammon. D. Eckard. D. Watson,
P. le Grange.
Sitting (left to right : J. Anderson. V. Steyn, T. Holloway (captain);, J. B. W. Clarke.
Esq. Coach . B. Bragge vice-captain . B. King. B. van der Linde.
On ground (left to right): C. Holloway, P. Burford
1st XV v. CHURCHIL (home)
Churchill scored almost from the kick off. Their loose forwards followed a kick ahead, caught the Umtali fullback in possession, and scored under the posts (0—5). A few minutes after half-time the Umtali forwards started a hand to hand movement which ended with Wessels going over for an unconverted try (3—5). Our halves were being harassed by the Churchill loose forwards, who successfully smothered many promising situations. Holloway moved in to fly-half and almost immediately broke through from a line-out to score near the posts (8—5). Soon after, the Churchill left wing had a good run and scored near the corner (3—8). Right on time the Umtali forwards broke through and Heymans scored (11—8).
1st XV v. PRINCE EDWARD (away)
The game started at a fast pace, the attacks of both sides running into strong cover defence. King, the Umtali 8th man, was outstanding in this department. Steyn goaled a penalty to put Umtali in the lead (3—o). However Prince Edward soon equalised with another, and then went ahead when their fly-half, Nelson, dropped a goal (3—6). Umtali were slightly ahead in the tight scrums and in the line-outs, the latter due to good jumping by Anderson, but the Prince Edward cover defence had our threes well marked. Prince Edward went further ahead after Nelson dropped another goal (9—3). Soon after Steyn returned the compliment to bring the final score to 9—6 in Prince Edward's favour. Neither side was able to break through, although there were several near scores.
1st XV v. MILTON (at Rhodes & Founders Tournament)
Milton attacked from the kick-off, and after four minutes their left wing scored from a kick ahead which had been fumbled by Umtali (0—3). Soon after Snyders had to leave the field with a bad cut on the head. Heymans was pulled out of the forwards to take over the fullback position, where he played remarkably well. Umtali launched several promising attacks, but the Milton fullback, Bland, was deadly on defence. With tenminutes of play left the Milton scrum-half broke around the blind side and gave out to the wing, who scored in the corner (0—6). Soon after Steyn was unlucky with a penalty which rebounded off the upright. Just on time Milton scored again from a blind side movement (0—9).
1st XV v. CHAPLIN (Rhodes & Founders Tournament)
Soon after play started the ball went out to Burford on the Umtali right wing, who scored an unconverted try (3—0). Chaplin equalised with a penalty, and went ahead when their wing scored from a penalty which rebounded from the post (3—6). Umtali launched several attacks and were rewarded when a break by Holloway resulted in Burford going over in the corner (6—6). Just on half-time Steyn broke well and sent van der Linde away to score under the posts (11- 6). After 20 minutes' play in the second half Steyn put over a penalty (14—6). The last ten minutes saw a fighting recovery by Chaplin. One of their forwards broke from a line-out, beat several Umtali backs and scored far out (14—9). Two minutes from time they were successful with a penalty to bring the final score to 14—12.
1st XV v. MARITZBURG COLLEGE (home)
Maritzburg, who had come to Umtali with the reputation of playing fast open rugby, soon showed the type of football that had earned their unbeaten record over the past three seasons. Umtali had to defend desperately, but after 20 minutes Maritzburg were leading 6—0 (a penalty and a try). However the Umtali loose forwards were beginning to harass the Maritzburg halves. A minute from half-time they caught the Maritzburg fly-half in possession and dribbled the ball on for King to score. Steyn converted (5—6). Soon after half-time Steyn put Umtali ahead with a good penalty only a foot in from the touch line (8—6). The remainder of the game saw some magnificent rugby, both sides attacking and defending in copybook style, but there was no further score. This game produced the best rugby of the season, and was Umtali's first win against a touring team.
1st XV v. ALLAN WILSON (home)
An injury-weakened Allan Wilson team proved no match for Umtali. The first half saw Allan Wilson defending desperately to hold the score to 15—o. In the second half their defence cracked and the Umtali line ran riot. The final score was Umtali 52 (8 goals, 3 tries and a penalty), Allan Wilson 0. Steyn was the highest scorer, collecting 19 points off his boot and scoring a try. Van der Linde scored five tries. Mention must be made of the Allan Wilson forwards who never gave up until the final whistle.
1st XV. v. ST. GEORGES (away)
Umtali went on to the field missing Holloway and Steyn, and our line was never able to get going. The ball got out to van der Linde twice only, and he scored on both occasions. Our pack won the scrums and line-outs by large margins. The first score came when Wessels goaled a penalty for Umtali (3—0). After 20 minutes Umtali scored a pushover try (6—0). Jusl before half-time St. Georges were successful with a penalty (6—3). Soon afterwards van der Linde had a good run to score in the corner (9—3). Umtali went further ahead with another penalty by Wessels (12—3). Finally van der Linde scored behind the posts for Wessels to convert (17—3).
1st XV v. CHURCHILL (away)
This was the final game of the season and both teams lacked sparkle. The Umtali pack won a major share of the scrums and line-outs, but our backs did not take advantage of their opportunities. There was far too much kicking on the Churchill fullback, who was in good form and repeatedly drove us back with long touch kicks. Several promising moves came to nothing when our threes tried reverse passes which brought them straight into the cover defence. The only score came in the first half when Burford, on the Umtali right wing, went over for an unconverted try (3—0).
UNDER 16 RUGBY
This group was established for the first time this year, and has proved successful. We had difficulty in arranging school games, but Prince Edward and Churchill came up to scratch, the former with an Under 16 team and the latter with their 3rd XV. The following boys played for the team: Norbert (capt.), Palmer, Theron, Armstrong, Hayter,
Taylor, Kettle, Gamblin, Sutcliff, Hill, Stewart, Miller, McSmythe, Kietzman, A. Panas, B. Panas, Garner, Odendaal, Wasserman, and Waters.
UNDER 15 RUGBY
This group played eight inter-school games, winning four and losing four. They scored 90 points and had 77 scored against them. The forwards played very sound rugby, but the backs, although having ability, did not come up to expectations.
UNDER 14 RUGBY
This team did very well as Under 13's last year, and continued to improve this season. They won five games and lost two, scoring 71 points against 14.
UNDER 13 RUGBY
This team played enthusiastically, and towards the end of the season were playing good rugby. Of six inter-school games they won three and lost three, scoring 43 points against 33.
Results
v. Prince Edward
Under 15: Lost 6-21
Under 14: Lost 3-11
Under 13: Lost 0-9
v. Allan Wilson
Under 15: Won 20-6
Under 14: Won 20-0
Under 13: Won 12-0
v. Churchill
Under 15: Won 12-3
Under 14: Lost 0-3
Under 13: Lost 0-5
v. Peterhouse
Under 15: 14-6
Under 14: No game
Under 13: No game
v. Prince Edward
Under 15: Lost 8-16
Under 14: Won 6-0
Under 13: Lost 3-6
v. Allan Wilson
Under 15: Won 14-3
Under 14: Won 5-0
Under 13: Won 16-0
v. Churchill
Under 15: Lost 8-11
Under 14: Won 6-0
Under 13: Won 12-3
v. Peterhouse
Under 15: Lost 8-11
Under 14: Won 31-0
Under 13: No game
THE RHODESIAN LEOPARDS, 1956
THE Mashona-Manica schoolboy rugby team enjoyed a very successful tour of the Boland. We called ourselves the Leopards after our mascot, a huge toy leopard, which was placed on the touchline at all matches. To the Leopard's credit we won four matches out of five, losing the first match at Ceres.
Perhaps we did not produce our best rugby in the first match because we had not quite recovered from everything; the three-day train journey, the wonderful hospitality and the truly magnificent scenery. We arrived at Ceres on Tuesday, 28th, and spent two very full days being shown around the countryside. We were spectators at the Welsh Dragons' match against Boland and were fairly impressed with their rugby. We were taken up precipitous mountain passes and shown lovely views of the snow on the mountains surrounding Ceres. The district is known as the " Switzerland of South Africa." However, we were rudely shocked on the Thursday when the Ceres Porterville team ploughed through us, winning 12—3. We left Ceres with a knowledge of Boland rugby and with a determination to win our next match.
Porterville was the next stop. Once more we climbed mountains. We saw beautiful rolling wheat farms, and even went for a day to the coast, 80 miles off. The hospitality was overwhelming. However, when we took the field they were wearing different jerseys and we had a change of spirit. We had realised their tactics and in a hard return match we narrowly won 14—11. The main features of their play were fierce rucking in the loose, pouncing on every loose ball and frequent changing of direction by the threequarters. We left Porterville with much singing and matters all square.
In Piketberg we encountered a change of weather, the only bad weather we had on the tour. This bad weather was, in fact, a blessing because it put paid to any plans of mountaineering and instead we were taken around a cement factory. Here we came upon a tie with Rhodesia, the manager was our previous deputy-headmaster's brother, Mr. Gaylard.Setting aside social engagements we got down to some hard practice andfound we liked the field. It had a springy surface and the grass was thick all over. We were really determined to fling ourselves into the game on the morrow. This we did and came away victors to the tune of 24 points to 12, their 12 points, incidentally, came from penalty kicks.
So far we had won two out of our three matches and Beaufort West saw us arriving with determination written all over us. There was a tremendous change in scenery between Piketberg and Beaufort West. Whereas we had been in lush countryside, we were now in country as flat as a billiard table and as dry as the Sahara. Everyone was amazed when we woke up on the morning of our arrival to see the dusty, stunted growth. Anyhow we were warmly welcomed by the people of the Karroo who showed their appreciation of our visit. We showed our appreciation of their hospitality by giving a demonstration of tough, robust rugby and winning 11—3. The field was somewhat of a novelty because of the gravel surface and tough wire-like grass.
The worst field was yet to come. In Victoria West we came across a field, the likes of which we had never seen. During our first practice we searched the field and we thought we had failed in our quest when suddenly one of the scouting Leopards gave a cry of delight, " I've found it, chaps." He had found the only stalk of grass and we left it reverently alone. This practice was one out of the ordinary as a result of the very strong wind. Whenever we ran with the wind a huge cloud of dust rose up preceding our charge and often enveloped our coach. The people of Victoria West were, however, very sociable and we enjoyed our three day stay immensely. We visited two sheep farms and witnessed demonstrations of sheep shearing both by hand and by machine. The match itself proved to be a real ding-dong battle. We ran up our eight points only in the dying minutes of the game. In fact, it was a fitting climax to our tour and as Mr. Clarke, our manager, who looked after such things as smuggling chaps through the Customs, said at a dinner that evening: " We had all heard of Karroo hospitality, but none of us dreamed that we would be treated so magnificently; it is something that we will always remember."
And so we left Victoria West that morning at half past three with happy memories. The two-day train journey was a blessing as it gave us time to recover from all our weariness. In fact, as everyone agreed, " the tour was truly magnificent."
B. KING VIA.
One day cut I passed through the Suez..
I happened to get. some new newez,
That Nasser, the ass, to make some more cash,
Had closed up the Suez for viewers.
D. HUME, I.A.
B. van- der Linde winning the 100 yards 9..8 seconds.
Left to right : Holloway, V. d. Linde, Stanton, Eckard.
Photo : " Federal Youth News "
ATHLETICS
1956 has been a good year, and the standard for all age groups has been good. There has been a marked improvement in the field events especially in the throwing events. B. van der Linde has returned some excellent times for the sprints, and capped the season by being selected to represent Southern Rhodesia In the Clarke Cup meeting against Northern Rhodesia. This is the first time that an Umtali schoolboy has gained national selection, and van der Linde is to be congratulated. Unfortunately the meeting clashed with the inter-school rugby tournament, and ran der Linde withdrew in order to play for his school.
ANNUAL SCHOOL SPORTS
These were held on Friday, 13th. and Saturday, 14th April. The relays were run off on Friday afternoon in gusty weather. It rained that evening and Saturday morning was overcast with scattered drizzle, which cleared in the afternoon. Despite the wet conditions there were some excellent performances: in all 23 records were broken and one was equalled.
B. van der Linde achieved a magnificent sprints double, breaking both schools records. His 100 yards in 9.8 seconds, and 220 yards in 22.6 seconds speak for themselves. H. Snyders became the school's first vaulter to reach double figures, clearing 10ft. 2¾in. before retiring with an injured shoulder. P. Hume improved the shot to 39ft. and the discus to 126ft 10½. L. Mitchell bettered the javelin record by 25ft. with a throw of 167ft. 10in.
BOXING
INTER-HOUSE BOXING
THROUGHOUT the House Boxing a fine spirit was prevalent, and although many of the contests were not scientific the gusto put into the fights by the participants more than made up for their lack of skill. The most evenly matched and well fought bout of the evening was between Van Heerden, of Crawford, and Dobell, of Palmer. Dobell won the fight and also the best boxer's cup for the junior division. Van Heerden won the gamest loser's cup. The night was rounded off with a gory battle between Hill, of Crawford, and Watson, of Palmer. The latter evaded the wild swings of his strong opponent by superior boxing and his clever foot- work and straight punching won him the best boxer's cup for the senior
division.
The cups and certificates were presented by Mr. Estcourt-Palmer, Crawford House carrying off the House Cup once again, but with Hill House a very close second.
Under 75: Garner (P) beat Cobbet (C).
Under 80: Taylor, G. (H) beat Whitehead (P).
Under 86: Blake (C) beat Smart (L).
Under 93: Jackson (H) beat Howard (P).
Under 100: Dobell (L) beat Van Heerden (C).
Under 107: Smith (H) beat Aitkenhead (C).
Under 114: Polenakis (H) beat Crawford (C).
Under 122: Stanton (C) beat Hamilton (H).
Under 130: Panas, A (C) beat Taylor, R. (H).
Under 140: Panas, B. (C) beat Wilkinson (P).
Under 150: Watson (P) beat Hill (C).
B.K.
INTER-SCHOOL BOXING
THE School won the Vermaak Trophy from the visiting Prince Edward School team from Salisbury at the 1956 Inter-School Boxing championships in Umtali.
In 16 fast-moving bouts, ranging from under 701b. to under 1501b., the Umtali boys had to battle hard to gain the deciding points over the visiting team.
Maclean, of Prince Edward, went down to a t.k.o. under a succession of telling right hooks from Heymans. This was the only t.k.o. of the evening, however, although, in the first of the under 1221b. bouts, Williams, also of P.E., went down twice for nine seconds in his fight against Taylor, of Umtali.
The most entertaining fight of the evening was between Kidson, of Umtali, and Bredenkamp, in the under 1401b. class. Kidson put up a gallant defence against the faster Prince Edward boy. and, in spite of being twice knocked through the ropes, once right into the audience, he kept coming back for more. Bredenkamp won on points.
Details of the results are as follows:
Under 701b.- Cobbett (Umtali) beat Stone.
Under 801b.—J. Cremer (P.E.) beat Taylor.
Under 861b.—Blake (Umtali) beat Steinberg.
Under 861b.—Smart (Umtali) beat Green.
Under 931b.—Curten (Umtali) beat Bagnall.
Under 1001b.—Ciorovich (P.E.) beat Dobell.
Under 1001b.— Peattie (P.E.) beat Van Heerden.
Under 1071b.—McPhun (P.E.) beat Smith.
Under 1071b.—Heymans (Umtali) beat Maclean, t.k.o.
Under 1141b.—Redford (P.E.) beat Polenakis.
Under 1221b.—Taylor (Umtali) beat Williams.
Under 1221b.—Stanton (Umtali) beat Wilson.
Under 1301b.—A. Panas (Umtali) beat Volker.
Under 1401b.—K. Cremer (P.E.) beat Panas.
Under 1401b.—Bredenkamp (P.E.) beat Kidson.
Under 1501b.—'Watson (Umtali) beat Barker.
THE LONG AND SHORT OF HISTORY
The Quartering Act of 1774 stated that the people of Boston had to provide accommodation for those English troops who could not fit into the barracks.
In 1746 Dupleix, the French General, easily captured Madras from a garrison of small Englishmen.
A French fleet on its way to India was destroyed by the Chanel squadron.
Petticoat influence?
SWIMMING, 1955
Our Annual Swimming Gala for 1955 was hold at the Municipal Bath. Ten records were broken during the course of the afternoon in spite of the fact that the standard of swimming has suffered greatly due to insufficient training. However, this will no longer be the case as our own bath Is nearing completion and we plan to hold this year's Gala In it.
Final results were: 1st, Hill, 257½ points; 2nd, Livingston, 208 points; 3rd, Crawford, 177½ points; 4th,
Palmer, 167 points.
One length free style:
Open, Hughes, time 17.5 sec.
Under 16, Uglietti, time 18.0 sec. (record); Under 15, McSmythe, time 18.0 sec. (record)
Under 14, Hulley and Brown, time 20.1 sec.
Under 13, Greyvenstein, 21.3 sec.
100 yards free style:
Open, Hughes, time 68.8 sec.
Under 16, Uglietti, time 71.2 sec.
One length backstroke:
Open, Weeks, time 23.2 sec.
Under 15. Hagen, time 22.2 sec.
Under 15. McSmythe. 22.2 sec.
Under 14. Clarke, time 23.9sec.
Under 13, Uglietti, time 24.4 sec. (record).
100 yards backstroke:
Open, Hughes, time 83.2 sec.
Under 16, Hagen, time 86.0 sec.
One length breaststroke:
Open, Hughes, time 22.1 sec. (record)
Under 16, Hill, time 23.1 sec.
Under 15, Waters, time 22.8 sec.
Under 14, VanHeerden, time 25.8 sec.
Under 13, Blemings, time 24.0 sec. (record).
100 yards breaststroke:
Open, Hughes, time 79.2 sec.
Under 16, Hill, time. 83.2 sec.
Diving:
OpenWeeks
Under 16, Van Heerden
Under 14, Brown.
Free style relays:
Open, Palmer, time 73.9 sec. (record)
Under 16, Hill, time 77.7 sec
Under 15, Hill, time 78.0 sec.
Under 14, Hill, 81.5 sec.;
Under 13, Livingston, time 97.5 sec.
Breaststroke relays:
Open, Crawford, time 1 min. 42.0 sec.
Under 16,Crawford, 1 min. 43.9 sec. (record)
Under 15, Livingston, time 1 min. 47.9 sec. (record)
Under 14, Hill, time 1 min. 51.2 sec.
Under 13, Palmer, 2 min. 7.6 sec.
Medley relays:
Open, Palmer, time 66.7 sec.
Under 16, Hill, time 67.0 sec. (record)
Under 15, Livingston, time 67.1 sec.
Under 14, Livingston, time 70.8 sec. (record)
Under 13, Hill, time 76.5 sec.
TENNIS
NOW that we possess six first-class tennis courts, it may safely be said that the game in the school is on the up-grade. Admittedly, some of the more elderly gentlemen still cut figures reminiscent of the Vicarage lawn on a Saturday afternoon and no doubt an eight of cricketers would probably still beat an eight of tennis players. Nevertheless there are signs of progress and with roughly 90 boys playing tennis there is distinct hope for the future.
Two matches have been played against the Girls' School 1st VIII, one lost and one drawn. Perhaps next year we may aspire to matches against the "B" sides of the local clubs.
At the time of going to Press, the Manicaland Junior Tennis Championships are to be played on our courts and the school entry of 22 is most gratifying.
We are indebted to Mr. Wallace for the first-class condition in which the courts are kept.
P.T. DISPLAY
OUR P.T. display is being put on before the Swimming Gala this year and it is hoped that it will be a success. Two nights each week, school gymnasts have been turning up for training. Several boys live some distance away from the school and practices have been difficult; it has been almost impossible for everyone to turn out at the same time. Many difficult vaults are being performed and it is hoped that a pyramid will be built. The display space, near the baths, is very restricted, and the exercises are made much harder. A special series of more difficult vaults are being executed by a few of the more versatile boys. The display is being organised by Mr. Brown, who has kindly sacrificed two evenings a week for this purpose.
B.R.B.
REPORT ON THE MEMORIAL SERVICE
The Memorial Service, which was held in remembrance of the Old Borderers who gave their lives during the two world wars, was held on Friday. 9th November, in the dining room.
The service started with the hymn " O God. our help in ages past," after which J. Anderson, a school prefect, read The lesson, a selection from Revelations, Chapter 12.
The headmaster, Mr. Fleming, read the prayers, then the Lord's Prayer was sung. The congregation remained standing while the Junior Choir sang Psalm 121. The second hymn, " For all the Saints," was sung.
Dr. H. Olivier, C.M.G., who flew from Kariba, gave his address. Two buglers of the Umtali cadet band blew the " Last Post."
The "Roll of Honour" was read by the head boy, B. Bragge. This was followed by the prayer " For the Fallen,"read by the Deputy Headmaster, Mr. McGrath.
Wreaths from the following were then laid : M.O.T.H., Old Borderers' Association, Mr. and Mrs. Street, Sons of England, B.E.S.L., Girls' High School, B.S.A.P., His Worship the Mayor, Aldermen and Councillors on behalf of the citizens of Umtali, " B " Company I R.R.R., D Coy. II (C) R.R.R., Mr. and Mrs. Soffe, Mr. and Mrs. B. B. Hill, Mr. and Mrs. Roberts, the Headmaster, Staff and Boys of the School.
Again the bugle was heard as "Reveille" was sounded. The third hymn " O Valiant Hearts " was then sung. Mr. Fleming read the Benediction and the service came to a close with the singing of the National
Anthem.
PEOPLE TO WHOM WE DOFF OUR HATS
C.K. for saying: 44 Please sir, which is the highest skyscratcher in the world?"
P.R. for telling a master that the rugby score was 2—0.
D.M. for saying that R.S.V.P. means Rest So Very Peacefully.
N. for saying " out of trees wood is made."
K.A. for this definition of Archimedes' principle. " He found when In his bath. He filled the bath to the top and when he got in water came out. The water that came out was his density."
A.H. for referring to the Mediaeval Age as the Many Evil Age.
R.B. for explaining that 44 Rain is formed by steam out of kettles, and the steam rises forming clouds. After a while the clouds get so heavy that it rains."
F.B. for writing that severing means "if you have only one friend and the two of you are by yourselves somewhere in the bush and your friend gets sick you say to him you go home but really you don't want
him to go."
Anon. A plateau is a flat piece of ground on a high point.
Lobola is a town near Livingstone. It is very mountainous round
Lobola and the Great Trek passed through there.
Test for oxygen. Plunge a lighted tapir into a gas jar of oxygen.
Definition of a gladiator: Woe never stoped fiting and wore armay.
SCENES ON THE BEACH
THE sun was blazing: over Anzio and the beach was crowded with people sunbathing-. The music-loving: Italians were crowding: around a stage on the beach watching traditional dances and clapping their hands in time to the music, laughing and joking gaily. Further up the beach at an open air cafe some tourists were drinking wine and listening to a dance band playing swing.
The year was 1939, and although the shadow of war was spreading over Europe, the Italians merely shrugged. " It won't affect us," they would say confidently to one another.
Then in 1944 the war clouds broke over Anzio. Allied forces were diverted by sea to Anzio because of the block at Cassino.
The destroyer escorts lay off shore and pounded the German positions at Anzio. Then came the order "Away all boats." L.C.I, (landing craft infantry) sec off first loaded heavily with steel hclmetted troops. They received a terrible battering from the coastal defences, and In the first few seconds, three craft were hit, and were blazing furiously, their human cargoes swimming desperately for other landing craft in the vicinity.
The first crsft ground up against the beach and the ramp in the front dropped like a huge mouth disgorging Infantrymen, who jumped into the knee-deep water and waded to the shore, where they were to dig in and wait for the tanks.
Concealed machine-guns opened up on the British troops, chattering wickedly and spitting death towards the beach. A man who was about to jump into the sea caught a burst in the face, the impact throwing him flat on his back, his head a shapeless pulp of blood and tissue. The surf was dyed crimson with blood as the Germans took heavy toll of the men digging in.
From behind an olive grove someone wound the handle of a rusty gramophone tix times, a dreaded "Kebelwerfer," the six-barrelled heavy mortar of the German army.
By now the British had dug in, and the spiteful snarling of Vickers machine-guns joined the staccato stuttering of Bren automatic weapons in pinning down the Germans while the tanks and more men came ashore.
The "Kebelwerfer" kept up its deadly moaning and the beach rocked under the terrible concussion as the heavy bombs wrought havoc amongst the British.
Then came the Luftwaffe to pound the impudent British who dared oppose the might of the Wehrmacht, the dreaded Panzer divisions. The Stukas and J.U. 88's came in gaggle after gaggle, escorted by M.E. 109's
The Stukas peeled off high over the beach and dived, the roar of their engines rising to a screaming crescendo as they dropped, dive brakes extended, to release their 1,0001b. bombs. The beach heaved and rocked with the terrible detonations and shattered human remains were flung high, the gruesome portions landing among the living, reminding them that such was the futility of war. One minute you were alive, the next, your shattered remains were literally flung to the four winds.
Many men broke down and ran out along the beach, where they fell easy prey to the strafing Mcsserschmidts.
By now the tanks were ashore and were trying to take cover from the bombs by scurrying along the beach, making it difficult for the pilots of tho Stukas.
The beach was now hell to every living creature there. Corpses lay everywhere. For them there was still no peace in death and they afforded cover to many, thus continuing the fight in death. The nauseating stench of death hung low over the beach.
Eventually under cover of the Shermans, the British infantry moved forward, overrunning the German positions. Kraut snipers still sent many a Briton to the infernal regions beyond the legendary Stygian shores.
The British advanced gladly, happy to leave the bloody hell that was Anzio behind them, happy to let the medicos and grave digging squads clear up the mess they had left behind.
They were going to Rome. All roads lead to Rome," goes the saying. Theirs was no exception as they marched along the road, singing raucously, their voices as musical as those of the noisy rooks, but they were happy, and that was all that mattered.
It was 1955 and the beach at Anzio was crowded again, not with soldiers, but once more with happy-go-lucky holidaymakers.
For them it was a joy to be on the beach. Forgotten were the soldiers who had died on this very beach that they could be free. Many had not even been born, so how could they remember ? But still, they
reaped the reward of the sheer heroism of the Allied forces who had freed their country from the evil yoke of the Nazi regime, and who had paid the supreme sacrifice that people they had never known, could be free to live.
Such a town is Anzio today, where gay carefree people dance and sing as before and pray that never again shall war clouds gather to over shadowtheir happiness.
I. HARVEY, IVA.
POPULARITY
TEHERE are few people who would refuse a large monetary gift. Likewise there are few who do not in some way strive to gain popularity. This quality is soothing to the egotist and adds self-confidence to the
reserved. Indeed, the few who repel popularity are regarded as eccentric or vindictive.
To all leaders in their particular fields, this quality greatly reduces the friction between them and their subordinates. No politician unless of extremely hard-boiled qualities, would be willing to carry out his policy without some popular support. No business executive would want to make contracts or introduce conditions which gave offence to his staff. Even " the common old working man" likes to be popular among his friends. It gives him a sense of security that his meagre income fails to provide.
And in our pleasure hours popularity plays it part. In a tavern the local fishing expert is tempted to dramatise his story and elongate his catch when faced with a crowd of listeners. On the sports field the cheers of the spectators can make all the difference between winning or losing a match, the breaking of a record or the losing of a race. Here, the effect of popularity seems to release new stores of energy and harden the determination.
From the days of the Circus Maximus to the television set, popularity has retained its form; the admiration of the successful individual.
A. MENNE, VIA.
Northern Rhodesia Trip
'THE Headmaster, Mr. Fleming, two Rotarians and a school master accompanied by 11 school boys, made a long tour of Northern Rhodesia during the second term holidays. The object of the tour was to give the boys, most of whom had never been up North, a broader outlook on life there. The bulk of the party left Umtali in the drizzling rain at 5.30 on Saturday, the 1st of September.
When they arrived in Salisbury the rest of the party was met at the station. An immediate start was made for Kariba which was approximately 300 miles away. After a rather bumpy journey we finally arrived. The next day we were shown around. Although there was no permanent structure completed we were all amazed at the progress made. A large diversion tunnel was almost complete and the first of three coffer dams was being built. The wall is to be 400ft. high and is to go 60ft. into the river bed. Vast housing schemes to accommodate the Italians (who arrived just before we did), and the natives were shown to us. Roads stretch almost everywhere, and over 18 miles have already been levelled. A fishing industry is to be started, and consequently 1,000,000 acres of timber round the dam edges have to be cut out, to prevent the fouling of the fishing nets.
Early on Monday morning we left Kariba and went to Lusaka. We camped in the grounds of the St. Joseph's Home. In the afternoon we visited the million-pound Gilbert Rennie School, which proved to be very impressive, but rather extravagent in our eyes. Next morning a Lusaka Rotary member took us round a maize silo. The methods of storing and cleaning the grain, as well as the weighing and testing, were all shown to us. As it happened we arrived in the middle of a strike and we saw the farmers helping with the unloading of their corn. Later on we were shown round the Lusaka Broadcasting Station and Mr. Fleming and one boy gave short talks on the tour.
Once again on the move, we arrived in Broken Hill late that afternoon. Here we camped in the grounds of a friend of Mr. Crombie. The main interest jn this town was the large zinc and lead mining and refining industry. We were shown over every part of this and everything was explained in detail. It proved very interesting; the separation of the ore from the different rocks more so than others.
That afternoon we travelled on to the Copperbclt. This prrt of the tour, in the eyes of many of the boys and masters, was the best of all places we visited. Every town is expanding rapidly, and because of the
abundance of water from the mines, every house has a well kept garden and bright green lawn. Our home base on the Copperbelt was at Kitwe; a scout camp, from which we made all of our visits to the neighbouring towns. At Kitwe itself we went down the Mindola Mine. How surprised we were when we went down to 3,000 feet and found a large hewn cave fitted with spotless pumping machines and sparkling floors. Unfortunately we were not able to see the actual face of the mine due to the fact that
the natives were on strike. We were also shown over the refinery, although parts were not working, also due to the strike. After an excellent lunch at the Rhokana Corporation Mess, we made a short tour of the town, visiting a Coca-Cola factory and a bakery.
The following day we travelled in three cars back to Ndola where we were shown over the town. One of the most interesting features was the news printing office which publishes the only paper on the Copperbelt, The Northern News. A Castle Brewery was also shown to us and the method of supplying water to the town was described to us. After a pleasant lunch at The Northern News Canteen we travelled on to Luanshya.
In Luanshya we were shown over a large native compound for the workers of the Koan Anielope Mine. A school for teaching raw recruits was very fascinating. A big surprise to us was the large playing field and running tracks as well as tennis courts and net ball pitches. A club run by natives was shown us. This had a library section, wood-work, bioscope and canteen and the manager said it was progressing very rapidly. At the end of the afternoon the guide told us that in the compound, over 2,000 natives had been on strike, and yet we had not witnessed a single ugly incident.
The next day the party split in two; one half to see the Bancroft end Chingola Mines and the other to see an engineering model display. Both were enjoyed. The two mines are on the edge of the Belgian Congo. It is an open-cast working planned to start production on the 1st January, 1957 and it is said that it alone will produce more ore than all the mines in Southern Rhodesia in one year.
We left the Copperbelt early next morning; our destination being Livingstone. Perhaps because we travelled in convoy, we reached Choma late after a tiring day's travel Here we camped on the old road next to the railway line. Next morning we arrived at the Falls in time to have a shower and lunch before one o'clock. The camping spot was not a mile away from the Fails and during the afternoon and next day we visited almost every known spot. For some of us the sight of five elephants coming down to drink was exciting and frightening.
However, it was not very long before the lot of us had seen elephant in the Wankie Game Reserve. The only animals we did not see were leopard and wild dog. One morning early when leaving for a watering pan we ran into a herd of about 500 buffalo. Giraffe were perhaps the most widely seen game.
At Bulawayo we had a short stop for lunch and then went via Shabani to Fort Victoria. Two interesting hours were spent in looking over the old Zimbabwe Ruins and here, as at the Falls, many photos were
taken. Later on a short stop was made at Birchenough Bridge and we finally arrived back at school at 5 p.m.
The total cost of the tour was approximately £162. The organisation of the whole tour by Mr. Fleming, Mr. Crombie, Mr. Myburgh and Mr. Whiley made it a great success and it is hoped that other tours will Ik* equally successful.
B. R. BRAGGE. VA.
THE sun was setting on the crimson Zambesi Valley. The sky was ablaze with vivid hues of red and orange. A lonely duiker sauntered down the old beaten track, gazing at the glory of the majestic Rhodesian sunset. He turned his beautiful head to watch a graceful klipspringer zig-zagging its way up a nearby kopje, to be grandly silhouetted against a maroon sky. There was a rustle. The duiker stiffened only to relax as the movement in the green foliage announced the arrival of his mate. The duiker doe trotted over to her proud husband and she lifted her slender neck to watch the graceful bush doves winging their way home.
Dusk was now falling, and the receding glow in the west announced the end of another glorious day. The two duiker frolicked their way down to a nearby cascading stream. The water sparkled and glistened as it moved on its dancing way towards the Indian Ocean.
On reaching their favourite drinking place, the pair of duiker observed other animals at the edge of the pool. There was an agitated sable cow with her young calf, which could be only four days old. The sable bull stood on a nearby deserted anthill, scanning the scorched veld from his lordly lookout; his black coat handsomely contrasting with his white under belly, as he stood in the now brightening moonlight. Suddenly there was a growl in the nearby undergrowth. The lithe form of a hunting leopard appeared underneath a nearby mimosa tree, but on being challenged with scythe-like horns, he retired, snarling like a beaten dog.
The two duiker gambolled out on to a grassy vlei and began to graze on the succulent plants. Suddenly the duiker stiffened and the hair bristled on his rump as he noticed a growing glow in the east. His heart began beating faster. The thunder of many hooves could be heard. Suddenly the veld seemed to come to life and many forms of running buck passed the panic-stricken pair. There were kudu, bushbuck, sable, and squealing wild pigs with tails erect, hurtling through the undergrowth. Now and again the lithe form of a fleeing leopard and the frantic charging of a terrified stray buffalo could be glimpsed. The animals knew that the Rhodesian bush had caught fire and every living thing must flee and escape the clutching grasp of the leaping flames.
The pair of duiker bolted off in the direction of the other fleeing animals and saw in the smoky distance the sable family: the same ones they had met at the peaceful stream. The brave parents, not wanting to
leave their helpless child, urged their tired offspring to greater speed.
Soon the two duiker were leading the desperate flight and as they ran, they could see dark thunder clouds rolling into position overhead. Boom! A great peal of thunder rolled through the valley, preceded by a vivid flash of lightning. Soon the rain descended on the already sweat drenched bodies of the breathless animals. The pace of the flight slackened and the rain began to get the upper hand. The animals settled down to sleep after their hectic night, amid the sighing of watered ash.
***
The morning broke smiling and peaceful, and the sun made a timid appearance over the rain-drenched mountains. The air was alive with the great soaring and wheeling of birds of prey as they searched the desolate landscape. The two duiker wandered back over the many tedious miles they had run the previous night. The veld was black and formidable and in the distance they spied two weary forms of life. As they drew nearer they recognised them as the parents of the young sable they had seen in the recent flight.
The duiker stopped and the miserable sable cow stooped and nudged the remains of her now charred child. Her son had been the victim of a Rhodesian bush fire.
K. HARRIS, IIIA.
JIM RADDLER was a tourist. At the moment he was touring the world with his companion, Alan Mercury.
They were on board a small liner, the "Gambelle." and were nearing the Hawaiian islands. The waters thereabouts were known to be shark lnfested. This was confirmed when Jim happened to peer over the port rails at the water, and there below him the dorsal fins of sharks could be seen darting hither and thither.
"To think of those Hawaiian natives diving- among those brutes for a mere bob or two beats me," mused Alan aloud.
"Oh, it's just the knack of doing it, that's all," answered Jim. "You can bet your life they'll see to it that they don't get hurt," he continued. Alan. Even so, I wouldn't dive in there for all the tea in China," commented Alan. Just then the liner hove to, for, unnoticed to Jim and Alan a group of Hawaiian natives had approached the ship in canoes from the mainland, on the starboard side, and were swarming aboard.
Turning away from the rails, Jim and Alan sauntered across the deck towards the little knot of natives. While the two friends had been conversing, the ship had approached within a short distance of the island, accounting for the sudden appearance of the natives. "Good! We're in luck!" ejaculated Alan. "Now we'll be able to see how the natives have a 'knack' in diving overboard," he said, looking at Jim.
A fairly old native, handicapped by having only one leg, confronted the friends. Then, with a grin revealing a mouthful of broken teeth, he politely inquired if they would give him a few shillings if he dived overboard among the sharks. Then, swimming underneath the ship he would reappear on the other side and climb aboard. The friends willingly agreed and, without much further ado, the crippled native hobbled over to the side, and dived over.
Looking overboard, it seemed that the native had dived into the very jaws of death itself. After what seemed an eternity to the friends, but in reality was a few minutes, the old Hawaiian native reappeared, to be hauled aboard by his fellows.
Jim and Alan generously paid the old native his due. Just then Pegleg, as the friends had appropriately named the crippled native, happened to glace overboard, and, with a howl of anguish, began gesticulating with his savage-looking knife. He would have dived overboard had not Jim held him back. "What's all the fuss, Pegleg?" enquired Alan, but the native taking no heed, began babbling that a shark with a white fin had taken his leg off when he was a boy while he was fishing with his father. The shark, he added, was there below in the water, andit had a white fin. Then abruptly tearing himself from Jim's grasp, he dived overboard.
Swimming strongly in spite of the one leg, he tried to stab the shark, but it was of no avail. The shark was an old massive brute, cunning as well as quick, for with a terrific flick of his tail, he dashed Pegleg against the side of the ship. Then, in a flash, he was gone, leaving the dead Hawaiian floating against the ship's side. Pegleg was duly hauled aboard, and the captain of the ship, together with his crew, began making preparations for the capture of the killer- shark. "That poor fool didn't seem to have the knack, did he, Jim?" said Alan with irony, looking his friend in the face.
In spite of large chunks of raw meat set on great hooks, the white finned shark refused to take the bait and swam sluggisly around the small liner. Giving up hope the captain abandoned trying the catch the
wily shark, and gave orders for the liner to proceed on its way to the dock.
It was a week later that the carcase of a huge white-finned shark was found washed ashore on the Hawaiian coast with a sinister looking knife transfixed in its belly.
N. BOTTGER, IVR.
The field was a sodden quagmire, sticky with oozing mud.
The rain came down in torrents, the weather was really dud.
The pitch was a chemical compound, chiefly made of grease,
And the off-spinner came loping-loping-loping,
The off-spinner came loping, up to the popping crease.
He'd an Umtali cap on his forehead, and a piece of string round his waist.
A shirt that needed Persil, and a bow-tie strangely placed.
They fitted with many a wrinkle, he'd two left boots on his feet,
And the cricket ball came spinning-spinning-spinning,
The cricket ball came spinning, on through the rain and sleet.
The batsman himself was a shocker, with hair all over his face,
With a beard that he tucked in his collar, a tribute to W. Grace.
He stood in his crease like a hero, and faced the off-spinner's ball.
And his scarf in the wind was flapping-flapping-flapping.
His scarf in the wind was flapping, like a sail in an ocean squall.
The crowd stood up in their seats, and the schoolboys grew hoarse with their cheers,
The masters were drawn from their studies, away from their ice-cold beers.
The whole of Umtali was roused by the noise of the cheering horde,
And the P.E. captain stood waiting—waiting—waiting,
The P.E. captain stood waiting, for the last two runs to be scored.
'Twas the final ball of the over, and it spun like a demon possessed,
First bouncing this way then bouncing that-this was the final test.
Then at last it caught 'the batsman, and shot right past his bat.
And it sent the bails a 'flying—flying—flying,
It sent the bails a' flying, and up went the cry of " Huzzat !
P.E. were out for a hundred, but Umtali had a hundred and one,
A match such as this could never have been played under shining sun.
The Umtali team strode off the field, their triumphal effort done,
And the schoolboys ran a 'shouting-shouting-shouting.
The schoolboys ran a 'shouting, " Hurrah, Umtali has won !"

P. GIRARD. VI.A.
(With apologies to A. Noyes).
LIKE most young- boys, I have had numerous ambitions in the comparatively small number of years of my life. I have had visions of becoming a boxer, a film star, a politician, a pilot, and a nuclear scientist, together with many more. Since I saw my first motor-cycle race, however, all these have been pushed to the background and my greatest ambition now is to become a speedway rider.
Since that first race meeting I attended, I have become acquainted with the mechanics of a motor-cycle and the thrills going with it. To me, there are few things more pleasant than feeling the wind tearing at my body and clothes, trying to resist my progress. Nothing gives me mere satisfaction than having to fight with my machine in order to keep it under control, knowing that if I fail, the accident would most likely be fatal. The roar of the motor-cycle engines fascinates me greatly and my heart beats faster every time I see the racers pull away at the start, or come skidding round the bend at top speed.
Another factor which has cultivated my interest in speedway riding, is my lust for fame. This weakness is growing by the day, and I often picture photographs of myself heading the sports pages of newspapers
and magazines. Speedway riding seems to me to be the ideal way of acquiring fame. Most sports enthusiasts are fascinated by the magnificence and romance of a floodlit speedway circuit, and the riders pitting their skill and courage against each other. If one wins a race under adverse circumstances one is bound to attract attention, and soon one may become a famous racing star.
I would enjoy the life of a speedway rider, travelling from country to country, triumph after triumph, continually gaining more and more fame, and, at the same time, seeing strange sights in strange lands.
I often dream of taking part in big races, and always my mind comes back to the highest honour that can befall a speedway star, namely becoming the speedway champion of the world. I dream of how I compete against the leading figures in the world of the speedway track, in a race to decide the world championship. I picture myself racing half a length behind my greatest rival, the previous winner of the championship. Then, on the last bend, his motor-cycle slips slightly, allowing me to cut in on his inside, and, when he recovers, we are racing dead level. Twenty yards to go . . . ten . . . five, and we thunder past the chequered flag, each one certain that he has won the race.
Minutes later, after much suspense, the loudspeakers would crackle and the announcer would give the result of the main event of the evening the world championship race: " First Alf Brockway." My mind would be in a whirl, my heart would throb like the engine of my motor cycle itself—I am the champion of the world!
To make the story perfect, an announcement would follow, stating that I had broken the record for the race, as well as the lap records
I sincerely hope that these dreams will materialise, and I will follow in the footsteps of my racing idols of yesterday and today, by becoming the world speedway champion.
B. v.d. LINDE, VA.
EVER since man has been in this world, he has always wanted to travel. As his intelligence became greater he realised that a much easier way of travelling than walking, was to go by rivers. Because most villages were of a necessity near a river for water, they could easily be reached by this form of transport.
The very first methods of river travel were merely the use of logs upon which the occupant sat astride, upright, to prevent the log tipping over. To aid the flow of the river a piece of wood was sometimes used as a paddle. Gradually man came to find this method unsatisfactory and began to devise better methods. He burned out the inside of a log and fashioned it into a rough canoe with primitive stone axes. In different parts of the world other types of canoe and coracle were beginning to be constructed. Canoes were constructed from woodstrip frameworks and birchbark or skin covering. Coracles were more from a round wickerwork framework covered with tightly stretched skins. Both were water proofed with a pitch, or gum made from the pulp of crushed roots and herbs.
On the larger lakes and waterways it was gradually discovered that by erecting something to catch the wind the going was much easier. Rushmats hoisted upon a mast amidships formed the first types of sail.
The ancient Egyptians, Phoenicians and Vikings who lived near the sea found that by using ships, trading, colonising, raiding and plundering were much easier. The ships they used were generally long and narrow with only the prow and stern decked in, built of planks upon a wooden framework. They were propelled by unfortunate slaves, chained to their long, heavy oars, helped by a single mast and large square sail amidships. Ships now began to be used as weapons of war, the slaves rowing and armed soldiers crowding upon the decks. Piracy began. Small, fast, heavily armed ships began to attack the heavier, slower merchant ships, thus saving themselves the trouble of having to trade for their profits.
On the European Atlantic coast ships began to be built propelled only by the wind. They were heavy, single decked ships of only a few tons with a single mast and sail and fort-like constructions fore and aft, from which soldiers and archers defended the ship.
By now most countries had a fleet of ships solely for fighting. In between wars they were used to chase pirates, who had become very numerous. The method of capturing enemy shipping was to first attempt
to ram it below the waterline with a pointed metal projection in the bows, and then put a boarding party of soldiers on to it.
King Alfred formed the first British Navy when he collected ships to try to defend the country against the Viking invaders. Since then there has always been a British Navy although it was many years before it came to be recognised as the finest in the world.
As the ships grew larger in tonnage more sails were needed to move them. Two, three and even four masts came into use complete with sails, spars and rigging. They became decked in and had a large poop and fo'c'sle. With the advent of gunpowder cannons were introduced into ships.
The idea was also growing that carvel built ships were better than clinker built. That is, with the planking flush instead of overlapping. As the years went by they began to get much bigger, from a few tons to several hundred, with up to three or four decks, several of them being
gun decks. The Royal Navy then began to differ more from the Merchant Service. The Kings' Ships, as they were known, were heavily armed and well disciplined fighting ships, whereas the others were only lightly armed against pirates. With the advent of steam the days of sail were numbered, for steam ships were not dependant on the wind for propulsion. Larger and better steamships were built until today ships of many thousand tons displacement have been built, capable of speeds of many knots from diesel and turbine engines.
Warships, too, are heavily armed and armoured and capable of great speeds. Pitched battles at close distances, and closing with and boarding the enemy have long since gone out of date.
Nowadays with radar and guns capable of firing many miles, battles are lost and won without even seeing the enemy.
N. PRINCE, IIIA.
THE fuel gurgled hungrily into the aeroplane's fuel tank. The fumes were overpowering. Then they were finished, and the Red Devil stood ready for battle, a gleaming piece of machinery, painted to the pilot's wish - red.
So far the plane had been very lucky, for, according to the black crosses on the fuselage below the cockpit, nine enemy planes had fallen to the Red Devil.
The plane did not lie motionless under the sun for very long, for presently, when the plane which had been circling above came down without mishap, the mechanics started the engine. The engine stuttered, fired slowly and then faster and faster. The man handling the controls waited. He tested the elevators, up down, yes, they were working all right
Slowly the plane surged forward and gained speed quickly. The tail lifted and she " unstuck." The man handling the controls tried to gain height too quickly, the plane almost stalled. Then, realising that he had done wrong, the handler dived the plane forward and got enough speed to allow the plane to fly on even keel.
Slowly the plane gained height. When she was just about at her ceiling, she saw the other plane below her.
Down went her nose, and then, with her engines howling like a dervish she screamed down on the other plane. She closed fast, 10 yards 8 yards—6—5—4—3—2, and then one of the many disappointments which mar flying, happened.
The plane's engines died in a spluttering cough. Down went the plane, losing height fairly fast.
Luckily she came down on the very place from where she had taken off. This time the Red Devil could not have another black cross put under her cockpit cover.
The man put down the control lines and walked up to the model plane.
" Pity she ran out of gas. Mick."
" Yes, but let's have another go and see if we can do any better."
The fuel gurgled hungrily into the aeroplane's fuel tank. The fumes were overpowering. Then they were finished and the Red Devil stood ready for another battle......
So it went on all the afternoon.
C. ZEEDERBERG, IVR.
An Experience that was not as bad as expected
I remember first meeting Shelagh when I was doing my Christmas shopping. I did not know what to buy for my mother. I looked at vases, pots and pans. Eventually a harrassed old lady told me to try the women's underwear. I approached the counter feeling very embarrassed as I did not have any idea what to buy. I was asked if my mother wore Gossards or Truefits; I said I did not know. What were her measurements? This I did not know.
Then Shelagh came. She said she knew my mother and advised me to buy several articles for her. It was then that my tummy turned upside down and I had fallen into what is commonly known as " love."
I began to see Shelagh regularly until I decided I should propose to her. I was again stuck, because I did not know what to ask her. I began to read love novels and tried to find suitable words for the proposal, but it was of no avail. Eventually I decided to try. I did, and I was very successful.
We planned to have our wedding eight months later. I was dreading it. I would lie in bed and have nightmares in case I tripped and fell going up the aisle. I could not see myself making a speech or saying "I do" during the ceremony. Slowly the arrangements progressed. I was told by fellows that they knew of other fellows who had arrived at the wedding " pasted." Others had taken an overdose of nerve pills, and half- way through the ceremony had slowly toppled over asleep.
At my bachelor party I "drowned" my worries but unfortunately woke up next morning to be reminded of them, wth a terrible "hangover." Slowly the weeks crept towards the fateful day.
The night before the wedding I was perspiring openly and was chain smoking. The next morning everyone else was full of the joys of life except myself. I saw my best man, Jimmy James, who decided that he would pick me up ten minutes before the wedding started. It was cutting it rather fine but we decided it would be all right that was as long as the car did not break down. The time dragged on. I shaved, bathed and dressed. I sat in my room perspiring. I decided that I would not have my lunch as it might make me bilious.
Jim fetched me on time and we drove to the church in silence. We parked the car and slowly got out. Perspiration was running down my neck in small rivulets. I wanted to scratch at them but I could not. We walked through the crowd and into the church, which was full of people. It was silent and cold: the atmosphere was that of a Court Room. We walked up the aisle and waited for Shelagh. It was then that my legs began to shake uncontrollably. I heard a little boy tell his mother, he was hushed immediately. My legs stopped shaking after this.
The babble of voices outside stopped and I could hear the faint whirring of Cine cameras. The bride, bridesmaids, and the bride's father entered the church. They slowly came up the aisle until only Shelagh and 1 were together. The service began. I was astounded when I answered correctly. I then put the ring on Shelagh's finger. The padre seemed to wait for us to move: Shelagh dug her elbow into my side and whispered to me that we should now be going into the vestry to sign our names, if only I would move! I hurriedly did so and almost ran into the organ. I began to perk up. We came back into the church and walked down the aisle into the bright sunlight, and away to the reception and champagne—
Looking back on it now, it was not nearly as bad as I expected itwould be.
F.. SWIFT, IVR.
THE United States Air Force B-29 kept a steady pace at 20,000 feet. It was three hours after sundown and the green and red starboard and port lights on the wing tips were shining like glow worms.
The Skipper, John Plantoff, was sitting behind the controls when the tubby wireless operator popped his head through the door to the cabin and shouted, competing with the scream of eight jet engines: "Hey, Skipper! Der's somethin' wrong wit de radar, or else it's somethin' mighty peculiar coming in fast at us from de East. It seems to be round and goin'places in a hurry."
"Most probably it's jest a fault in the works," shouted Plantoff over his shoulder.
A little later the wireless operator came back. " No, Skip., it ain't no fault, it's still comin' towards us and cetching up fast!
Suddenly the co-pilot shouted and pointed to a disc-shaped object growing larger every second. It was a Flying Saucer. Plantoff had no doubt.
A stream of bright blue sparks detached themselves from a small dome on top of the Saucer. Then there was a brilliant flash.
"Cut!" yelled the Director. " That's enough for today."
The actors, well pleased with their day's acting, trooped out of the studios to the car-park.
A. McDIARMID, IIA
I LEFT the dark shadows of the forest and entered the little glade on the lake shore. The grass at my feet was a deep green and ankle high, the ground, although not marshy, sank under my feet as I walked.
The stately Rockies rose in the background, their proud peaks reaching far up in the blue sky. The pine tilled valleys and crevices rose tier upon on tier, merging into grey rock and then finally into snow, turning a rosy pink with the setting sun.
Before me lay the clear blue peaceful lake, truly an awe-inspiring picture. The beautiful fleecy clouds reflected in the cool blue depths reminded me of woolly sheep in a blue pasturage. In a little glade, similar to the one I was standing in, I caught sight of three deer, watching with ears pointed and heads up, the antics of a beaver at work.
Closer to me, on the now shadowy lake shore, I saw a log cabin. It was a typical trapper's cabin made of unplaned pine logs with mud placed in the gaps, to keep the wind out. Rising up into the blue sky, in a long trail from the chimney was black smoke. As I walked closer, I smelt the tang of burning pine cones.
Somewhere in the distance I heard a voice, which grew louder and louder every second.
"When are you going to finish your homework?" The voice seemed very close to my ear. I awoke with a start, and found myself lying partly over the table with my head still turned in the direction of a little calendar depicting a Canadian scene.
R. ROBERTS, IVR.
I AM indeed in a dilemma—I have to tell a true story which no one will believe. You do not have to either.
One of my greatest friends, Professor John Adams, had 'phoned me, inviting me to tea. He seemed to be extremely excited. It was half past three then; I jumped into the car and arrived to find a grey haired,
pleasant faced man, dressed in khaki shorts and a white shirt, waiting at the door. Quite forgetting tea, he hauled me into his laboratory—an untidy looking room with" glass flasks and all the usual paraphernalia of a scientist everywhere. I noticed a queer chair in the centre of the lab. It was covered with an extraordinary assortment of rubber, plastic and metal straps, tubing and wire. There seemed to be a yellow glow around the chair. On the far side of the laboratory I observed a wooden board with buttons of various colours on it.
" I say, Peter, I have realised my most treasured ambition—to go back through time. I've invented a machine which will enable me to do so with the co-operation of some one else. Would you please oblige?" That was John Adams' startling opening speech. He sat on the chair and with my assistance he strapped himself in. On his head there was a plastic helmet from which several wires protruded. I was hardly prepared for his next statement: "Peter, with your help I'm going through time!"
I did everything in my power to persuade him that he would surely never come back, but to no avail. His rejoinder was: " Well, someone has to do it sometime." He told me to go to the board with the buttons on it. " Do everything I say," he said.
"Press the red button." I did: there was a curious humming sound.
" Now the yellow." His voice was far away. " The white, and now the green." His voice on "green" was so faint that it was scarcely audible. I turned round: he had completely disappeared!
I paced up and down that room till 10 o'clock that night. Those hours were like centuries. My eyes suddenly lighted upon a small diarythat was on the table near the chair, l picKea it up. un tne cover printed in gold was " 1756." The name of the owner was "Sir Jeremy Adams" an ancestor, most probably. I opened the diary at the date—16th October. There, after a few events, was written: "I had just returned from the hunt at 3.50 p.m. Entering the sitting room, I saw to my surprise a young fellow, dressed in peculiar attire, sitting in my favourite chair. I asked him who he was. "Hullo, great, great, great grandfather.' I confess I was taken aback. He opened his mouth to say more—but he disappeared in a
cloud of yellow. A most peculiar occurence to be sure. He was probably quite mad."
"Hullo Peter!" I heard John's voicc calling me. I was overjoyed; but before I could make an attempt to speak to him, he ordered, " The red button, please." The procedure this time was as before except that he ordered the white button to be pushed before the yellow. I did not consider this to be of any importance. Once more he disappeared. I proceeded to read the diary.
"I was going to my bed that night when the same young fellow opened the door to the bedroom for me. After a short talk in which he told me that he was a visitor from the year 1756, I was quite convinced that the poor boy had lost his wits. I called the Police, who took him into custody." Under October 18th was written—
"The poor boy who met me on the 16th was today shot out of mercy."
I was now convinced that John would never return.
Here I am sitting foolishly in the lounge waiting for the Police, trying to think out a reasonable explanation for his disappearance. Can you help me?
N. SHEPPY, IIA.
THE S.S. Parmicnto was the third ship, absolutely devoid of life, to be I found drifting slowly through the horse latitudes. Trafalgar and Marseilles had previously been found, absolutely deserted, in the same area. These mysterious occurrenccs had the authorities in England and other countries concerned and baffled. The only bright spot was that one of S.S. Parmicnto's rafts was missing. This gave hope of finding
out what had happened from anyone who might have left the ship.
Six weeks after the discovery of the deserted S.S. Parmiento. a small trading ship from the Gold Coast sailed into Portsmouth. On board was a sailor who had sailed on the Parmiento, and he had a fantastic tale to tell of the events which had caused the desertion of the ship in the Atlantic.
The Parmiento, an American merchant, ship, had loaded at London with motor cars for America. After travelling for three days en route to New York, the crew heard the whistle of jets, but were unable to dis-
tinguish any object in the sky. On the afternoon of the same day the crew heard the noise again, but this time, instead of receding into the distance, it grew louder, and soon they were able to distinguish a saucer like object, growing rapidly in size as it approached the ship. As it came lower, two floats were seen to emerge from its base to allow a sea landing. The scream of the engines rose to a crescendo as the mysterious object settled on the sea beside the ship.
The captain immediately ordered the ship to be stopped and, as it came alongside, the saucer's two broad arms, with suction caps on the ends, were extended and these clung to the side of the ship. A hatch opened in the saucer and out came the queerest troop of living creatures the narrator had ever seen. Their skins were bright green. They each had one eye, a mouth, but no visible ears or noses. Their necks were long and thin in contrast to their rotund bodies. Both their arms and legs were very short and each foot and hand had only three toes and fingers. Each of these curious creatures was armed with a deadly-looking gun.
Seeing that the creatures from the saucer were not on a friendly visit, the sailor had slipped away and hidden himself in the raft store room. He allowed half-an-hour to elapse after the sound of the saucer's
motors had died away, before he emerged to find the ship completely deserted. Thinking that the mysterious intruders would return, he took a raft and some rations, and left the ship.
Three days later he was picked up by the trader, and so got back to England. Thus the mystery of the S.S. Parmiento, and probably the other two ships, was explained.
H. STACEY, IIIA.
It was during the year of grace 1876 that this story took place. Africa was still known as the Dark Continent and in her barbaric depths, Umtasa, lion of the Ama-Zulu, reigned supreme. Day by day impis went out raiding the other natives, killing and plundering and leaving in their wake a trail of blood and despair. Only the women were kept as slaves. Usually the chief or headman was brought back alive to the kraal, put to unspeakable tortures and then thrown over the precipice.
This precipice was fairly close the king's kraal and all rebellious chiefs and indunas, or an induna who had led an unsuccessful raid, were thrown over. It so happened that Msoko, a M'sweswe chief, had
declared his independence and upon the hour had attacked and killed three of the lung's men. Already tile war drums were throbbing out their ominous message. IJmtasa was preparing for war.
M'Soko's village was roughly ten miles away in a north easterly direction, on a big flat-topped kopje. There was only one way up to the M'sweswe stronghold, which was by a path about six feet wide that
spiralled slowly upwards. When the sun was overhead Umtasa was upon the M'sweswe. The Ama-Zulu gained access to the stronghold with heavy losses and soon the fighting was hand to hand. Umtasa saw M'soko, fighting with great courage, down three of his warriors. With a roar of rage he sprang to meet him. Within two minutes, after some fierce fighting. Umtasa cleaved M'soko's head open and the battle was won.
Umtasa had all the men killed, but the women and children were kept as slaves. M'soko's son. M'Tembo, was taken to the king's kraal, to be hurled over the precipice. Later that day, Umtasa and his warriors watched M'Tembo being led to the precipice. Umtasa stepped forward, " Be warned by this, all traitors," he shouted.
" Not so," shouted M'Tembo, and before the king's amazed bodyguard could prevent him, he was upon Umtasa. For a second they fought on the brink of the precipice and then, with a cry, both disappeared from sight.
Umtasa, King of the Zulu, Lion of the Ama-Zulu was dead. The precipice, where Umtasa had caused so many to be slain, had finally claimed him too, as its victim.
R. GARGAN, IIA.
THE ruddy glow of the setting sun had departed and darkness replaced the twilight. All was quiet at the little printer's shop on the corner of Baker Street where Bill Johnson and Bros, earned their meagre living.
Gradually, as if the sun had begun to set again, an even ruddier glow spread across the night sky. Its source was that of a fire in the printer's shop.
The village policeman, ponderously walking on his beat, thought the fire to be the sunset, and he remarked upon the lateness of it to himself.
A small child noticed the fire and ran home to tell his mother about it. The sensible mother immediately phoned the fire station, and a few minutes later the regular clanging of the brass bell on the fire engine
could be heard echoing through the narrow streets.
Excitement reigned supreme.
From everywhere hurrying people swarmed breathlessly. Soon an enormous crowd had gathered around the now blazing building.
Suddenly, with a screeching of brakes, the scarlet fire engine drew up. In a matter of minutes ladders were erected, hose pipes uncoiled and a barrier of policemen formed.
The hose pipes were attached to a nearby hydrant, which was then turned on, and a spouting stream of foaming water gushed forth. The hoses played relentlessly on the leaping flames.
Eventually hissing clouds of steam replaced the acrid, belching clouds of yellow and black smoke.
All that remained were a few, glowing cinders among the blackened stone, tangled steel wreckage, and charred timber.
R. COOPER, IIA.
WITH a screech of defiance the crowned eagle plummeted down to earth.
The air whistled through his feathers as the earth came rushing up towards him. Opening his wings he glided along the valley looking left and right. His kingdom spread as far as he could see. Far below he could see his eyrie and his mate standing guard. His mission was to obtain food. His last prey had been a green pigeon, but it had given such a long chase that he was determined to get something more quickly. As he sailed further downwards he espied a dassie on a crag, sunbathing. Determined to get it, he flew out of sight. Reaching a suitable height, he folded his wings as he shot downwards. The feathered fourteen-pound fury struck the terrified creature before it had an inkling of danger. The terrified dassie's mate scrambled for safety in his rocky den.
Barking his defiance, the dassie saw his mate's struggles grow weaker as the cruel talons tightened their hold. The surrounding dassies joined the chorus, adding to the clamour. After a couple of minutes, the watchful and alert dassies continued their basking, having already forgotten the unfortunate one who had been taken.
The crowned eagle circled round his eyrie, and finally perched on a projecting brach, Tearing the unfortunate dassie with his beak he shared it with his fierce-looking mate. Before settling down to his meal, a challenging shriek echoed from a huge black eagle- the crowned eagle's mortal enemy. It had a wing span of 8ft., a foot longer than the crowned eagle's. Flapping his wings the crowned cage soared into the clear blue sky. Life seemed to stop on earth, as spectators watched with bated breath as the enemies came into collision, tearing with beak and claw. The crowned eagle, being smaller, was much swifter. He antagonised his enemy. Feinting and swooping he began tiring the huge black eagle. The crowned eagle suddenly flashed forward feet first and managed to get a foot hold on his enemy's neck.
The black eagle's struggles became weaker. His neck hung at a grotesque angle. He gave a last spasmodic jerk, and lay limply. Dropping his dead enemy the victor swooped upwards looking for more intruders. Seeing none he majestically settled down to his unfinished meal. Indeed, the "Crowned Eagle" is certainly king of all eagles in Africa.
C. POLENAKIS, IVR.
A HORSE came clattering into the small village, foam-flecked and weary; it had luckily kept to the road in its panic-stricken flight. Over the pommel of the saddle lay a man. scarlet with blood from a gaping wound in his chest; and very nearly unconscious. His horse was stopped by some villagers, who took him into a back room of the blacksmith's shop. Shortly afterwards came the Roundheads, cold-blooded devils that they were. They knew he had stopped in the town and they would not stop till they found him. Every house, shop and room was searched until his horse was found at the stablekeeper's stables.
As they drew nearer to the blacksmith's shop he set about preparing weapons for the fight he knew was certain to come. When at length the Roundheads came he made as if he were unconcerned and proceeded with his, work. They questioned him at the point of a rapier and he answered sullenly. After some time, however, one of them iet out a shout and pointed to the ground where some blood lay. He answered them by saying it was the blood of a horse he had cut accidentally.
They did not believe him. however, and quick as a flash he grabbed a huge hammer and bashed one of them on the head, and with a cry of "Come and get me if you can, you dogs," he jumped on to a table, swung on a rope, and kicked another in the face. A rapier appeared as if from nowhere and he got himself into a corner and really began to fight. His rapier blade seemed to be everywhere at once and he held them at bay for some time, stabbing one now and again. They soon, however, realised they would not beat him, and one of them pulled a pistol from his tunic. The men jumped aside and the blacksmith made one last desperate charge but, alas, the pistol ball hit him, though not before he had driven his rapier into the Roundhead. The wounded Cavalier, however, was taken away to be hanged in public.
P. HALLIDAY, IIA.
IVAN TSARISKI, the eminent pianist, walked briskly on to the floodlit stage, made an abrupt bow to the applauding audience, sat down in front of the huge grand piano, and commenced playing.
There was a crash and Tsariski slithered off the keys on to the floor. His face was ashen and trembling hands gripped his throat. He uttered something and jerked straight: life had left him. The curtains dropped on the scene and the audience started to panic but were soon calmed down.
A post mortem revealed that Tsariski had died of poisoning and one of his teeth had been found to be nothing but a shell of enamel. The "Yard" was called in and Chief Inspector Andrew Macnab was on the case.
The first person Macnab went to see was Tsariski's only relative, a dental surgeon called Sibirsk. who was to inherit Tsariski's great fortune. Sibirsk seemed to be quite a cheerful type but could not tell the Inspector anything because the last time he had seen Tsariski was before the war. Macnab thanked Sibirsk and called at Tsariski's apartment in Park Lane. While looking through some papers he found that Tsariski had had an appointment with Sibirsk and Son. Dental Surgeons.
Macnab quickly drove to the mortuary where the body was being kept and had the tooth examined. The examination revealed several grains of poison and bits of wax around the edges of the cavity.
Macnab put two and two together and got four. He quickly drove off to Sibirsk's office in May fair. Nacnab came straight to the point and asked Sibirsk if Tsariski had had an appointment with him. After stalling, he admitted this. Macnab went on and accused Sibirsk of putting a capsule of poison in the hollow tooth and covering it with a thin coating of wax which would break when Tsariski ate. Sibirsk realised the "game was up" and quickly swallowed a capsule of poison but Macnab rushed him to hospital and Sibirsk lived to be tried and hanged.
D. RICHARDSON, IIIB.
My Favourite Hour of the Day
The lowing of the cattle in the paddocks is the herald of a new day for me. I live in the hills of Aberdeenshire. I am an author. I find the hours between six and seven are the most inspiring of the day. I am reluctant at first to leave my eider covered bed, but the reward of waking early is well known to me. With tweeds about me, and stick in hand, Shep (my dog) and I wander high into the hills.
The mists swirl about me like phantoms returning to their graves. The air is sweet with the scent of heather. High in the swirling heavens comes the sound of the warbling thrush. Par, far away, like the sigh of a celestial being comcs the sound of a small brook. Yes, indeed there is no time or place in the world to equal this peace. The timid pheasant darts from the comely heather as we approach her nest. She will try and draw us away from her little ones but Shep soon finds them. There is a brood of four.
Their frantic mother is ever near, so we leave them to her motherly love.
Soon we must return and leave these lonely moors with their awful memories of battles brave and heroic men who found shelter in this paradise of solitude. Far down in the valley I can see a delicate wisp of smoke clasping the little chimney of my house. Martha (my housekeeper) must be about. Yes, there she is, at the woodpile. So well I shall remember this scene; the sun is just striking the opposite hills of the valley. The purple heather and emerald grass with dew upon them shine like some jewels forgotten.
As I reach the house, the scent of newly-baked bread fills my nostrils. Shep barks and wags his tail. Yes, he too is happy. As I draw my dew- bespattered boots off and sit in front of a roaring pine-wood fire I know what More meant by Utopia.
A MOTORIST
On revs and Chevs and fluid gears,
And British horse-power rating,
He loves to talk about, my dears,
To any girl he's dating.
Perhaps one night beneath the stars
He'll be a little shaken,
He'll talk a bit too much of cars
And find himself forsaken.
A CHEMIST
My life ! whatever's in my sock
My life ! 'tis mercury run amock.
My life ! there goes another flask.
To have no prac. is all I ask.
THE FARMER
He eyes with pride a luscious cabbage
He wipes out grubs with manner savage,
He shades his brow 'neath ten pint hat,
With round it skin of luckless cat.
A MUSICIAN?
"It's not Carnegie Hall" the music maestro boomed,
" Come on you blokes and. danshe," this small band-leader fumed.
He tackled, his box with renewal of vigour,
In music like rugby he cuts a tough figure.
THE TRUE SCIENTIST
An appearance often gives a false impression,
For a golden lock can hide a fierce obsession.
In the mysteries of science and of wireless
And the pursuit of the atom he's proved tireless.
VA GIRLS.
THE Old Borderers have had an active year. The Annual General Meeting was held in May, and the following office-bearers were elected for the year:—
Joint Presidents: Mr. K. M. Fleming and Miss M. McLaughlin.
Chairman: Mr. Alex Crombie.
Vice-Chairman: Mr. Thomas Stratton.
Hon. Treasurer: Mr. John Methuen.
Hon. Secretary: Miss Stephanie Maritz.
Committee: Messrs. J. W. Clarke, J. Small, W. Myburgh, H. Divine, P. du Plessis and Miss E. Mackenzie, and Captains of Sporting Sections.
In July a very enjoyable Sundowner was held in the Club House of the Umtali Golf Club and there must have been at last 100 present. On 5th October, a Reunion Dinner was held at the Cecil Hotel at which there were over 60 present. Dr. Henry Olivier made a special visit to Umtali for the occasion and proposed the toast to the School in an excellent speech. Mr. Fleming, the Headmaster, replied. Sir Edgar Whitehead proposed the toast to the Old Borderers' Association and Mr. Thomas Stratton replied on behalf of the Association. All present voted the evening a great success and look forward to a similar function every year.
The dinner was followed by a cricket match at the school between the Old Borderers and the present schoolboys. The first team won and the second team lost. (Full details under the cricket section.)
Another highlight of the year was the visit of the Nyasaland Rugby side to Umtali during the Easter week-end. Two matches were played and the Old Boys won the first 11—6, and the next day an Invitation XV lost to Nyasaland.
The Executive Committee at their first meeting decided on the formation of a number of small sub-committees detailed for various assignments such as raising funds for the schools, etc., and as a result the Association has been more active than for some time.
Congratulations to the following: Gren Parker for being selected for the Rhodesian Currie Cup side; also to P. Odendaal, R. Lines, A. Kircos, J. W. Clarke, F. Bezuidenhout, P. van Lelyveld, J. Beechey and P. Klemp for being selected to represent Manicaland.
Selection Committee: J. W. Clarke, B. Small and G. Parker.
The rugby season was a good one as far as the 1st XV was concerned as they woa the Valentine Cup and Knock-out Cup; but the 2nd XV was very disappointing due to the lack of organisation in their fixtures, and a consequent loss of interest among the younger players. Let us hope that the next season will show a marked improvement in enthusiasm throughout Manicaland.
The hockey season started off well but towards the end difficulty was found in raising players; another sign of lack of enthusiasm. Something will have to be done by the players themselves. The ladies' hockey side shows a revival, although there are too few lady hockey players in Manicaland today to run a competition league.
CRICKET CLUB, 1955-56
The Annual General Meeting was held on the 24th August, 1955. There was a very good turn out of 20 members, which is really an excellent effort for the cricket section.
The Chairman congratulated the side for winning the Athenides Knock out Trophy by beating the Barbarians Cricket Club in the final, and also being runners-up to Makoni in the league championships. He went on to say that he was very impressed with the standard of cricket played by the club, as can be seen by the fact that we raised £16 from the gates and teas.
The members made a big effort in paying subs, and up to the A.G.M. there was only an amount of £7/10/- outstanding, which amount was more or less paid at the A.G.M.
During the season we laid down a concrete pitch for the Chancellor House Junior School, who have so kindly lent us their nets for the season, for which we are very grateful. Incidentally the pitch did not cost the club anything, as it was done over the week-ends, and all the materials, etc., were donated by the members, and here we must thank Mr. Solly Botha for his work done and valuable advice.
'Congratulations to the following: J. W. Clarke for skippering Manicaland; also to G. Deftereos, T. Deftereos, M. Whiley, J. Kerr and N. Poppadopoulos on being selected to represent Manicaland during the season. J. Kerr, unfortunately, missed his century against Midlands, being 95 not out. G. Deftereos was awarded the Willows Bowling Trophy for the most consistent bowler of the season.
Committee Members for Season: E. N. Deftereos (Chairman), G. Deftereos (Secretary-Treasurer), J. W. Clarke, M. Whiley and H. Coulentianos.
Selection Committee: Messrs. G. Deftereos, J. W. Clarke and M. Whiley.
Captain: J. W. Clarke. Vice-Captain: G. Deftereos.
Our first game of the season was our Annual Fixture against the School 1st XI and 2nd XI. Here we would like to mention that every year the Secretary goes through a lot of work inviting Old Borderers living outside Umtali District, and gets no replies. Next year we hope that all concerned will make an effort to reply.
The School 1st XI won the toss and elected to bat, on a plumb wicket. They scored 189 runs all out, of which I. MacCulloch contributed 55 runs, M. Palmer 41, de Meyer 35; veteran Pat Edwards, from Chipinga, being the best Old Boys' bowler with three wickets for 22 runs in six overs.
We could only score 114 runs, against some very steady bowling, chief scorers being J. Clarke 31 runs, and C. Silcock 18 (the school coach, he must have known their bowling), and G. Deftereos 17 runs; de Meyer took four wickets for 29 runs.
The School won by 75 runs.
The 2nd XI beat us by 33 runs; unfortunately we have not the score book, so that we cannot give the scores.
Old Boys v. Raylton Cricket. Club—League—Won by an innings and 119 runs.
Old Boys, 1st innings, 350 runs scored in 2.½ hours. N. Poppadopoulos 107 runs, J. Kerr 71 not out, T. Deftereos 61, M. Whiley 56 not out.
Raylton, 1st innings, 130 runs. J. Clarke four wickets for 12 runs, N. Poppadopoulos two for 19.
Raylton, 2nd innings, 100 runs. G. Deftereos five wickets for 37 runs, J. Standard four wickets for 17 runs.
Old Boys v. Commercials Cricket Club—League Won by an innings and 76 runs.
Commercials, 1st innings, 51 runs. G. Deftereos four for 30, M. Whiley six for 17.
Old Boys, 1st innings, 234 runs scored in two hours. T. Deftereos 75 runs, J. Clarke 62 runs, J. Kerr 24 runs.
Commercials, 2nd innings, 107 runs. N. Poppadopoulos four for 28, G. Deftereos two for 14.
Old Boys v. Makoni Cricket Club—League Lost by 34 runs.
Old Boys, 1st innings, 238 runs scored in three hours. J. Clarke 55, M. Whiley 47, T. Deftereos 41, G. Deftereos 40.
Makoni, 1st innings, 272 runs scored in 4½ hours. G. Deftereos seven for 60, J. Clarke three for 92.
Old Boys v. Odzi Cricket Club—League—Won by an innings and 181 runs.
Old Boys, 1st innings, 278 runs scored in three hours. E. Deftereos 83, N. Poppadopoulos 60, J. Clarke 37.
Odzi, 1st innings, 47 runs. G. Deftereos six for 11, N. Poppadopoulos four for 21.
Odzi, 2nd innings, 50 runs. G. Deftereos six for 20, N. Poppadopoulos four for seven.
Old Boys v. Casuals Cricket Club—Semi-final Athenides Knock-out Trophy—Won by 181 runs.
Old Boys, 1st innings, 22 overs, 271 runs. T. Deftereos 178 runs, Q.Deftereos 24 runs.
Casuals, 1st innings, 17 overs, 92 runs. J. Stanford three for six, N. Poppadopoulos three for 29.
Old Boys v. Barbarians C.C.—Final Athenides Knock-out Trophy—Won by six wickets.
Barbarians, 1st innings, 22 overs, 134 runs. J. Clarke five for 23.
Old Boys, 1st innings, 17 overs, 145 runs. E. Deftereos 49 not out, T. Deftereos 44.
Old Boys v. Raylton—League Won by an innings and 22 runs.
Old Boys, 1st innings, 267 scored in 2i hours* J. Clarke 75, E. Deftereos 39, G. Deftereos 38, A. Kircos 37 not out.
Raylton, 1st innings, 99 runs. G. Deftereos five for 37, N. Poppadopoulos five for 34.
Raylton, 2nd innings, 146 runs. G. Deftereos six for 47.
Old Boys v. Makoni—League- Lost by 129 runs.
Makoni, 1st innings, 242 runs scored in five hours. G. Deftereos six for 90, J. Clarke two for 42.
Old Boys, 1st innings, 113 runs in two hours. J. Clarke 34, G. Deftereos 27 not out.
Old Boys, 2nd innings, 138 runs for no wickets. T. Deftereos 95 not out, N. Poppadopoulos 40 not out.
Old Boys v. Commercials—League—Won by 102 runs.
Old Boys, 1st innings, 118 runs. J. Clarke 44 runs, B. Aitkenhead 18 runs.
Commercials, 1st innings, 90 runs. G. Deftereos seven for 35.
Old Boys, 2nd innings, 134 for seven declared. N. Poppadopoulos 89.
Commercials, 2nd innings, 60 runs. G. Deftereos seven for 25, D. Clarke two for 21.
How They Brought the Good News from Tiger Kloof to Headlands
I sprung on my saddle, and Kruger, and he;
I peddled, Roy peddled, we peddled all three;
"Hey! Stop" cried the cop, us we passed the red light;
"Stop!" echoed I in a terrible fright.
But the others went on, and so with a sigh
I followed and " Please wait for me," was my cry.
Not a word to each other we kept the great pace.
Our handlebars touching, ne'er changing our place
I turned in the saddle, put my mudguard more straight
(A spill in the ditch was almost my fate).
Kruger got off and sat on the grass :
It's a very long way-up Christmas Pass.
Into Odzi we struggled. The moon shone on high.
The lights of u Vampire were bright in the sky.
Roy wobbled and swayed he was doing his best.
" I've had it," he shouted. " My three-speed's gone West."
"Never mind!" yelled back Kruger, " You've done very well "
As he peddled along like a bat out of hell.
Dawn broke as Kruger chucked in—as one must,
If one's handlebars snap, all corroded with rust.
Inyazura, Rusape—I made my sole way,
A-clancking along on my old B.S.A.
The chain needed oil. the front wheel was askew,
I flicked at the bell—there was Headlands in view.
I went in'o Headlands, free-wheelin full out.
"Please listen ! Oh, listen ! Please listen ! " my shout.
Farmers and tradesmen, then all crowded round;
They sat and they spat cigarettes on the ground.
" I brinq you great news, I bring you great Knowledge—
The boys of Umtuli beat Maritzburg College '
(With acknowledgments to IVA Magazine)
Our thanks are due to all the schools in Southern Africa which have sent us copies of their magazines; also to Toc H, for numbers of " The Capricornian."
We should also like to thank those Umtali firms which have helped us by taking space for advertisements in this magazine. Please see below.
Advertisements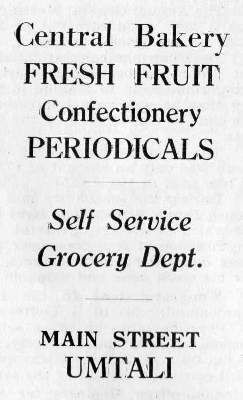 End of Magazine
Thanks to Trevor Walton in the UK for scanning his magazine, putting the contents of a Cd and mailing it to me in South Africa. Thank you Trevor.
Extracted and recompiled by Eddy Norris for use on the "Our Rhodesian Heritage" blog that I administer.