Signatures In Cement - The Drill Hall Salisbury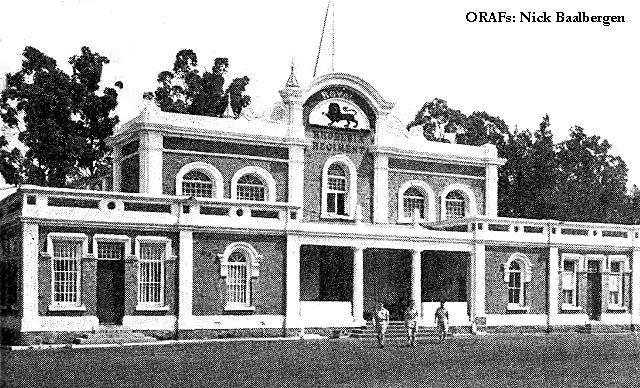 The Drill Hall at Salisbury, headquarters of the 1st Battalion, The Royal Rhodesia Regiment, is spacious compared with most in Great Britain and the Union.

Even so, defence developments in recent years have necessitated various additions.

The original Drill Hall, a small pioneer affair, was on a site near the railway station. Then a move was made to Moffat Street and the present Drill Hall was built in 1902.

Over the main doorway is a gigantic badge. It is the well-known lion supporting a tusk of ivory, which was taken from the Chartered Company's coat of arms.

When, a few years ago, the lion was refurbished, and the scroll beneath painted in the regimental colours of black, red and green, an interesting discovery was made.

In the cement work of the scroll were the signatures of Col. Sir Raleigh Grey (an early C.O. of the old Southern Rhodesia Volunteers, predecessors of the Royal Rhodesians of to-day) and of several other officers.

Whether these signatures were written in the soft cement at some semi-formal ceremony, or whether during the exuberance of a guest night when someone noticed that the workmen had left their ladders in position, has long since been forgotten.

The Drill Hall was the first home of the Southern Rhodesia Artillery, whose first " firing" was done on a large sand- table in the wood-and-iron Annexe.

It was also the first home of the Royal Rhodesian Air Force, for the original student-pilots were provided by the Battalion and they remained members of it until accommodation was ready for them at Cranborne.

The Royal Rhodesia Regiment is in the direct line of descent from the Pioneer Corps of 1890 - Rhodesia's first citizen soldiers.

End
Extracted and recompiled by Eddy Norris from ahe book titled 'Know Your Rhodesia and Know Nyasaland - 300 selections from the Rhodesia Herald', published in 1956, which was made available by Nick Baalbergen. Thanks Nick.