Bulawayo - gateway to Rhodesia
The following information was made available by Ian Baillie and ORAFs believes that many folk would appreciate the details of what follows. The booklet was not dated but is thought to be in the early to mid 1970s'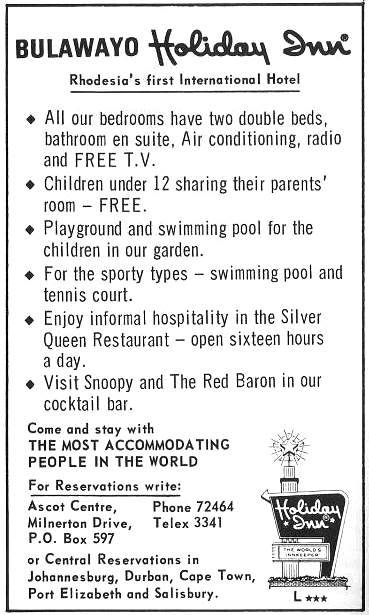 The relevant text reads (for Internet searching facility):-
Bulawayo Holiday Inn
Rhodesia's first International Hotel
All our bedrooms have two double beds, bathroom en suite, Air conditioning, radio and FREE T.V.

Children under 12 sharing their parents' room - FREE.
Playground and swimming pool for the children in our garden.
For the sporty types - swimming pool and tennis court.
Enjoy informal hospitality in the Silver Queen Restaurant - open sixteen hours a day.
Visit Snoopy and The Red Baron in our cocktail bar.
Come and stay with
THE MOST ACCOMMODATING PEOPLE IN THE WORLD
For Reservations write
Ascot Centre,
Milnerton Drive,
P.O. Box 597
Phone 72464
Telex 3341
or Central Reservations in Johannesburg, Durban, Cape Town, Port Elizabeth and Salisbury.
PUBLIC HOLIDAYS
New Year s Day. Day following New Year's Day when a Saturday or Sunday.
Good Friday.
Easter Saturday.
Easter Monday.
Whit Monday.
Rhodes' and Founders: (2nd Monday and Tuesday in July).
Pioneers' Day: September 12th.
Republic Day: Penultimate Monday in October.
Independence Day: November, 11th.
Christmas Day.
Boxing Day.
SHOPPING HOURS
Official shopping hours are;—
8 a.m. to 5 p.m. weekdays 8 a.m. to noon Saturdays.
Some shops remain open later. Most shops are open during the lunch hour.
All Government Departments ere closed on Saturdays.
HOUSEHOLD COMMODITIES
Cheese: 1 kg: 96c.
Bread-white 30 oz. loaf: 15c.
Flour (plain white] 2 kg: 38c.
Jam 2 lb.: 27c to 44c;
Biscuits (Assorted) ½lb: 19c to 25c.
Butter 500 gr: 43c.
Eggs 1 doz: 40c to 45c.
Lard 500 gr.: 26c.
Maize Meal (Roller) 5kg: 35c.
Sugar-2kg.: 43c.
Tea ½lb.: 25c to 36c.
Potatoes (seasonal) 15 kg. pocket: $2, 00 to $4,00.
Onions (seasonal) 1 lb.: 15c to 22c.
Bacon 500 gr.: 68c.
Coffee 500 gr.: 54c to 75c.
Rice1 kg.: 30c.
Milk (fresh) delivered: 1 pint 09c.
MEAT
Fillet Steak 1 kg.: $1 ,84.
Rump Steak 1 kg.: $1 ,70.
Beef. Sirloin 1kg.: $1.04;
Mutton, Leg 1 kg.: $1,22;
Pork, Leg 1 kg.: 82c.
LIQUOR
Beer 375 ml, bottle: 15c plus deposit.
Whisky Scotch (scarce) bottle: $5,80; Local bottle $2.87.
Brandy bottle: $2,62.
Sherry bottle: $1,12 to $2,28
Minerals plus deposit: bottle (small) 5c; (large) 6c; (family) 12c.
Prices in Rhodesian Currency.
A more detailed list is available from the Publicity Association. Sales Tax is chargeable on most articles at the rate of 5c in the dollar.
Liquified petroleum gas in containers is available throughout Rhodesia.
Commercial Services
Services are available in the City for typing, duplicating, etc. Apply to the Publicity Association for particulars.
Typical Package Tours from Bulawayo
VF/3 One day excursion to Victoria Falls: $30,00
VC/6 Two days to Victoria Falls Casino: $38,00
VF/55 Five days to Victoria Falls, Kariba: $96,00
WK/2 Four,days to Victoria Falls, Wankie: $84,00
WK/9 Six days to Victoria Falls, Wankie, Kariba, Salisbury:$122,00
For further details contact your travel agent or Air Rhodesia office
End
Extracted and recompiled by Eddy Norris for use on "Our Rhodesian Heritage" blog only.

Thanks to Ian Baillie for sharing this information with ORAFs.

Comments are welcome - please send them to Eddy Norris on orafs11@gmail.com
Labels: Bulawayo Holiday Inn, Flame Lily Holidays, Ian Baillie