A Secure Future
By Dave Vermaak (Air Rhod.)
The following information is from Air Rhodesia's 1973 Annual Report and I believe a tribute to the resourceful and dedicated management that put us into the jet age and gave the sanctions appliers the Finger!
A Secure Future
"A secure future for Air Rhodesia will only be assured when it is re-equipped with jet aircraft." This was the final sentence in the Corporation's last Annual Report.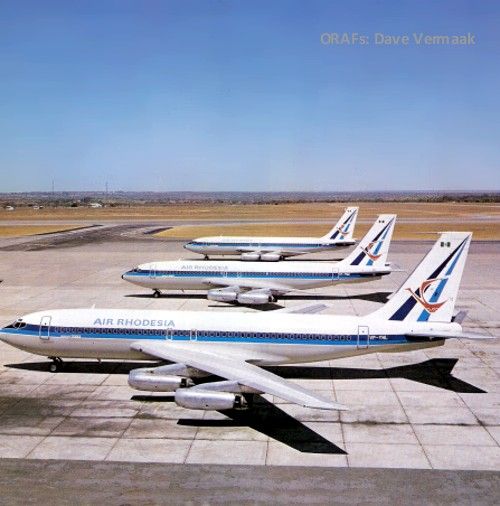 In the late evening of Saturday, 14th April 1973, a small group of spectators on the balcony of Salisbury Airport Terminal were the surprised witnesses of this long awaited development when they saw three Boeing 720 aircraft land in quick succession. A cryptic official statement reporting the acquisition by Air Rhodesia of three Boeing jet aircraft published the following day triggered off a flood of dramatic reports, comments and counter comments in the world press which lasted for several weeks.
Air Rhodesia has moved into a new era of its history and is now in a position to provide services to the travelling public on an equal basis with other associated carriers.
A major step has been taken to secure the airline's future.
End
Thanks to Dave for sharing his information with ORAFs.
Comments are always welcome, please mail them to Eddy Norris at
orafs11@gmail.co
m and they will be loaded to this article.
To view the Blog Home Page - Please Click Here
(Please visit our previous posts and archives)
Ref. Rhodesian Aviation
Suggested reading
http://rhodesianheritage.blogspot.com/2012/11/vic-mackenzie-artwork-arrival-of-boeings.html
Labels: Boeing 720